A classic tale for the young at heart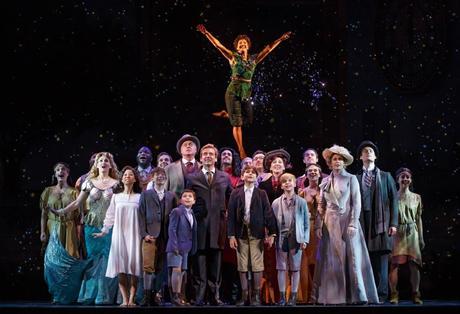 Peter Pan has been delighting youngsters for generations with a classic children's story that never grows old. Now Broadway in Chicago presents Finding Neverland, the story of playwright J.M. Barrie and how he came to pen his marvelous play. Set in London in the early 1900s, the story follows the relationship between J.M. Barrie and the family that inspired Peter Pan, or The Boy Who Wouldn't Grow Up. The musical is filled with glorious songs, high-energy dancing and lots of laughs. Mention must be made of the amazing sets and the most incredible visuals that blend seamlessly into this awesome performance.
The show is based on the 2004 Academy Award-winning Miramax motion picture by David Magee, and the play The Man Who Was Peter Pan by Allan Knee. Directed by Tony Award® winner Diane Paulus with book by Olivier Award® nominee James Graham, music and lyrics by Gary Barlow and Grammy Award® winner Eliot Kennedy, and choreography by Emmy Award® winner Mia Michaels, this exciting musical leaves the audience with a new perspective on the power of imagination and hope.
Kevin Kern has the powerful vocals and just the right amount of doubt and vulnerability to portray the soulful Barrie. As Sylvia Llewelyn Davies, the gentle and loving Christine Dwyer showcases why Barrie fell in love with her. Her four sons, played by several different children, steal the show with their antics and merriment. Tom Hewitt is the handsome classic actor who plays both Charles Frohman, the theater owner and the diabolical Captain Hook. He is outstanding!
The opening night audience was filled with children, making this a perfect Thanksgiving holiday show for the whole family. Finding Neverland is playing through Sunday, December 4 at the Cadillac Palace Theatre at 151 West Randolph Street. For tickets, visit any Broadway In Chicago Box Offices (24 West Randolph Street, 151 West Randolph Street, 18 West Monroe Street and 175 East Chestnut), the Broadway In Chicago Ticket Line at (800) 775-2000, all Ticketmaster retail locations and online at www.BroadwayInChicago.com.