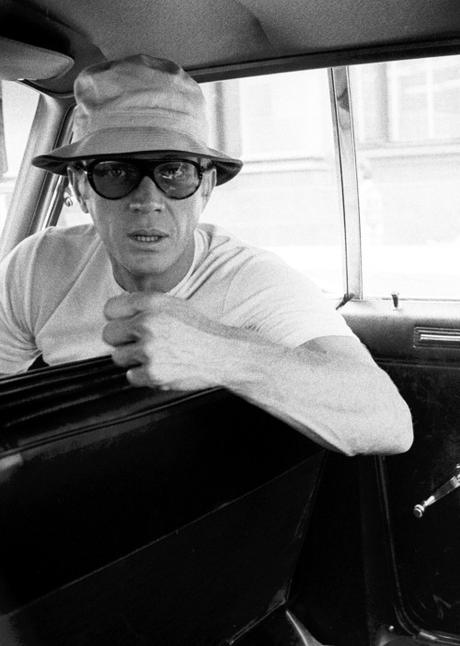 In New York City's trendy SoHo district, you can find the flagship store for Gentle Monster, a relatively young South Korean eyewear brand known for their experimental designs. The company has garnered a lot of attention in recent years for their strange aesthetic and streetwear collaborations – including things such as glimmering sunglasses decorated with gold-encrusted molars. And for being such an avant-garde brand, their line is surprisingly large. Two years ago, when they opened their first US store on Grand Street, they had a 500 square-foot room and a polished, diamond-shaped area that displayed 400 frames in backlit cubbies. Then, earlier this year, they moved to their new Wooster Street location, which is a two-story building with about 5,000 square-feet per floor. It's nearly twenty times the size of their old space – and who knows how many more frames are now on display. 
If a single brand can offer 400 frames, you can imagine how the broader eyewear market feels to the average consumer. There are thousands of companies, each with their own specialized aesthetic and seemingly ever changing collections. It's no wonder why the internet is full of guides on how to choose eyewear, from how to match the shape of your frames to your face to which tints complement your hair color. All this is to narrow what seems like an impossibly large field for an accessory that's more personally defining than anything else that could be in your wardrobe (they go on your face, after all). 
Last year, I spoke to David Kind's founder and CEO, David Barton, about what he thinks of these rules. "They're just a starting point for the conversation," he said. "It's like saying someone's a size medium, but that doesn't necessarily say anything about what they should wear. The only universal rule is that the frames should be proportional to your face, so that the arms aren't flaring out and the bridge isn't slipping down your nose. Fit is absolutely critical. Above that, it's about personal style."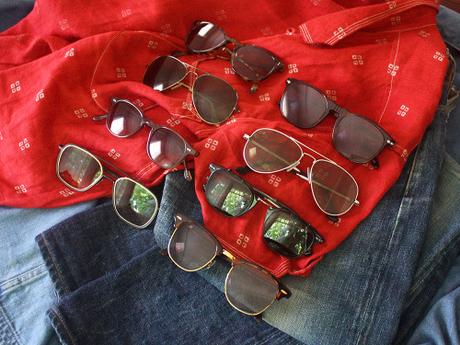 I rarely leave the house nowadays without a pair of sunglasses. They're not only the most practical accessory you can wear this time of year, they can also be a great way to finish off a simpler outfit. Some things I've found useful when shopping for a pair:
Size First, Style Second
Unlike footwear, size gradations in eyewear aren't smooth. Whereas you can always size up or down in a pair of shoes in half-size increments, sunglasses often only come in one or two sizes per model. Which means, when shopping for a pair, focus on your size first and style second. That means possibly switching between two models, even if they're styled differently, to figure out whether a size 46 or 49 gives you better proportions. This number, the first in a set of three, measures the width of the lenses in millimeters – and it's the most important for whether a pair of frames flatters your face. From there, you can find other frames in that size that suit your style. 
Quality Should be Self Evident
Sunglasses can be perplexingly expensive, which encourages guys to focus more on quality than aesthetics. Is this pair well made? How does this pair compare against these more expensive ones? Am I getting value for my money?
Resist the urge to be overly analytical. For one, most consumers aren't in a good position to judge quality, even if they've read all the "expert" guides (which, frankly, are often little more than rehashed marketing points). But more importantly, unless you're buying $2 frames from a random street vendor, most eyewear frames are roughly the same. They're typically block cut from zyl, which is a type of plastic; have barrel, interlocking, or spring hinges; and carry lenses that have been rated to block UV-A and UV-B rays.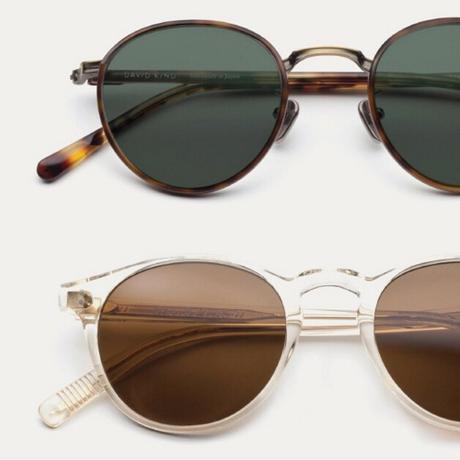 That's not to say there aren't better or worse sunglasses, but quality should be self evident. Some frames are made from a single piece of titanium; others may feel more secure. You don't need a microscope to judge quality, just enough direct experience handling different frames across a range of price points. 
Don't Get Hung Up on Classics
In the world of eyewear, there are a few models that a simply iconic – the mid-century modernism of Wayfarers; the sportiness of Persol's 649; or the ambermatic lenses on Ray Ban's shooting-style aviators. While these can be good starting places when shopping, they're far from being universally useful like a dark worsted suit. I've found that many of the frames I reach for most over the years are just things that suit me and my wardrobe – they're not necessarily in the canon of eyewear design. Don't get hung up on guides and rules, or what's considered classic. Just try on different sunglasses until you find a pair you love – you'll know when they're right. 
Below are some of the frames I rely on most. My wardrobe these days is segmented between classic tailoring (e.g. Steed), contemporary casualwear (e.g. Margiela), and reimagined workwear (e.g. Kaptain Sunshine). I find certain frames go better with some outfits than others. Perhaps you'll find something here you can wear as well.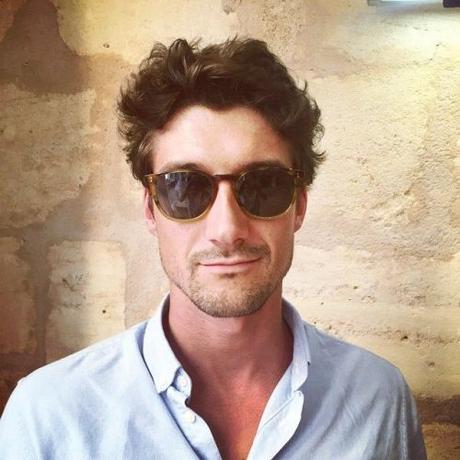 Oliver Peoples' Finley Esq.

Oliver Peoples' Finley Esq. is one of those rare sunglasses that suits almost everyone and any wardrobe. It's a contemporary frame with a vintage feel – classic enough for tailoring, modern enough for most casualwear. The secret is in its oversized proportions and play on what's known as a P3 shape. The lenses are almost round, but actually wider than they are high, and gently taper towards the bottom, which help them mirror the natural shape of people's faces. And while I'm not big of the pseudo-science of frame-shape theories, I find these help soften angular features and add angles to softer faces.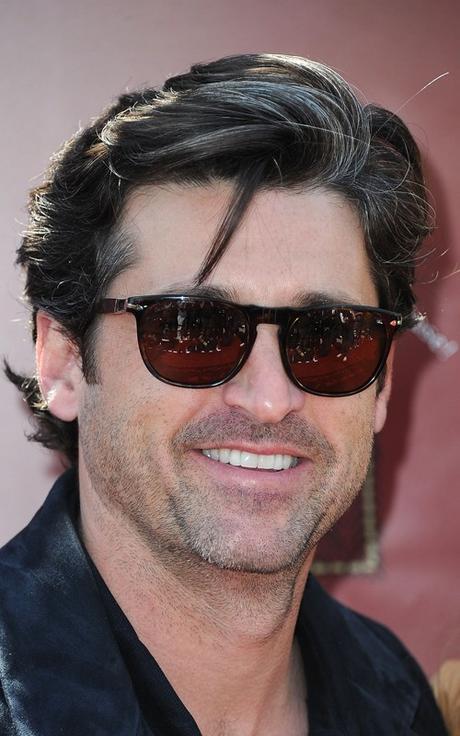 Persol 2994S
Persol is most known for two styles – the 649 and its foldable cousin, the 714. The 649 was originally developed in the 1950s for tram drivers in Italy, but it entered legend when Marcello Mastroianni wore them in Divorce Italian Style (similarly, the 714s are iconic partly because of Steve McQueen wearing them in The Thomas Crown Affair). 
Both styles can be great, but when I tried the 714 years ago, I found they made me look more like an auditioning porn star than Steve McQueen. The 2994S, on the other hand, has echoes of the 649/ 714, but is infinitely easier to wear. They're broad frames with a horned bridge, which gives them a heavier looking silhouette. The company unfortunately discontinued the model a few years ago, but you can sometimes find them on eBay. It's also worth looking through the rest of Persol's range. While their best sellers are the 649 and 714, I find their other frames often better.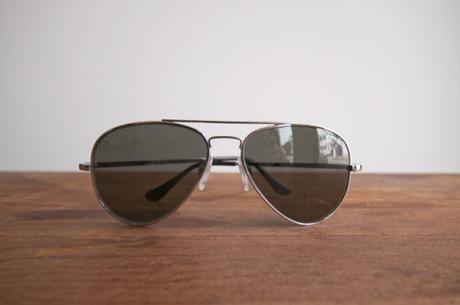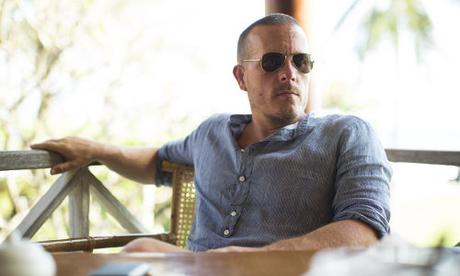 Randolph Engineering Concorde and Ray Ban Aviator

There are tons of aviators on the market nowadays – Tom Ford and Ralph Lauren have made the style permanent in their eyewear collections – but I still mostly stick with the originals from companies such as Ray Ban, American Optical, and Randolph Engineering. The last two supply aviators to the US military, which I think gives their frames some pedigree. 
Of the three, I like Randolph Engineering the most, although Ray Ban is nice in that it enjoys a bit of iconic status. The two mostly differ in terms of construction. Frankly, Ray Ban aviators and their vintage Bausch & Lomb cousins are flimsy. I still like the vintage ones for provenance, but you swear they're going to snap every time you hug someone. 
Randolph Engineering's Concorde, on the other hand, feels a bit more securely built with sturdy wire frames that inspire confidence. In the two photos above, you can also see how the shapes differ. Randolph Engineering's lenses are relatively a bit rounder, whereas Ray Ban's aviators have a sharper, more angular appearance. I find these differences to be negligible in real life, but they may be important to you. If you go for Ray Bans, consider vintage. I just think they're cooler.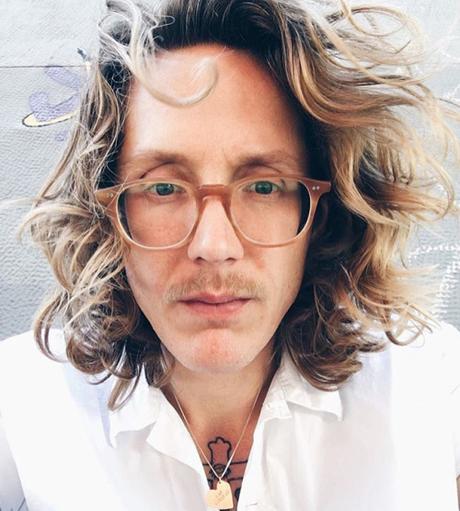 Lunettes Ready When You Are
Lunettes' Ready When You Are aren't too different from the sort of geek chic frames you can find anywhere nowadays. Companies such as Garrett Leight, Warby Parker, and Moscot have built empires off thin plastic frames that have the mid-century feel of P3s, but also look contemporary. 
That said, I like the extended temples on Ready When You Are, which help fill out the edges of the frames without making them feel too heavy. The frames are nicely thin; come in handsome, light brown colors; and have that oval lens shape that I think is easy to wear. Just be aware that this model comes in two versions – optical and sun. The first is available in sizes 46 and 49; the second just 46. Which is strange since sunglasses are usually the larger of the two.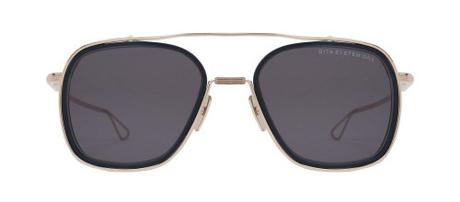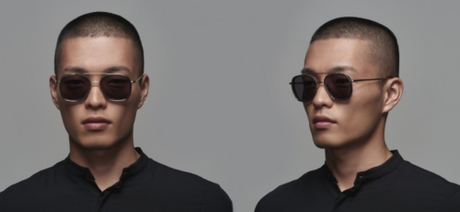 Dita System-One

There are hundreds of companies nowadays selling zyl-cut plastic frames, often in very similar looking designs, but Dita's stand out from the rest in terms of construction and design. They are, however, annoyingly expensive. 
Their System One, for example, has the retro sensibility of '80s-era Cazals, but also feel vaguely futuristic. They're made from a single piece of twisted titanium, which makes them remarkably lightweight for their size. And the frames simply feel and look great – smoother hinges, sturdy construction, and nice dealing. I love the thicker piece of metal at the bridge, extended metal at the sides, and the two-tone metal coloring (one color running along the outside of the frames and another on the inside). They have a '70s/ '80s cocaine cowboy feel. I like them with slim jeans and an oversized Chimala chore coat, or a black Margiela five-zip jacket and side zip boots.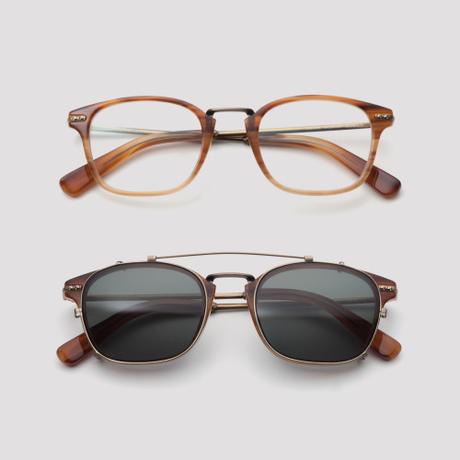 David Kind Clip-Ons
If you wear prescription eyewear like me, it's worth checking with the company that made your regular frames to see if they provide clip-ons. I recently bought a pair of David Kind's Roman frames to replace my Shurons. And I picked up a pair of their matching clip-ons as an accessory. I'll have a fuller post about clip-ons next week at Put This On, but they can be great if you're wedded to a certain style.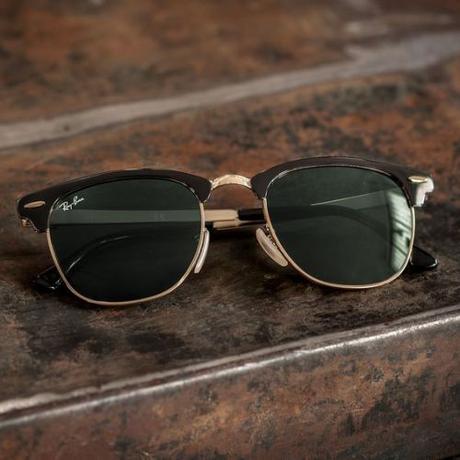 Ray Ban Clubmaster
Finally, the frames I reach for most when I'm short on time. Ray Ban's Clubmaster has that mid-century feel of g-men during the 1950s and '60s – a browline style that gives structure to your face while also being forgiving. The style has an extended temple that, again, I find makes them look better on most faces (tiny sunglasses are the scourge of the earth and definitely shouldn't come back). They're also reasonably affordable and can be easily found for about $100 on sale. I find they go with everything – workwear, contemporary casualwear, or tailored clothing. For similar sunglasses, check out Ray Ban's rounder frames, Shuron, Moscot, and Global Specs.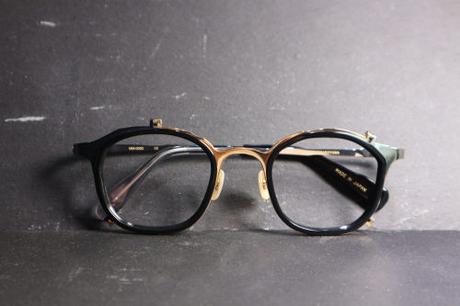 Other Worthwhile Brands
There are some other brands I've been eyeing, a few of which I've handled in stores, but have no direct experience owning. These include:
Masahiro Maruyama: A Japanese maker selling incredibly unique and exceptionally made eyewear that can be described as kintsugi – a term for a centuries-old Japanese technique for fixing broken pottery with a special lacquer dusted with powdered gold, silver, or platinum. Maruyama's frames look like they were shattered into pieces and then carefully pieced back together again. I like their offbeat character. They're arty, unusual, and have a sense of humor about them. You can find them in-store at Self Edge. 
Yellow Plus: Another Japanese brand. They have flip-up sunglasses, a la Dwayne Wayne on A Different World, which are both as ridiculous as they are awesome. 
Thom Browne: Designer frames that aren't just another pair pumped out of Luxottica's factory. The rounder frames are harder to wear, but I like the squared off designs. 
Native Sons: Slightly bolder and thicker variations of classics, such as the Wayfarer and Clubmaster, but also some unique designs that you won't find anywhere else. Seems like a good line for the kind of clothes you'd find at streetwear boutiques such as Haven. 
Nackymade: Another funky, offbeat Japanese brand. I like their relatively subtler frames with normal arms, rather than the dinosaur ones, but the playful shapes ride the line well between classic and contemporary. The company mostly makes one-off custom frames for individual clients, but The Armoury carries a line of their ready-to-wear. These seem great if you're looking for something fun to wear with tailored clothing.