Finder's 7T Series multi-function thermo-hygrostat and thermostats are a must-have for panel and machine builders needing a space-saving solution to help detect and maintain optimal temperature and humidity within their control panels, particularly in changing environments.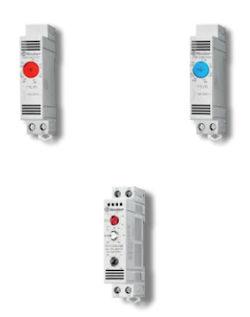 Imperative for applications where the need to control temperature and humidity is vital, such as in drying kilns, road/tunnel lighting, industrial furnaces, refrigeration, and transportation, Finder's 7T Series detects and maintains the correct humidity depending on ambient temperatures, all within a multi-functional, 35mm rail mounting (EN 60715), compact 17.5mm size.
With thermostat full-scale accuracy at -1...+3K, and hygrostat accuracy within 5%, and a nominal voltage of 110 ... 240 V AC/DC, the combined unit of the Type 7T.51 is both space-saving and cost effective. It's 1 NO 10 A contact allows for direct control of heaters and fans, without a separate modular contactor.
Maintaining constant temperatures in control panels and enclosures, the 7T Series thermostat suits the needs of both simple and sophisticated heating and ventilation systems. It features a snap action thermostatic bimetallic contact sensor and direct switching of heater loads up to 2500 V A and fan loads up to 130W.
Finder's Type 7T.51 panel thermo hygrostat has a temperature range of +10...+60°C, and the Type 7T.81 thermostat has a temperature range options of -20...+40°C and +0...+40°C. All products protecting components within control panels ensuring long electrical life. The Type 7T.81.0.000.240x thermostat is for heating control, so should the panel temperature fall below the (minimum) set temperature the contact will close to call for heat. The contact will open when this set temperature is exceeded. tHE Type 7T.81.0.000.230x is for ventilation, so should the panel temperature exceed the (maximum) set temperature then the contact will close to call for cooling. The contact will open when the temperature falls below this set temperature.
Enquiry Form: http://www.epreston.co.uk/contact/
Home Page: http://www.epreston.co.uk/epblog/