I am such a lucky girl.  Recently I was sent a Joseph Joseph Elevate Carousel from the people at Find Me a Gift!  I don't know about you, but as a die hard foodie, I love the Joseph Joseph line of kitchen gadgets!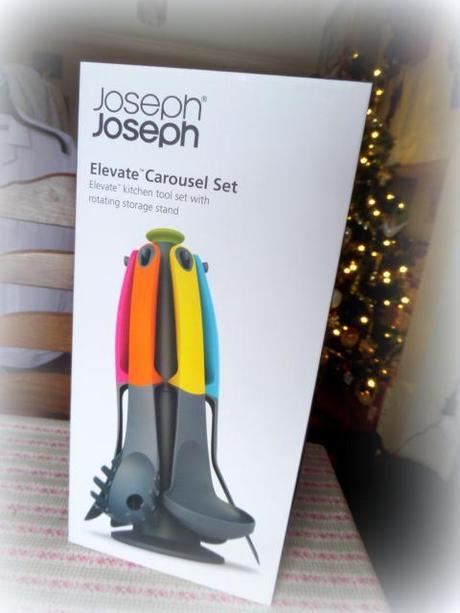 The Joseph Joseph Elevate Carousel set comes with six separate kitchen utensils, all made from quality ASB plastic (the carousel) as well as silicone and in the beautiful bright colours which we have all come to expect from the Joseph Joseph line of products.
All of the utensils have a handy hanging loop at the top, are non scratch and heat resistant up to 240*C, which makes them dishwasher proof.  Not only that but they have weighted handles which makes them feel really nice in the hand, and as well, each has an integrated tool rest, which means what touches your food will never touch your countertop . . . making them very hygenic to use.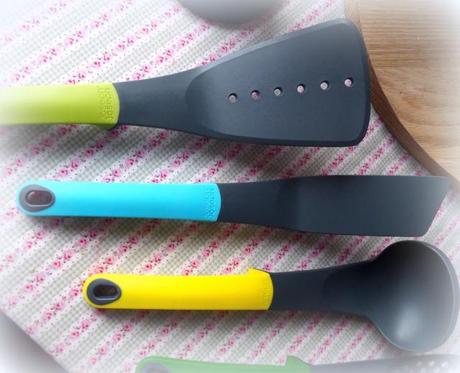 Included in the set are a slotted turner, a flexible turner, a ladle . . .


A slotted spoon, a spaghetti server and a slotted spoon . . .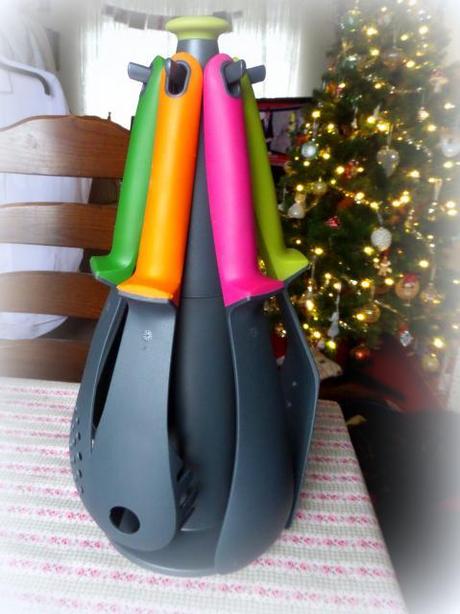 All hang on the included carousel  which is compact and takes up only a little space on the countertop.  Very innovative and stylish, which is what I love.
My old kitchen tools were all mis-matched and took up a lot of space.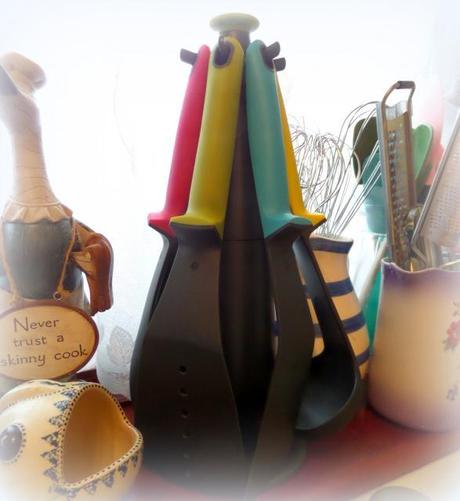 I don't know about you, but space is at a premium in my tiny kitchen.  Most of my utensils must share space on my windowsill.  I love how this set looks and the fact that it takes so little space and all the tools that I use the most are easy to find and at my fingertips at a moments notice!  No more digging through a multitude of mismatched utensils to find what I want!  In short I ADORE THIS!
The good news is it's on sale right now at Find Me a Gift Dot Com, for only £44.99, which is a saving of £5.01 on the regular price of £50.00 . . .  plus they have another offer on at the moment which gives you an additional 20% off at the checkout on orders over £50.  Check out the page for more details.  I know as a foodie this is a gift I would love to recieve.  Do go and check out the Find Me A Gift home page.  They have lots of gifts there to fit every budget and every whim, it's not just for foodies.  They also offer a gift wrapping service!
Many thanks to Emma and  the people at Find Me a Gift for sending me this lovely set to use! Joseph Joseph . . . I love their stuff.  Colour me happy. 

☺