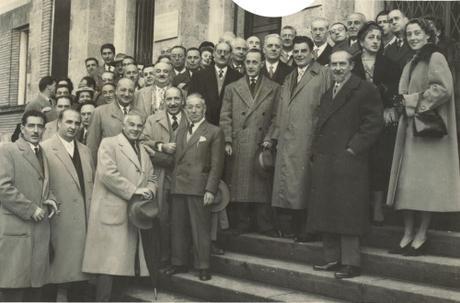 Call 2015 the year without winter. Although it's nearly mid-December, and Christmas is just a couple of weeks away, it's only starting to feel like fall. Temperatures finally dropped below 60 a few weeks ago, however, and I was able to break out some knitwear and outerwear. No chance for truly heavy coats sadly, but any chance for layering is appreciated. Here are five of my favorite coats this season, along with some suggestions for alternative options.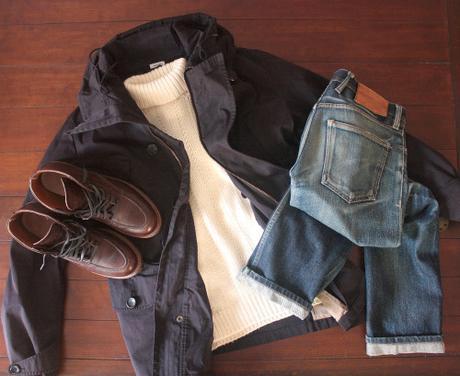 A Heavy Parka
Inuits know how to keep warm, which is why the modern parka is designed after the hooded coats they used to wear in the frigid Arctic. My favorite is this navy piece from Ten C. It's an adaptation of the American deck jacket, which traditionally doesn't come with a hood, but Ten C built one in. And what a hood it is – fully shapeable and uniquely designed, it looks great when laid open, especially when paired with a turtleneck. 
Some alternatives: Nigel Cabourn x Lybro zip parka, Battenwear's 60/40 mountain parka, Monitaly's Army parka; Nanamica's Cruiser, Ten C's fishtail, and heavier-duty parkas from Woolrich, Penfield, and Nigel Cabourn (the last being downright amazing, assuming this planet ever sees a real winter again).
Pictured above: Outerwear by Ten C | Sweater by Asprey | Denim by 3sixteen | Boots by Red Wing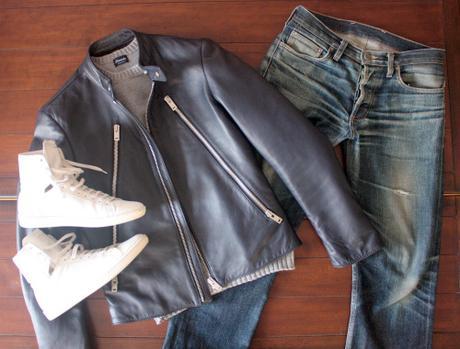 An Insulated Leather Jacket
Leather jackets are a lot like suits. Once you slip one on, you instantly feel like you can conquer the world. The one I rely on most is this black five-zip racer from Margiela, but cotton lining is thin, which makes it too lightweight for chilly days. So, earlier this season, I picked up this navy five-zip with a quilted interior (it's also on sale at the moment at SSENSE, but they have awkward photos). It's a bit thicker and heavier, but still drapes well because of the soft lambskin. 
Some alternatives: Schott's double riders, Valstar's bombers, and Mandelli's cafe racers.
Pictured above: Outerwear by Maison Margiela | Sweater by Drumohr | Denim by 3sixteen | Shoes by Saint Laurent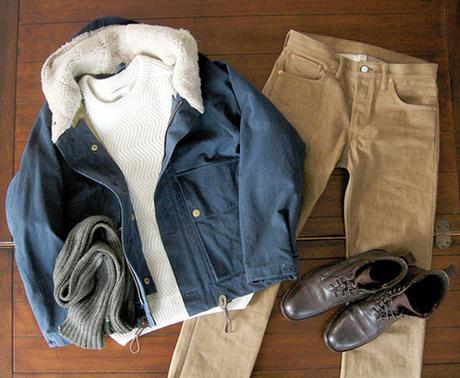 Something with Shearling
I've been obsessed with shearling lately – either the real-deal stuff, or even the cheaper synthetics (which, to be honest, look pretty close the to real thing, even if they don't feel as nice). 
Favorite for me is this oilcloth Aircraft jacket from Nigel Cabourn, which is trimmed with a shearling hood. It has a great, slightly boxy silhouette and huge bellow pockets. Sometimes I wear it with a chunky cream knit from A Kind of Guise, but on warmer days, a grey sweatshirt is more likely. 
Some alternatives: Ami's teddy jacket, Thomas Maier's bomber, Freeman's Sporting Club deck jacket, Brooks Brothers A-2, and Levi's Sherpa trucker. 
Pictured above: Outerwear by Nigel Cabourn | Sweater by A Kind of Guise | Denim by RRL | Shoes by Edward Green | Scarf by Inis Meain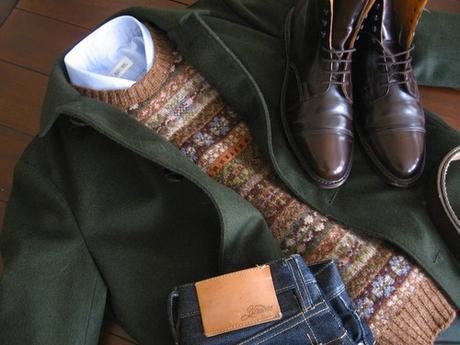 A Classic Topcoat
I'm not really one to mix tailored clothing with denim, but topcoats are the exception. They're just an easy way to dress up any outfit. The one above is a Loden coat from Aspesi, which is a traditional Austrian design (although made to look a bit more modern through this Italian label). The wool is densely woven and slightly felted, making it great for drizzly days. I usually pair the coat with patterned knitwear and dark jeans. 
Incidentally, those shell cordovan boots – which I wear with almost everything – are on sale right now at Brooks Brothers. They're offering a storewide 25% discount with the checkout code DECBC15, and yes – it applies to shell cordovan. 

Some alternatives: If you have the coin to spend, check Ralph Lauren, Brooks Brothers, Mackintosh, O'Connell's, Margiela, and Eidos. For something more affordable, look into J. Crew, Our Legacy, or Club Monaco, or consider going vintage. 
Pictured above: Outerwear by Aspesi | Sweater by Drake's | Shirt by Ascot Chang | Denim by 3sixteen | Shoes by Brooks Brothers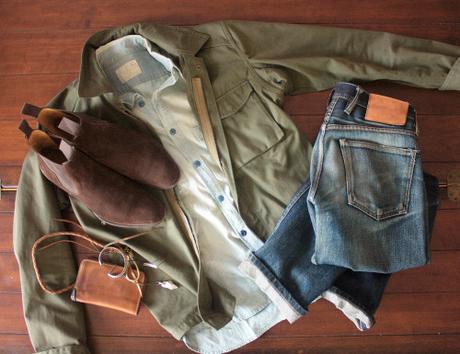 A Lightweight Field Jacket
Just as soon as it turned cold a few weeks ago, these past few days have been warm. It's almost like winter is just teasing us. 
For days I need something lightweight, I reach for this Niche field jacket. Simple details, such as the well-designed collar and slightly boxy silhouette, make this a bit more interesting than other field jackets I've owned, without veering into oddball territory. The jacket is nearly sold out at No Man Walks Alone, although I'm told there's a good chance they'll restock again – if not in this fabric, then another.  
Some alternatives: Rag & Bone, APC, Aspesi, Battenwear, Alpha Industries, and J. Crew. Of course, you can always go military surplus or vintage, if you want something with authenticity. 
Pictured above: Outerwear by Niche | Shirt by Chimala | Denim by 3sixteen | Shoes by Edward Green | Wallet by Flat Head | Bracelet by VanDever  | Necklace by Article22