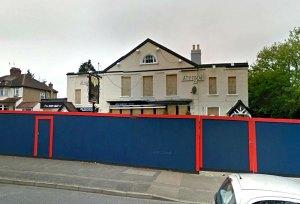 It's been over two years since the Angel pub was shut and now finally it looks like Tesco's are getting ready to build an Express store.
As I've previously written, I had concerns that Tesco are able to open a store without applying for planning permission and giving local residents an opportunity to object or support the proposals.
However the fact is that we can't do anything about that. Tesco's are used to exploiting planning loopholes so that they don't need to go through the democratic planning process.
I am, however, glad that something is going to be built on this site which has been lying vacant for two years when the troublesome Angel pub was closed down following a police and council trading standards 'sting' that exposed alcohol sales to under-age children.
The pub had been a real problem for a long time, with a long list of complaints from neighbours about rowdy drunkenness and alleged criminal behavior. Sutton council's licensing committee withdrew the pub's license for three months in January 2011 but it initially appeared the pub was continuing to trade in breach of its' license before the whole pub mysteriously burnt down in a blaze. Police suspected arson.
Thankfully the wonderful front exterior was not seriously damaged and when Tesco's brought the site in March 2011 they pledged to keep the distinctive frontage, which I was pleased about.
I have recently been informed that Tesco's now plan to build their Express store in April this year. About time too really… in April it will be over two years since they acquired the site and myself and my ward colleagues have been fielding questions ever since about when work will start.
Tesco's have told ward members: "We are now aiming for an opening date in Spring of next year. We have the relevant planning consents and own the freehold of the site, so it is a case of scheduling the build. We have reviewed our position and remain committed to delivering a new store for customers and… although we do not have a fixed date, as it stands we are working towards April."
So there we have it, the Tesco's that no-one had any choice over is now arriving after a two year wait.
I remain hopeful that the store will not negatively impact on nearby independent stores and also remain sad that Sutton North only has one pub, the Prince Regent next to the Job Centre. But it is a fact that pubs are no longer the hub of community life, not least because of cheap booze sold in supermarkets, but also changes in society. However there is a need for family-friendly boozers and regrettably the old Angel pub was badly-managed and attracted a rough crowd.
I will keep you posted about any further news about this site.