Glasgow's oldest restaurant Rogano mural project comes to a close with "Jazz in the Oyster Bar"
Last October, Glasgow's oldest restaurant Rogano launched their charity mural project – working with a series of Glasgow based illustrators to tell the story of the venue while its doors remained closed. The final mural has seen the Glasgow stalwart team up with artist Katie Smith to present "Jazz in the Oyster Bar."
The front of Rogano's boards see a jazz singer set against the backdrop of the Rogano's iconic bar. "Jazz in the Oyster Bar" blends vintage high fantasy with the timeless design of Rogano. Emerging from a candy pink oyster shell, a glamourous singer looks out on to Rogano, flanked by her band while patrons raise glasses of Champagne and enjoy lobster.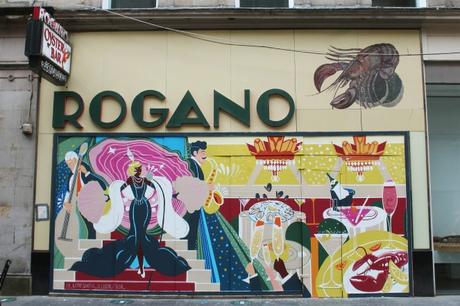 Togano Glasgow mural project
" data-orig-size="2000,1334" sizes="(max-width: 663px) 100vw, 663px" data-image-title="Togano Glasgow mural project" data-orig-file="https://i2.wp.com/glasgowfoodie.co.uk/wp-content/uploads/2021/06/5E916DB0-8A1C-4DC2-9A5A-BBD13F0529E8-scaled.jpeg?fit=2000%2C1334&ssl;=1" aperture="aperture" />
Rogano has a particular special place in the heart of artist Katie Smith "Rogano is the most magical place and I am so proud to be able to create an illustration that encapsulates the joyous 1930's charm. I wanted to capture the Art Deco style inside and the glitz and glamour of all the famous characters that would go in for the famous seafood and cocktails. Rogano is a landmark of Glasgow and one of the most loved restaurants in the city. I go to Rogano every Christmas Eve for lobster and a Blue Lady cocktail with my sister.
My friend told me the story of how his parents got engaged in the Rogano so I wanted to bring an element of warmth into the mural with the spotlights shining down."
"Jazz in the Oyster Bar" is the fourth and final of the mural project that launched in October, seeing the restaurant work with local artists Ida Henrich, Calum Lockerbie, Sophy Louise and for the fourth mural, Katie Smith. Rogano's front boards have played host to a Champagne Cabaret, famous faces of Rogano, bartenders mixing the perfect martini – becoming a canvas for telling the stories of Glasgow's most famous restaurant. Each piece has seen a release of limited edition prints fundraising for The Donna Mortimer Ballantyne Charitable Trust, Scottish Association of Mental Health, Shelter Scotland with the latest print seeing £5 from every print sale going to the British Heart Foundation Scotland.
Business development manager Claire Stuart adds "Rogano is a special restaurant for so many people. We've had guests' message to share some of their fondest memories of the restaurant. It's been so interesting to see the stories that each artist gravitates towards and how different each piece has ended up being. While Rogano is closed it's been lovely to keep its spirit alive working with these incredibly talented artists on this project."
Katie Smith's "Jazz in the Oyster Bar" mural is available to view outside the Rogano at 11 Exchange Place now while prints of each of the art murals are available for purchase at https://rogano-glasgow.myshopify.com/
The post Final mural for Rogano project first appeared on Glasgow Foodie | Glasgow Food Blog.