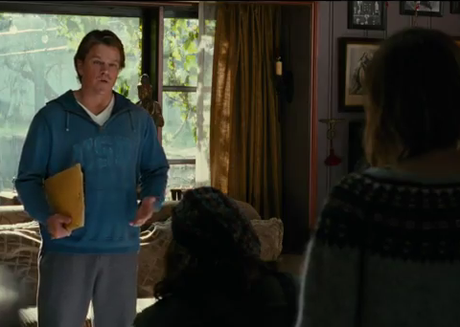 We Bought A Zoo
For certain fans of contemporary cinema, any rendition of Elton John's "Tiny Dancer" immediately transports us to a sun-kissed tour bus trundling across rural America and an emotional sing-a-long among frazzled rockers. The scene that plays on our minds' screen is from Cameron Crowe's Almost Famousand it is an object lesson in pitch. Much like the film as a whole, the scene is winning without being sickly and moving without being manipulative. It is fortunate for Crowe that it is remembered so fondly, because he has done nothing even a fraction as good ever since.
After the misjudged Vanilla Sky and ghastly Elizabethtown, Crowe's latest effort is We Bought A Zoo, in which he is profligate not only with his own talents but also those of Matt Damon, Scarlett Johansson and Thomas Haden Church, among others. It is a gloopy confection that has seduced some American critics (even some of the cynical ones), who suggest we embrace it as a wholesome children's film.
But if We Bought a Zoo is a kids' movie then it is the most exploitative kind of entertainment, parlaying the death of a parent into cheap sentimentality and bundling complicated issues of adolescence and bereavement, not to mention zoology, into a trite bundle. This is the world where there is a solution to all ills if only one pouts meaningfully enough, and where wild animals are actually just cuddly pets that need to be talked to right. One pines for the stoners and idealists of Almost Famous. They were self-absorbed and unreliable, but at least they were human.
We Bought A Zoo is based on the real-life memoir of the British journalist Benjamin Mee (played by Damon), who acquired a run-down wildlife sanctuary in Devon and transformed it into the Dartmoor Zoological Park, which remains in operation today. The kernel of the story is maintained in the film, but by transporting the action across the Atlantic we gain the delights of the Californian weather and a cast with nicer hair.
However the film also now evokes memories of Louis Theroux's recent documentary about America's amateur zookeepers and the perils of such endeavours, as well as October's grisly bloodbath in Zanesville, Ohio, where 48 exotic animals were slaughtered after being set free from such a place.
There is a scene in We Bought A Zoo in which an errant bear wanders through the streets of a small town, pursued by Damon's eager but clueless naturalist. This incident offers moviegoers some light-hearted comedy and edges the characters a little further along their obvious learning curve. But the drama in Ohio meant a town in terror and police marshals with shotguns, and in light of the incident, much about the film seems just a touch irresponsible.
Crowe can hardly be blamed for the poor timing of the piece, but he is culpable for a seeming inability to pass up any opportunity for cliché, which somehow manage to keep appearing long after it seemed there was no more room. The fictionalised Benjamin assumes control of the zoo after his wife has died and his 14-year-old son (Colin Ford) has been expelled from school for drawing the kind of pictures that disturbed teens draw in the movies (decapitated heads, etc.). His younger sister (Ellie Fanning) is a precocious 7-year-old, who can't help but utter folksy wisdom in her conversation with the fauna. Meanwhile the villain of the piece is a humourless zoo inspector (John Michael Higgins) who simply will not budge in his insistence for the correct size of a jackal enclosure.
Johansson plays the feisty head zookeeper, Kelly, and if it's already a push to imagine her dressed down and mucking out, it's beyond all credibility to believe that Benjamin doesn't notice her making eyes in his direction. Crowe can do better, and has handled simmering romance and mismatched lovers brilliantly before. Indeed, it was once his signature, most notably in Jerry Maguire, the aforementioned Almost Famous, as well as the beautifully subtle Say Anything…
But subtlety is precisely what is missing here. Although the film wilfully trades in minor triumphs over meagre adversity, it does so in thick brushstrokes, and to an accompaniment of music that recalls motivational videos or adverts for breakfast cereal. After about 100 minutes of the screening I attended, I began to hear what sounded remarkably like a contented purr from the rows behind me—a weary human beast reacting in the only way appropriate to this nonsense.