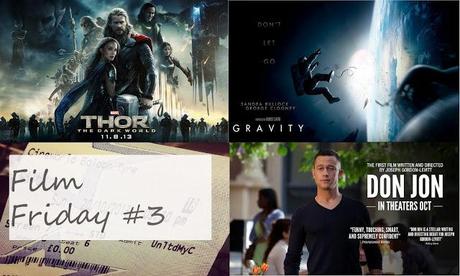 Two big ones this Friday and JGL's debut as a writer and director 'Don Jon'.
Thor The Dark World
I know plenty of people are sick of the superhero genre now and are looking for something new, but I'm still loving it and I really enjoyed The Dark World. Lots of action and plenty of funny moments; I'm thinking in particular of the part where Thor hangs up his hammer in the house and there are others but I don't want to spoil things. Loki is as intriguing as ever and the film keeps you thinking. Don't forget to stay back after the credits too!
Gravity
There's been so much hype and excitement around Alfonso Cuarón's Gravity and it's definitely worth it. Clooney and Bullock are fantastic and I found the whole concept really emotional (yes I did end up crying) and I was really rooting for them. Even though I only saw it in 2D I still thought the cinematography was incredible and if Emmanuel Lubezki doesn't get some kind of award for it I will be really surprised.
Don Jon
Joseph Gordon-Levitt's first film as writer and director (and he's also the lead actor) is great! It's not one to see with your parents or your gran though, let's just put that out there first. There's only a few things Jon really cares about in life: his body, his house, his car, his family, his church, his boys, his girls and his porn. It's not your typical rom-com but it's really enjoyable and there's plenty of laughs in there.
What've you seen this week?



You can follow me on 

Bloglovin

 | 

Twitter

 |

 Facebook

 |

 Instagram


NB: These images were sourced online and are not my own.