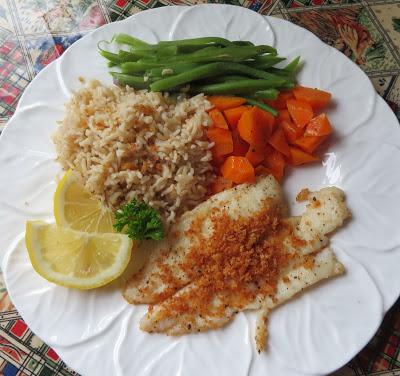 I received some beautiful
Lemon Sole Fillets
recently from Seafresh, the online fish monger.  I adore sole. It is one of my favorite cuts of fish.  It is so delicate and has such a beautiful flavor. The sole from Seafresh is especially tasty.  Lemon sole is a wonderfully tasty alternative to Dover Sole, which is of course the King of Soles!  I find it just as enjoyable in my opinion!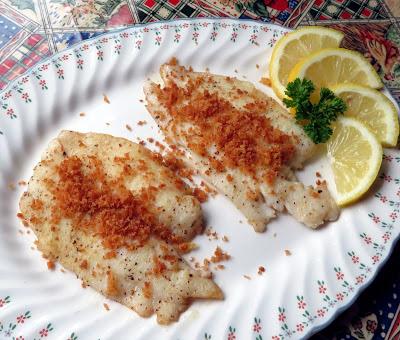 The Lemon sole was part of a beautiful box of fish I received last week from
Seafresh Quality Foods
.  Seafresh sells quality fish, seafood, poultry and meat. I have been very impressed with both their product and their delivery service in the past!  There was absolutely nothing that I could fault with any of it, and I still cannot. Feel free to read about
my experience here
.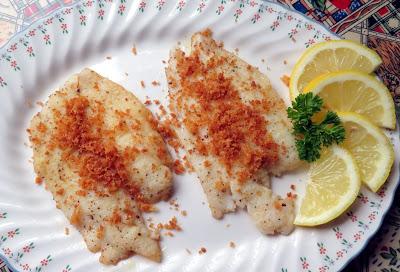 The Lemon Sole comes in a 1KG package, skin on, with there being 4 to 5 fillets per package.  I skinned it, which is very easily done.  I am not a person who is that fond of eating fish skin, but some people love it. If you are like me you can find a video on
how to do that here
.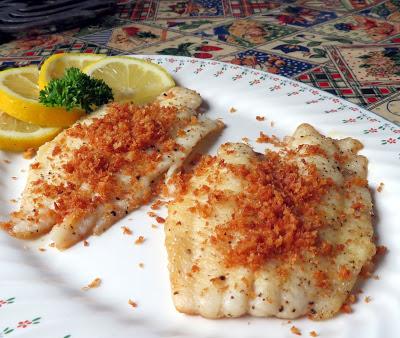 A sharp knife is all you need. Of course you can also cook it with the skin on.  Its all a matter of preference.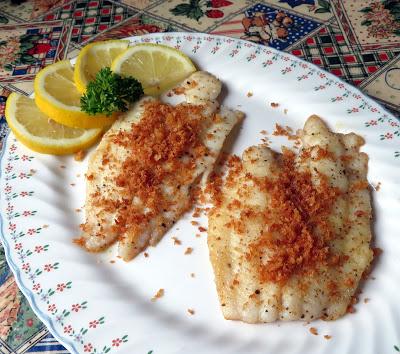 I wanted to give it a very simple treatment of cooking today. Nothing fancy as I really wanted to highlight the delicate flavours of this beautiful fish.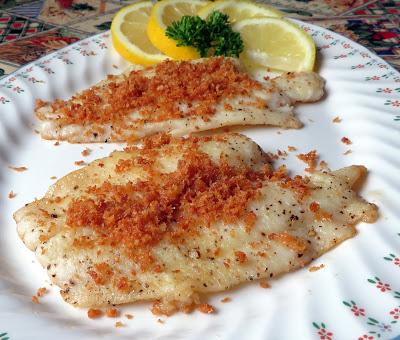 Back in Canada I used to be able to buy bread crumbed fillets of sole from time to time and they were gorgeous.  There is something incredibly delicious about mixing those two completely different textures  . . . the soft perfectly cooked and delicately flavoured fish  . . .  crisp buttery bread crumbs . . . sigh  . . .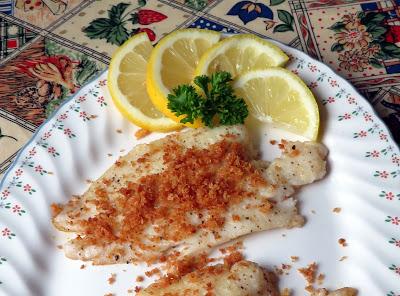 Today I opted to make the crisp buttery breadcrumbs a separate entity on their own . . . a garnish of sorts . . . but no less delightful or tasty.  Just crumb a thick slice of bread into coarse crumbs and then fry them in butter until lovely and crisp . . .  and golden brown . . .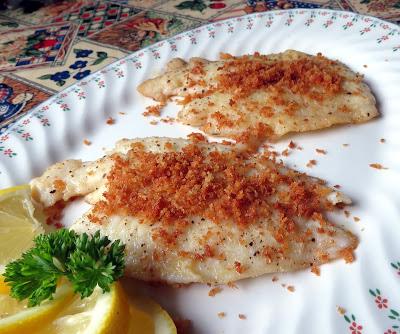 I treated the fish with a very light hand.  I seasoned it simply with fine sea salt and coarse black pepper and then I dusted it very lightly with some plain flour . . .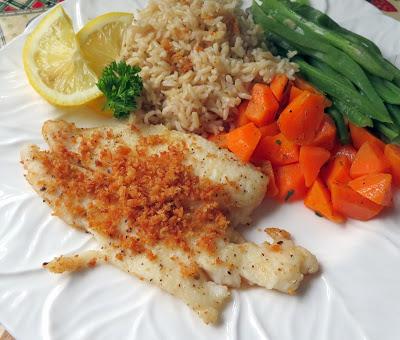 I then pan fried it until it was golden on both sides in a mix of olive oil and butter  . . . it doesn't take very long . . .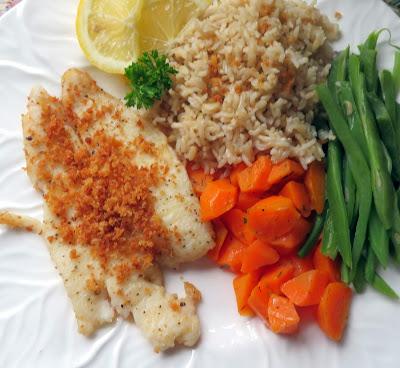 Two minutes per side does the job.  There is nothing worse than dried out, over-cooked fish.  These were  . . .  dare I say it  . . .  pure perfection.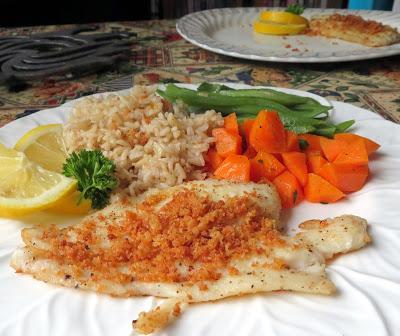 I served each fillet with a sprinkle of those buttery crisp bread crumbs and some wedges of lemon for squeezing  . . .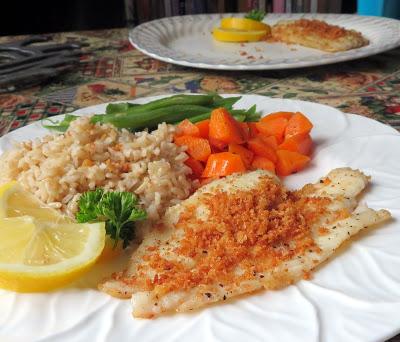 Accompanied with an assortment of fresh garden vegetables  . . .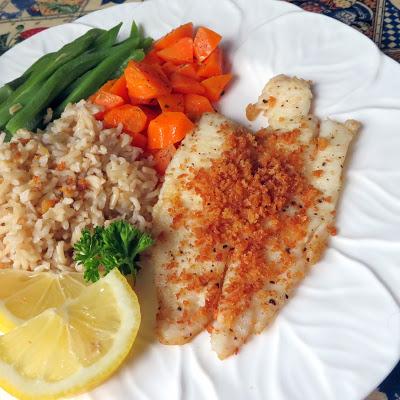 Runner Beans from our own garden, and some fresh carrots dressed with dill butter   . .  . and for Todd a serving of brown rice on the side . . .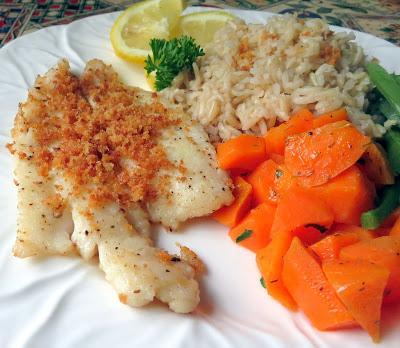 This was a beautiful meal . . .  it really was the perfect way to begin our week.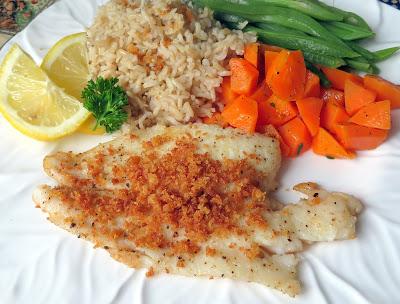 The fish would have been beautiful all on its own without the crumbs . . .  but those crumbs added a really delicious touch that we both enjoyed very much.  A little bit of something you love really does you a world of good.
Fillet of Sole with Crispy Fresh Bread Crumbs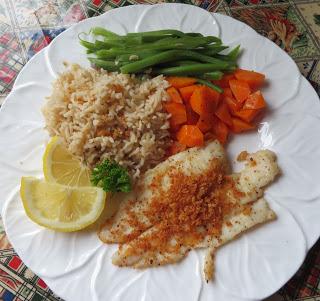 Yield:
4
Author:
Marie Rayner
Delicately flavoured and perfectly cooked fillet of sole, topped with crisp buttery fresh bread crumbs.  I served with wedges of lemon. Perfection.
ingredients:
1 1/2 pounds of sole or other mild flavoured fish, skinned
70g plain flour (1/2 cup)
fine sea salt and freshly ground black pepper to taste
2 TBS olive oil
3 TBS butter
2 large slice of stale bread, made into coarse crumbs
2 lemons quartered
instructions:
How to cook Fillet of Sole with Crispy Fresh Bread Crumbs
I like to make the bread crumbs first as the fish cooks quite quickly.  Its nice to have the bread crumbs all ready to go.  Melt 2 TBS of butter in a large skillet. Once it begins to foam, tip in the bread crumbs. Cook stirring and tossing together in the butter until golden brown. Tip out onto a place lined with paper towels.  Set aside and keep warm. Wipe out the skillet.
Season the fish fillets with salt and black pepper.  Dust with flour lightly, shaking off any excess. If the fillets are very thin, you can sandwich two together into one fat fillet prior to seasoning and dusting. 
Heat the olive oil along with 1 TBS of butter in the skillet over medium high heat until the butter begins to foam, swirling them to mix together.  Add the fish fillets, presentation side down.  Cook quickly, browning on both sides and allowing no more than 2 minutes per side.  Place onto a heated serving platter, scatter the crispy bread crumbs over top and garnish with lemon wedges.  Serve immediately.
Created using
The Recipes Generator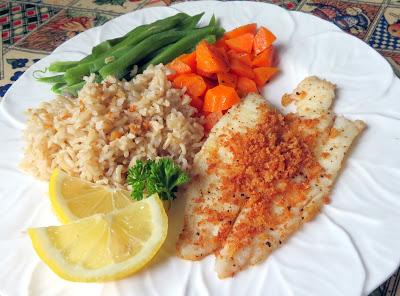 We really have been spoiled lately with the opportunity to eat some lovely fish.  Fish is so good for you and we both love it.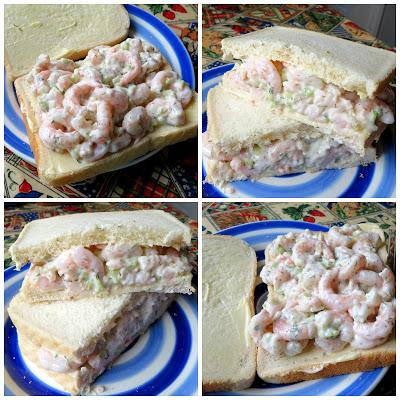 At the weekend Todd had an additional treat of a Prawn Mayonnaise Sandwich using some of the
Cooked Salad Prawns
from Seafresh.  He was in Prawn Sandwich Heaven.  The prawns were firm, pink and juicy.  I thawed some of them and then mixed them with some good mayo and bit of sour cream, finely chopped celery, salt, pepper and some chopped fresh dill. He thoroughly enjoyed it.  Its not every day I make him this kind of a sandwich, so it was a real treat!  These lovely cooked prawns are also very good in salads! 
A few things about Seafresh:
Same Day dispatch on orders received before 1 PM.
All packages are carefully hand packed.
Free delivery on orders above £50, £8 on orders below that amount. 
Responsibly and sustainably sourced.
Air Blast Frozen at source within 4 hours of being caught.
Wide variety to choose from. 
Do check them out on their
website
to find out more.
Follow them on
Facebook
,
Twitter
and
Instagram
.
Note - Although I was gifted with product free of charge for the purposes of review, I was not required to write a positive review in exchange, nor would my integrity allow me to recommend anything if I did not truly like it. Any and all my opinions are my own entirely.
Up tomorrow: 
Blackberry & Apple Jam