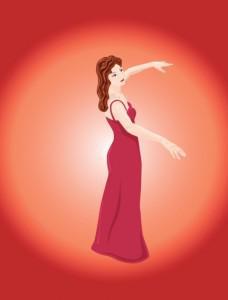 Every since I can remember I've dreamed of being a dancer. I remember watching Flashdance, Footloose, Fame, and all the other fun dancing movies and thinking how much fun it would be to do that. But to achieve that goal would take hard work, discipline and talent. We didn't have a lot of money growing up, but when I was ten I took my first dance lessons. To this day I can remember the recital. I also remember feeling chubby, uncoordinated, and self conscious in a class of older girls. So I quit something I loved for fear of ridicule.
When I went back to take dance lessons at 15 years old, it was obvious I'd never be good enough or catch up to the level of the other girls. My insecurities had held me back from reaching my dream of dancing.
Fast forward twenty plus years and my secret desire is taking form in ballroom and swing dance lessons. After attempting to swing dance in sandals last summer and suffering through insecurities and my ignorance on the dance floor, I thought it necessary to take lessons just in case I ever got the opportunity to go swing dancing again.
So I signed up not just for swing, but salsa, rumba, cha cha and a whole slew of dances I was "expected to master" in just seven hour long classes. Okay, I admit, I didn't plan on mastering them all, and the dance studio's gamble won out when I purchased another set of lessons. And after 20 plus hours, I still haven't mastered any of the dances. But I'm not quitting, no matter how tough, no matter how insecure I get at times.
I remember one particular lesson when my instructor arrived 20 minutes late with a scowl on his face and threw me into a salsa turn immediately when I was still trying to get the footing down. I tried my best, but I was perfectly fine with my bent legged salsa. Unfortunately, he was not. I guess we had two different definitions of "mastering" salsa. We spent the next 30 minutes trying to get my leg to straighten. I just couldn't get it. And the more I tried, the worse and more confused I got and the more flustered we both got.
There was a point he kept pushing me that I wanted to throw my hands up in the air and quit, and say "This is not dancing with the stars."  Instead, I asked him if I could practice at home and if we could move onto East Coast swing.
And we did. And he threw me into a spin again when I was still adjusting to the footing, but by this time he had apologized for his attitude because he'd just quit smoking that morning AND coming from a stressful, life altering situation. We laughed through my own klutziness and made progress. I worked through my insecurities and inadequacies and kept pushing until I figured out what I was doing wrong. If I had given into the voices in my head that told me I'd never get it and my instructor thought I was hopeless, I never would have succeeded and learned.
It's the same with our writing or any other dream in our lives. When insecurities start to shout that I'm not a good enough writer, no one will "get me," and my story isn't good enough to show my agent yet, I have to push through the inadequacies I have real or imaginary. My work may not be perfect, but who better to show me how to improve it than my agent who wants me to succeed?
I might never be worthy of Dancing with the Stars, but I'm not quitting. And too bad if I have bent salsa knees, at least I'm on the dance floor!