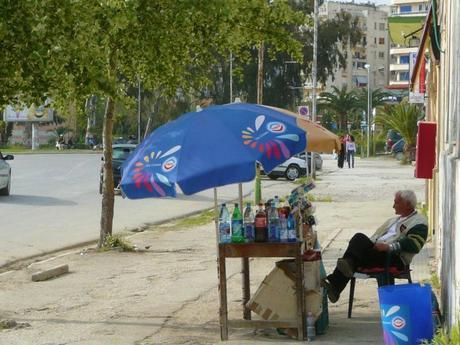 With reports showing a steady increase of the level of informality in Albania and recent World Bank reports estimating that Albania's informal sector is estimated to make up as much as 40 to 50 percent of the country's economy, the issue of informality is integral to Albania's development. Now especially, as the European Union has granted Albania conditional EU candidate status. The gesture indicates both a challenge and an opportunity – formal accession negotiations will not begin until Albania addresses several key priorities, particularly reforming the country's finances and reducing corruption.
Over the last decade, the number of businesses around the world operating in the shadows has grown. Men and women who stand at cash registers and add up their profits at the end of the day are increasingly doing so outside the jurisdiction of the state. Profits derived from the informal economy represent a significant share of the global economy, both in terms of currency and workforce labor, accounting for between 25 and 40 percent of annual output.
In developing countries with large informal sectors, thousands of entrepreneurs are locked out of the formal legal economy by a maze of regulations, burdensome procedures, high tax rates, and other barriers. These entrepreneurs can neither thrive personally nor contribute to their economy. Further, these entrepreneurs, and their employees alike, lack legal protection, access to credit, and have no legal ground to push back against corruption.
Thus the concerted effort to reduce informality has taken a front and center role in Albania. Recognizing how the informal sector is a breeding ground for corruption, one of the country's leading think tanks, the Albanian Center for Economic Research (ACER), began working on the issue with a group of reform-minded business organizations.
That group has come together to advocate for reform, motivated by the realization that informality is not an action, but a reaction. To most business owners, the perception is that the tangible and financial benefits of informality outweigh the costs of formalization. In many cases, informality provides greater financial security than can be found in the formal sector. The issues that disrupt the market, bulldoze the playing field and incentivize informality are the specific targets for policy advocacy reform for ACER. ACER's group of leading business associations, chambers of commerce and economic-focused NGOs have led the charge, and in doing so have formed a strong coalition now known as the National Business Forum (NBF).
Over the past year, NBF member organizations have worked together to develop common positions on key issues – from improving the framework for public-private dialog to closing implementation gaps in the tax system – hitting across various core values of strong democratic governance and the cornerstones of inclusive and sustainable economic growth, much in line with the new sustainable development goals.
Recently, the NBF began using a CIPE-pioneered methodology to analyze the implementation gaps between the legal framework for tax inspections and the actual practice of those inspections. When the NBF presented its findings and recommendations to government officials, there was agreement that tax inspectors should conduct themselves as specialists, not "policemen;" the government pledged to address the issue.
Since then, the NBF has secured commitments from the Deputy Minister of Finance and representatives from the General Tax Directorate to develop a mandatory training program for all tax inspectors. Further, Albania's Parliamentary Committee on Finance and the Economy approved three amendments put forward by the NBF to the current tax code to improve the business climate by clarifying tax procedures and injecting greater transparency into the taxation system. As of January 2015, companies in Tirana are now selected for tax inspections by an automated process, significantly limiting corruption potential in the capital. NBF members have realized that they can achieve greater impact through a coordinated advocacy approach.
Beginning to see successes, ACER has also decided to take the pulse of the business community, developing a survey on the root causes of informality. ACER conducted interviews with over 400 businesses operating in Albania to find out the answer to this question: why do businesses keep parts of their business undeclared and what would inspire them to formalize? ACER found that there are four major issues today that must be addressed in order to encourage formalization: increased transparency, equal treatment, reduced barriers to doing business, and simplified procedures.
In addition, ACER also discovered that businesses do not know how their taxes are used. Many believe their taxes are stolen or misused by the government. Further, because equal treatment is not yet guaranteed and business do not have to play by the same rules, obeying the law makes little sense.  ACER's survey found that of these informality motivators, the most pressing were high taxes paired with a lack of transparency and unfair competition from unregistered businesses. In speaking to the latter, a whopping 63 percent of responses indicated corruption as a major deterrent to operating formally. The common denominator of these major arenas can be reduced to one word: incentivization.
While there have been governmental efforts to push formalization – including reforms to streamline business licensing and authorization processes electronically – the persistent official view is that informality is something to be fought. Albania's Minister of Economy, Trade and Energy has stated that formal businesses must put pressure on government to "fight" informality.
NBF members, however, recognize that reforms must be grounded in an understanding of the reasons that entrepreneurs choose not to be formal and should reduce incentives to being informal. ACER and the NBF are looking at the various interconnected issues that lead businesses to operate informally. Addressing each issue one by one, ACER is bringing businesses together to advocate for policy change that encourages entrepreneurship, preserves the rights of business owners indiscriminately, and improves democratic governance.
While every individual success is notable, ACER is pushing for sustained, inclusive, and sustainable economic growth all around, and is a player to watch in the "fight" for change in Albania.
Rachel Grossman is an Assistant Program Officer for Eurasia & South Asia at CIPE.