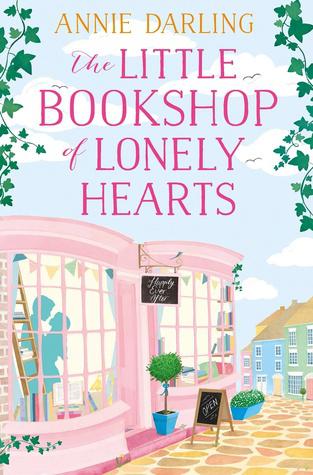 TITLE & AUTHOR: The Little Bookshop of Lonely Hearts by Annie DarlingAUTHOR PAGE: PUBLISHER'S WEBSITE

WHAT'S IT'S ABOUT
I was given a copy by the publisher via NetGalley in exchange for an honest review.
PUBLISHER: HarperEDITION: KindleOPENING
PUBLISHED: 19 May 2016PAGES: 416 pages
WHAT I THOUGHT
Where happy ever after is only a page away...
A delightful new series set in a quaint old bookshop, for fans of Lucy Diamond and Jenny Colgan.
Once upon a time in a crumbling London bookshop, Posy Morland spent her life lost in the pages of her favourite romantic novels.
So when Bookend's eccentric owner, Lavinia, dies and leaves the shop to Posy, she must put down her books and join the real world. Because Posy hasn't just inherited an ailing business, but also the unwelcome attentions of Lavinia's grandson, Sebastian, AKA The Rudest Man In London.
Posy has a cunning plan and six months to transform Bookends into the bookshop of her dreams - if only Sebastian would leave her alone to get on with it. As Posy and her friends fight to save their beloved bookshop, Posy's drawn into a battle of wills with Sebastian, about whom she's started to have some rather feverish fantasies...
Like her favourite romantic heroines, will she get her happy ever after too?
OBITUARY
Lavinia Thorndyke OBE, April 1, 1930 to February 14, 2015
Bookseller, mentor and tireless champion of literature, Lavinia Thorndyke has died aged 84.
The Little Bookshop of Lonely Hearts was exactly what I needed after reading a lot of quite dark fiction. The book is exactly what it appears to be; light, frothy and a lot of fun. I'm a book lover and bookshops are my favourite place to hang out so this book was a treat. I'd love to work in a bookshop so this book was like taking a peek into my other life. I really liked the way Posy and Sebastian Thorndyke play off against each other. The characters are really well written and easy to visualise. I saw myself popping into Bookends for some quality book time. I'm not a huge fan of romantic fiction so wasn't overly impressed when Posy goes all doe-eyed over bad boy Sebastian but the book was so much fun the romance stuff is just a tiny niggle. This book was easy to read and I flew through the pages. I read a lot of fiction that's quite dark and intense so it was nice to get my head out of violence, blood and gore for a while. I really enjoyed The Little Bookshop of Lonely Hearts.