1957 Fiat 600 Coupe by Viotti
Offered by Coys | Ascot, U.K. | April 27, 2013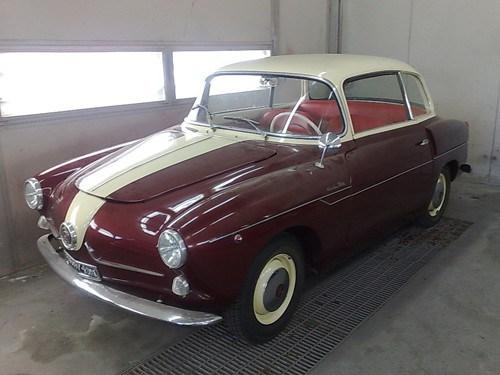 The Fiat 600 (or Seicento) is, as you might expect, the slightly larger big brother of the iconic Fiat 500. The 600 was actually introduced prior – two years prior – to the 500, making the Seicento the first rear-engined Fiat.

The "600″ refers to the 636cc overhead valve straight-four that was put in the car from the start of production (larger engines would be available later on). It could do 68 mph and made about 28 horsepower. It was a city car – a car for the people – and sold over a million copies in the first six years of production alone. But what if you wanted something a little more stylish?
Enter Carrozzeria Viotti, the Turin-based coachbuilder founded in 1921. They were the first Italian coachbuilder to use an actual production line and while they built bodies for prewar classics like the Alfa Romeo 1500 and Lancia Dilambda, they're post-war work centered on small cars like this or the Fiat 1100 Giardinetta. (Yeah, they built fancier stuff too). They turned a people's car into an attractive little coupe here and ran off a few hundred of them, with only a handful in existence today.
This car is expected to sell for between $20,000-$25,000. Click here for more info and here for the rest of the lineup from this sale.