These are the questions and answers to the fetcheveryone.com "Member of the Month" interview I did a few months back. It was just after Badwater. Members are all invited to ask questions, I have annonymised them. At least no one asked "isn't it bad for your knees?"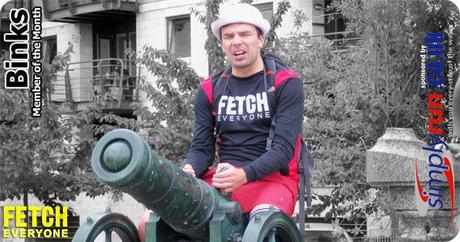 Q - What is your most sought after pb ever and if you achieve it would you give up running??
Good question. I don't really have a "pb" in mind in the usual sense ie "X time in some Y fixed distance". I used to think about 3 hour marathons but got bored of the track work and specific training needed for that (though having said that my current marathon pb of 3.07 came the day after a 24 mile fell race so perhaps 3 hours will just fall out randomly one day).
But there is nothing that if i achieved it would stop me running. There is so much earth out there to run and I am not going to have time to do it all in the little time I will have on here.

Q - When you have done the most mentalist race on the planet what do you do next? Besides having a wee shandy or two?
When I first got into this I thought I knew what the most mental race was. I looked up to Badwater like that was the end but soon realised that the world is full of people taking it further. When I did Badwater this year another guy did it back to back SIX times. There is always someone doing something more silly.
There are a number of races out there that I still want to do and in some respects might be more mental that Badwater. They are getting invented faster than I can run them. If it happened that I finished the hardest one and there was no step up that would be the time for me to think of my own run.
Q - What would you do if you couldn't run?
I'd become a very convincing Rik Waller Lookalike.         
Q - If there was one piece of advice you wish you'd received before you started "going longer", what would it be ? Congrats btw
Probably that I didn't start soon enough or continue after the first marathon I ran. I did the London Marathon in 2000 and I loved it. I only did it as a joke to amuse some Uni friends. As I lined up at the start line I thought I might die that day. I was so nervous that my nose started to bleed. After about half a mile I had to duck into the toilets to sort it out, I was only there for 5 minutes and when I came out there was no one around. I was officially last in the London Marathon, I was even behind the 2 sweeper lorries clearing the rubbish.
Anyhoo, I digress. I absolutely loved the experience but didn't do another marathon until london again in 2003 and then again in 2004. I wish I had joined a running club straight after that marathon and got into the whole social aspect of running so much sooner and done a lot more races. That was before the internet was so widely available and i thought that "The Marathon" was the only race in the world that existed.
On getting into ultras I was very tentative, doing a 45 miler then not doing another for about 4 months. I wish I had just dived right in. I see so many people on Fetch and friends from Serpies just getting straight into the multi-days and longer events and wish I had done sooner. I'm not saying that those wanting to do an ultra should start with a 100, but i would recommend saying "yes" to things more than saying "no".
Q - So well deserved..congratulations. You have completed so many tough tough races. Have you ever DNF ? If yes...how did it affect you?
I have had a few DNFs in my time, about 5. Most of them were just a case of something hurting and me not wanting to risk it. I don't worry too much about the DNF aspect like that, I am not too precious about having a DNF free record if it preserves my legs.
The one time where it did really hurt (emotionally) to DNF was the Rotherham 50 in Dec 2007. It was my first 50 miler and the biggest run I would have done up to then. I got food poisoning the days before (My own fault from my addiction to filthy chicken places). I went up there with some friends and was really looking forward to the race, despite the grim conditions. Quite early on it was clear that i was not going to finish. I had not eaten for 2 days and I was having to stop lots. I pulled out at 17 miles.
I would hardly say this was a dream race for me but I did feel like I had let myself down and was envious of the others who were going on to complete the race. It sucks when you are on the train back home and people are talking about parts of the race that I didn't even see. I felt that I had to go back and finish.
I think the worst thing about it is that at the finish line you feel like a bit of a lemon seeing your friends finish while you are already there and dressed. Then hearing them talk about the race, the bits that were hard, the bits that were amazing and everything you missed. It's not so much missing out on a medal, some goodies and an official finish time, its more the experience that you missed out on.
More recently I DNF'ed the Highland Fling as both my knees seemed to seize up. Again, it was not a nice feeling but I knew it was the right decision.
I meet some crazy ultra-runners who have a determination not to DNF any race ever, even if it kills them. I don't think this is a wise move. There are times when you need to stop to stop yourself from long term damage. Your pride takes a battering but in the long term its better than your body.
Having said that I've never felt like I've been beaten by a race. I've never DNF'd because I thought the race itself was too hard. That's one of the reasons I feel like I need to step up. To see whether there is a race out there that will beat me. It's going to hurt like hell when it happens and will probably screw me up psychologically but I have to try and find it.
Q - Loved the Badwater blog. :) Do you think you'll ever get the same sense of satisfaction from shorter races (you know, anything less than say a marathon)?
I doubt it, I find shorter races hard for a different reason and I don't like the way I have to burn my lungs to get around. I have made my bed now and it's incompatible with trying to do justice to shorter races.
Q - What is your worst running experience a) in training, and b) in a race, and did you cry?
I have not had that many bad experiences, I try to take positives from everything. POssibly the worst race experience was the Marathon Des Sables where I was quite ill. I had a chest infection and really should not have started the race but it costs so much money I had to just get it done. There was no rest for the whole week, even when I was in  bed I was being choked by the sand blowing into my mouth at night.
http://runningandstuff.squarespace.com/blog/2009/7/9/marathon-des-sables-moan-moan-moan-cough-moan-moan-cough-cam.html
The one time I have cried in a race was actually the best running experience ever. It was in the Grand Union Canal Race in 2008. I had got to 100 miles fairly comfortably but was starting to get really tired and hurt. miles 100-120 seemed to take a day and I sat down at 120 miles and was unsure whether I'd get back up again, I was a mess.  I decided to get up and was determined to get running again, within a few miles all the pain seemed to go away and then a few mile further I was flying, running like I was running 10k. This lasted for about 10 miles where I suddenly realised that I was definitely going to finish this race and I just had to stop, hold onto some railings and ball my eyes out. It was amazing to think that after 27 hours on my feet I could still run like that. I think about that moment every time something gets hard. It reminds me of how I can break out of hard times and also how I can finish anything.
http://runningandstuff.squarespace.com/blog/2008/6/23/grand-union-canal-race-report-long-version.html
Q - I've heard it on popular authority that you like to run and you like to drink. If you HAD to give up running OR drinking for life, which one would you choose and why?
Well, I only drink to replace the calories that I burn off running. And I only run to have something to talk about when drinking in the pub. If I was faced with that choice I guess I'd give both up and take up knitting.
Q - If you could run in any country in the world, where would it be and why?
Hmmmmmm. There are a lot of races I want to do in a lot of countries. I have never been to Australia before and there are quite a few there   I would like to run .   
Q -  Will you be doing the Western States at some point?
Yes I hope to and was in the lottery for last year but it's about a 17 to 1 chance on getting in. Its getting harder and harder to get into the popular events such as WS100, UTMB, Hardrock etc. WS100 is definitely on the list as are many other US races such as Hardrock, Leadville and Barkely.   
Q -  probably have some goals in mind for next year but in time can you see yourself maybe organising an ultra race of your own and if so do you have something in mind already (without giving too much away of course)?

I would love to organise my own race at some point but I can barely organise myself to  run a race on my own. I am always forgetting things like vasaline, water bottles, pants etc that I think if I extended myself to try and organise 100 other people to do a run I might miss something completely, like forgetting to get permission from some guy who's land we were going to run over or going through a firing rang on a tank combat training day.   
I do think it's brilliant that there are so many people organising races thought, it seems that there is  a wealth of choice every weekend now. Many Fetchies have put themselves out there and put on a race of their own and i think that's brilliant. Jen J, Foxy, B-Lass, Els, LIverpool Feet and no doubt some others that I have forgotten. There are loads of others out there too putting on great events. I salute all these people for taking the risk and putting on events for lazy people like me to just turn up and run. I can't imagine all the stress and not to mention personal financial risk. Over the years I have become a lot more appreciative of these people and try not to vent my spleen if something goes slightly wrong. Without them I would not have nearly as much fun as I do.
Having said that I may one day organise a race. And you'll do it won't you MS? Probably better check about the tanks on the day though.
Q - what is your fave book and do you keep it in the toilet?
I have just finished reading "Why we run" by Bernd Heinrich  and loved it. Its about a runner who decides to get into ultra running with a good marathon background but takes lessons from nature, such as the endurance capabilities of birds who eat once then migrate thousands of miles  or even frogs who sing for nights on end. really is worth reading. Other running books I'd recommend are;
Born to Run by Christopher McDougal.   A brilliant story of some amazing characters in the ultra running world, a Mexican tribe and the idea that running is what humans where  always capable of doing and should be now, and all this coming to a head at the Leadville 100 race.
Survival Of the Fittest - Similar to the above it chronicles some of the authors endurance events and how humans are built for such things. I particularly like the bit where he suggests that we got an advantage to dealing with the heat better than all other animals due to our ability to sweat. We should be running the Marathon Des Sables every week :)
I like all of the above as it suggests that running very long distances in the normal thing to do, and hence I am not such a weirdo.
I will also recommend reading the Bunion Derby, an account of the 1928 foot race across America. 3300 miles on dirt track mostly along route 66 from LA to New York. I fantastic account of what people did back then for food, energy, shoes, foot care. Not a garmin or a training spreadsheet between them.
And no I don't read while on the toilet. I need to use both arms to balance so I don't end up falling back and scrapping my backside on the bushes.
Q - Please don't mind for asking this question. How much did it cost you to do Badwater? Congrats....very well deserved.
yes it was rather expensive. I reckon about £3k in total (flights, entry fee, accommodation and food for me and my support team, car hire). I managed to get a crew from out there so there were less  costs for transport. If you were to take your own crew out there you'd obviously have to pay for their flights too. Because I was so obsessed with this race for so long it was worth it to me. I will definitely do it again but not very often I don't think.
Q -  You've done so many great races but if you could invent your own where would it be, how long and over what terrain?
Hey Bomb. I'm not sure actually. I quite fancy doing an off-road JOGLE, using some of the UK's great national trails. I wonder if a race exists where you have to run for as long as possible without stopping or sleeping? That would be pretty cool. Unless it was round a track.
Q -  How do you manage to balance life and your extreme running? Or is running your life?
Running is my life :) And the pub of course. Fortunately I don't have any of those little people to look after so I have my time to myself really. Plus I try to consider running as a means of transport rather than "training". I live about 9 miles from work which is a good distance to run each day if I am trying to get lots of miles in. It takes an hour on the tube, about an hour and 15 running. So if I did that every day I'd get 90 miles done in just an extra 2 and a half hours :) And I save enough money to eat 60 inches of Subway. If that is not an incentive to run lots I don't know what is.
Q - mother nature often calls when one is out for a long run. where is your favorite place to shit and why?
Good question. Being out on the trail a lot you certainly do appreciate a good toilet. In a recent marathon I went into a portaloo and found they had quilted toilet paper. I was elated and could have spent all day there stoking my backside.
Anyhow, dunno really where my favourite place is. It's funny how when you first get into this kind of thing you find yourself wandering miles off course to dump cos you are worried about getting found out. Now I'd take a crap on a water station, I don't care.
  
Q - Congratulations. Races: First, worst and favourite 3?

I did the London Marathon in 2000 and I loved it. I only did it as a joke to amuse some Uni friends. As I lined up at the start line I thought I might die that day. I was so nervous that my nose started to bleed. After about half a mile I had to duck into the toilets to sort it out, I was only there for 5 minutes and when I came out there was no one around. I was officially last in the London Marathon, I was even behind the 2 sweeper lorries clearing the rubbish.
Worst would have to be the Marathon Des Sables. A combination of horrible illness and a race that is so far up it's own arse  that  it made me feel even more sick.   But I won't bore you with the sleepless nights, the 24 hours of queuing and all the fanfare, you can read it all here.
Best 3? Interesting. There are so many great races in the UK and the world that I want to do and will never get round to doing all.  
http://runningandstuff.squarespace.com/blog/2009/7/9/marathon-des-sables-moan-moan-moan-cough-moan-moan-cough-cam.html
I think the Spartathlon wins it. The whole thing is so epically pointless but each year 100s of really hard nutcases decide to do it anyway. It is the only race I know of that has such mistorical significance, tracking the run of phiddipides from Athens to Sparta as he tries (and fails) to summon an army. The organisation is brilliant, pure running enthusiasts and not an ego among any of them.
http://runningandstuff.squarespace.com/blog/2010/9/28/spartathlon-2010.html
The GUCR would not be far behind. If I were born in some other country I am pretty sure I would have never heard of this race. I will always have very fond memories of when I went from a 50 mile ultrarunner to an all day and all night and all of the next day ultrarunner. It was magical and it went so well. The whole event is everything that is great about this sport.
http://runningandstuff.squarespace.com/blog/2008/6/23/grand-union-canal-race-report-long-version.html
Hmmmm, a third race? Probably Davos, just because it's so well organised, there is something for everyone which means that a good selection of my friends come along rather than the usual ultra people who I probably spend far too much time with already.
  
Q - i'm heading to LA area next yr, what Ultra should i do? sensible suggestion if you dont mind! ps, welld done, bloody well deserved

California has a great ultra running scene and obviously hosts the Badwater ultra. However next year I have my sights set on this one. Fancy it?
http://www.serge-girard.com/index.php?part=course&ID=1&lang=uk
  
Q - Huge congratulations, really well deserved! Was Badwater the Holy Grail you thought it would be? And if so, how do you look to future races after such a massive achievement? That was two questions wasn't it.....? Now I've made it three... *gets coat*

Badwater was the holy grail when I decided to run longer than the marathon. By then I had only heard of a few ultra races such as comrades, Marathon Des Sables and London to Brighton. Badwater just seemed to blow these out of the water. That one event sucked me into this world and the further I delved the more and more I found out about other events.
Badwater was the holy grail I expected but at the same time when I vowed to finish this many years ago I thought I was just going to finish a race, what I actually got involved with was a complete change of lifestyle and perspective. It is no longer about 1 thing that I must finish and then that is the end. Having met some people who have done some crazy things I know that whatever I do there is someone out there doing twice as much.
  
Q - What one piece of advice would you give you some whack job who's considering running Badwater 135?
Get saving now.
Q - I think your article Ultra Running Tips - Mental Stuff http://www.fetcheveryone.com/article-view.php?id=343 is worth a MotM in itself! Why longer? Why not sub 3? Or is that coming? Congratulations again! :-)G
I think I've answered in an above question that I am not aiming for a sub 3 as such but am pretty sure it will just appear one day. Glad you like the article. I need to update that with some more stuff I have learned in the past 12 months about how do deal with things.
AN update is coming soon..   
Q - Have you ever considered asking for sponsorship from your favourite food purveyors? I am sure Subway, McDonalds and Prigles would be proud to support a fine figure of an ultra runner such as yourself. And imagine all the free food. Who would you approach first?
I asked Ealing Kebab if I could have free chips with my Chicken Doner if I ran around the town with their name on my T-Shirt but they declined.
I think I would approach Subway first as I do like a nice 12 inches when out on a long run. When I was training for the Spartathlon last year I did about 15 30+ mile runs in a month and lots of them I would stop in McDonalds and get a meal. Milkshake, salty carbohydrates and a toilet. What more would I want?      
Q -  Who is your favourite runner and why?
Hey Docter K. I supposed I have to say the OH, otherwise my laundry and lifts to races are in jeopardy.
Yiannis Kourous  is a legend. Holds every world record from 100 miles to 1000 and every record  over 24 hours.
http://www.yianniskouros.com/
But if it was not her I have a list of possible contenders.
Scott Jurek I think is amazing. Such a nice guy but capable of such incredible things (winning Badwater, Spartathlon, Western States several times). Seemed to go into hiding as soon as he was revered as the best ultra-runner in the world. He waits at the finish line for all the other finishers in any race he does (which for him is usually a long wait).
http://www.scottjurek.com/#/home/
Killian Jornet is a very young Spanish guy who is doing unbelievable things up and down mountains. Broke the UTMB record comfortably and seems to be able to run vertically.
http://www.kilianjornet.cat/
I recommend reading the Bunion Derby for some great characters who ran the first organised trans USA run in 1928.
Obviously Phiddipides who inspired the greatest race I have done and he did it without road shoes, a torch or even a garmin. I can just imagine him 2500 years ago. You must run to Sparta and summon an army. No wait a sec, I still have not got a signal. I need to know what pace I am doing as I run.
  
Q Fully deserved. Awesome race history. How many pairs of running shoes do you get through in a typical year?
I really can't remember but every pair I get rid of I melt down and make a bit of path with it. Within a few years I should be able to run a marathon on it.
Q - How do you cope with those moments in ultras when you think, holy shit, I've already run two marathons back to back and I've got another three to go? And when are you publishing your collected works of blogs?

In the Spartathlon I had run one marathon by the time I'd usually be at work. Two by the time I'd eating lunch and thinking to myself "isn't this much better than sitting in an office?"
I was struggling then after 50 miles but the next 3 were a dream, I just felt like a sailed through them. It does not happen in every race but I know that no matter how crap I am feeling it's probably going to get better later on.
I hope to publish something to do with running and my blogs. It seems crazy how I was pooing myself about running 45 miles in one go 4 years ago and now I propose to run 45 miles a day for 70 days and am not (yet) concerned that it might break me into pieces. I've come a long way since I used to be scared of marathons. I might write it even if it did not get published but am struggling for a title. something like "Ultra Running for fat b******s?
Q - What amazing, insane thing are you going to do next?
Hi Dave. I've just signed up for the LA to New York race which is 3220 miles in 70 days. It seems pretty insane now. I remember crapping myself at the thought of running 45 miles in one go just once but now it seems sensible to do that 70 days in a row.
Actually no it does not seem sensible.
Q - Congratulations, and well-deserved with all you've achieved in the field of extreme running this year. I seem to recall that about a year ago, inspired by some of the leading ultra-runners, you experimented with veganism. How long did the experiment last and what were your conclusions?
Hi Vrap. Yes that was a strange time for me. I was inspired by Scott Jurek and his vegan diet and thought I might try it AND do lots of heavy training. It did not really work for me as I think you need to be quite knowledgeable and passionate about food (which I am emphatically not) though I did learn a lot and never knew that chickpeas and falafel we so nice :)
I am sure it is possible to run on a vegetarian/vegan diet. Scott does and I know a couple of people who even do the raw vegan diet and run ultras. Not for me though. I like Big macs too much.
Q - Fantastic achievement mate I mean Badwater :) of course and well deserved MotM. How do you train for your 'mental' endurance or is it natural ;)
I think mental endurance is natural in everyone. There is more and more evidence to say that we ran ran and covered long distances for thousands of years and hence we have some natural ability to deal with it. No one ever asks you "why do you like sex?" or "why are you so emotionally attached to your children?" because it's taken for granted that these things are normal and natural as they have been essential for our survival and we have evolved as such. There is a lot of evidence today that we have always had to run and run a long way hence those who get pleasure from running would have been selected by evolution and those are the people who are around today. Probably not explained that well but I suggest reading "Why We Run" by Bernd Heinrich, Survival of the Fittest or Born to Run.
In terms of training for it I certainly think it improves with experience. When I first started I would get stressed out about a lot of things. I remember my first ultra and I had just joined fetch and I was asking all sorts of questions like how does wind speed affect a long run and a lot of questions about shoes that would make Hellen laugh quite a lot. Nowadays I am so much more relaxed about all that but I like to giggle at those who ask the same questions I did when I started. I probably should ask more questions though cos I still screw everything up quite a lot.
"Speed is sex, distance is love" - David Blaike
Q - About time as well young man. Now the main event, which one Spartathlon or Badwater? Choose wisely:)
You  know I'm not answering that one *coughcoughspartathloncoughsplutter*
  
Q - Now you've done the race that kept you going as a target for so long, can you be arsed any more? What's your motivation now? (in a non-luvvy way)
Yes Badwater was always the target but along the way I found out some really good races that I think are more special such as the GUCR and Spartathlon. I can see myself racing the spartathlon every year for as long as I or the race lives, it's such an amazing event and I think will be the main event for me for years to come.
But nowadays I am mostly motivated by the LA to New York Race.   
Q  - Extremely well-deserved on many levels. Do you really have to be mental,or does it just help a little?
I don't think I am mental. I think I am normal and everyone else is mental J I mean what kind of mentalist would smash himself over 5-42k of tarmac and then mope around for ages if it took him longer than he expected? Far more sensible to relax and just take your time strolling over 100 miles and ending up in a completely different place to where you started? Right?   
Q - How did you get into first get into running Ultras? and Why?
A - I think it was a case of just getting bored with the formulaic road marathon training. I did the whole following a spreadsheet thing and got a marathon PB  (3.12 from 3.34)    at the end and did not really get so much satisfaction out of it, I felt  like the victory belonged to the guy who made up this spreadsheet rather than myself, I was just the dog that did what he was told. I never thought when I entered my first ultra (tring to town 45 miles jan 2007) just how much they would take over. Now I can't get enough of them.   
http://runningandstuff.squarespace.com/blog/2007/2/3/tring2town.html