Have you tried the Tesco Free From range yet? I have to say amidst all the fancy brand names etc, many of the gluten free (and sometimes dairy free) products offered by Tesco have become a staple in my kitchen ...so I was overjoyed when they told me that they were coming out with new products in the range and over the moon when they asked me to try some of their new Christmas free from products!
When they said they were sending a hamper, I expected a maximum of four products or so, to be honest...but I was pleasantly surprised by this waiting for me after work one day. My first thought was that it was such lovely wrapping.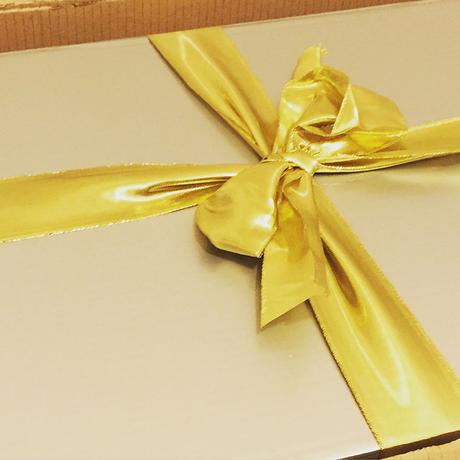 Then I thought - this is huge!!! So I opened it up, not sure what to expect and I was blown away by Tesco's generousity. They sent so many products - I definitely do NOT have to do any Christmas shopping or cake baking! That being said...most of the cookies, the brownies and blondies and the Carrot cake have already been consumed...and somehow I don't weigh a million pounds yet. It's Christmas. I'm allowed a little weight gain, right?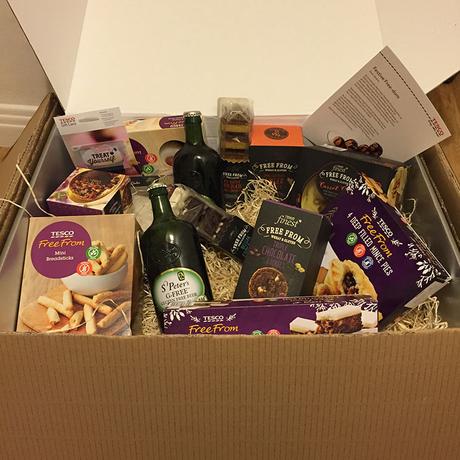 They also sent me a gift card to purchase some of the new Tesco Free From frozen and chilled goods like their Tesco Free From Profiteroles, Cheesy Garlic Dough Balls, Battered Onion Rings, Tesco Free From Strawberry and Vanilla Cones, Tesco Free From Strawberry Rice Pudding and of course their Tesco Free From Chocolate Dessert. I think I may wait till I get back from my Christmas holiday to try some of those though - specificaly the Onion rings and the chocolate dessert....I would love to try the rice pudding but have an allergy to berries so am going to have to do without until they bring out a tropical fruit flavour (hint hint Tesco) perhaps.
Now I do find that a lot of Tesco Free From products are amazing, but most do have dairy in them and I do find that they cater to only one food intolerance/allergy at a time (for example they may be gluten free but not dairy free...I am not sure about nut and soy free etc.)...and it would be lovely if they embrace the term "free from" fully in the near future...in the meanwhile, though, I think the products in the Tesco free from range are definitely on the right track and Tesco is truly looking out for us food intolerance mavens......I mean with 350 free from product to choose from you can't complain too much can you? Did you know, for example, that they have Free From celebration cakes available in store year 'round? And they're good. Trust me. I've eaten enough of their chocolate cakes in one sitting (especially at the beginning of my separation).
I also trust this range completely because it was born out of necessity, not a specific desire for profit, unlike many other free from companies. In 2003, Tesco received a call from a customer who needed help with her son's dietary challenges. Interestingly enough, that customer was hired as the Tesco Free From Brand Manager soon after and assisted Tesco to develop the Tesco Free From range at that point! That's how this all starts, doesn't it? From the basic need to feed our families good, nutritious (and sometimes fun, sugary) food that does not make them sick!
I know how hard that is, especially in the beginning, when you have food intolerances. So does Tesco - which is why they are carrying out an all day twitter service on Monday 14th December 2015 to share knowledge, recipes, tips and product ideas to help everyone out there with free from needs to get through and to enjoy the festive period as worry free as possible. All you have to do is tweet your questions with the #glutenfreehelps hashtag to @Tesco and they will do their very best to assist you in finding solutions to your free from problems. I have to say this is amazing because when one first goes gluten free, or when someone in your family who is dependent on you does, there is not much help out there. If you're not on Twitter - go join now, even if it's just for that. It's free and very easy and you won't regret taking part in this chat with @Tesco.
Tesco Free From is definitely something I would miss if/when I move back to Canada - but I am really thankful for having them there because they are not only so inventive with their free from choices, but they care enough to help. Go take part in the Twitter chat...and if you don't have time or choose not to, make sure to check out the Tesco Free From range - especially their Christmas items (and cookies). Trust me, you won't regret it.
Have a great, safe Christmas all of you. My love always.