If you've been reading my twitter and facebook feeds, you will have noticed me talking a lot lately about Extonbury. It's a really lovely little music festival secreted away in a paddock behind The Fox and Hounds pub in the beautiful village of Exton, Rutland. I've been before, and had a most enjoyable time, but this was my first time with an intention of writing a review.

Waking up on the morning of Saturday 18
th
July, my first port of call was the window to check on the weather. The festival organisers had promised sunshine, and that is exactly what we got! Excellent news for all – no wellies required! A great start…!
I arrived at 12.30, half an hour before the first band was due on stage, to find people were already settled in for the day in their chosen sections of the field. There were gazebos, sun chairs, hats, picnics, chatty adults and smiling, energetic children. There was a general feeling of cheerfulness in the air, aided by the afore-mentioned weather and the beautiful setting. Oh, and the bar was open, which always helps!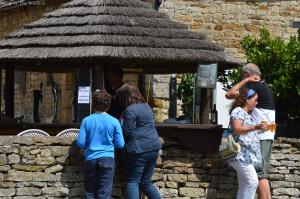 The setup of this festival includes some lovely craft stalls from local businesses, and a special mention for which goes to the BACK (yard) pork project, who provided some absolutely delicious and different food! Really yummy stuff, and gave me energy to last until the end!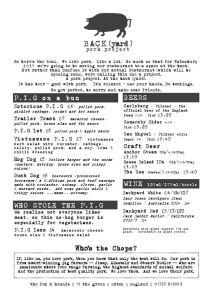 Onto the bands…
First up was a new local band who go by the name of Heisenberg. I didn't know if this was named after the man behind the Uncertainty Principle or the TV show Breaking Bad, but when the drummer came out wearing a hat just like Walter White's, I figured the latter was the case. Bringing us their take on classics from various genres such as "Stuck in the Middle" by Stealers Wheel, Fleetwood Mac's "Dreams" and "Teenage Kicks" by The Undertones, this was a great kick-start to the day's music.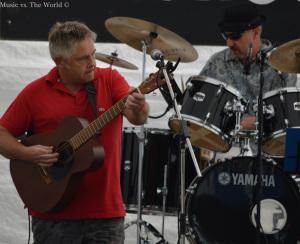 The Lounge Acoustic were next on stage. Usually called The Lounge and performing indie rock music at venues in and around Stamford, for Extonbury two of the guys decided to go unplugged and slow it down a tad. They were very pleasant to listen to, and their relaxed attitude came across well. Among their repertoire was an ace version of "No Diggity" by Blackstreet, the brilliant Rolling Stones tune "Gimme Shelter", and the ever wonderful "Rockin' in the Free World" by Neil Young.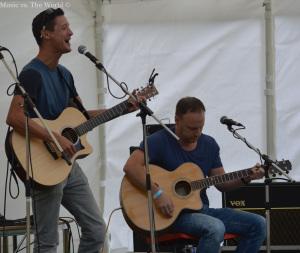 Next up was a delightful folk band called Crooked Smile. This was one of the highlights of the festival for me, and I'd definitely go and see them again. They put passion and verve into their playing, and Helen is a superb violinist – they got people up and dancing which was a pleasure to watch! I hope they'll be back in years to come!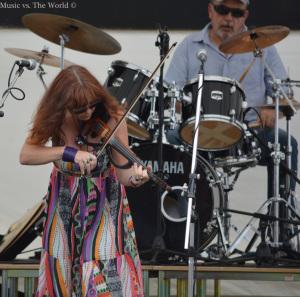 Out of the Blue
get the prize for band who most enjoyed themselves on stage. From the outset, they were all smiles and were totally in the groove. With a lovely set list including Madonna's "Material Girl" and "California Dreamin'" by The Mamas and The Papas, this was superb music for a summer's day singalong!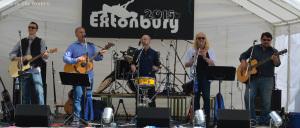 The band that played next were my favorite from the whole day – I'm a big fan of Blues & Rock music, so Tres Hombres were right up my street. They were really tight, and I dig that Bluesy guitar sound. They played "Chartreuse" by ZZ Top (among other songs of theirs), which was an absolute treat to hear live, and they also dropped in three songs by The Black Keys, including "Lonely Boy – this made me very happy indeed! Despite extensive searches, I've been unable to find an online presence for Tres Hombres – if anyone knows any different, info would be gratefully received! Headliners of the future right here, methinks (please!).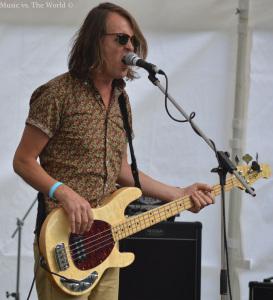 The next band's name is where the village and the festival take their names from, of course – ha!!
The Extones
were on stage next with their crowd pleasers "Halo" by Texas, Ocean Colour Scene's "The Riverboat Song" and "Favourite Game" by The Cardigans (nice to hear that live!!). Extonbury simply wouldn't be Extonbury without them! May they keep coming back for many years to come!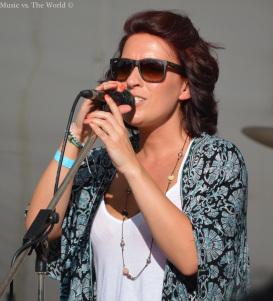 Brand new band Trigger's Broom were next, and despite the fact their nerves really showed and there were a few sound issues to start with, Kelly (formerly of Twenty Four) really stepped up to the mark with her trademark soulful vocals, and they soon found their way to feeling more comfortable! It was particularly lovely to hear them perform "I'd Rather Go Blind" by Etta James – a wonderful song indeed and rarely heard live! I'm looking forward to seeing them again.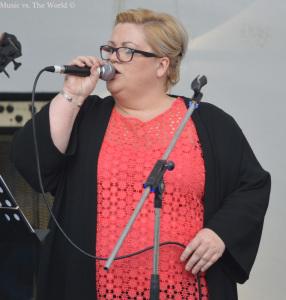 Seasoned pros and regulars on the pub gig and festival circuit
The Reason
graced the stage next with their well-tuned set including popular songs by U2, Coldplay, Travis, Snow Patrol and Stereophonics. The crowd were singing and dancing, dusk was starting to descend, and the atmosphere was truly festival appropriate. A happy time indeed!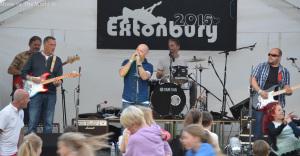 The penultimate band was
Laughton's Last Stand
, for whom Jim Laughton of Cupid's Inspiration fame (think "
Yesterday Has Gone
" from 1968!) plays bass. These guys are absolute pros – they know their way around the stage and their instruments like they've done it a million times, and they probably have! This was good time rock n' roll at its best, with renditions of Louis Jordan's "Saturday Nite Fish Fry", "T Bone Shuffle" by T Bone Walker and Howlin' Wolf's "Killing Floor. I've seen this band before, and they didn't disappoint on either occasion. Brilliant!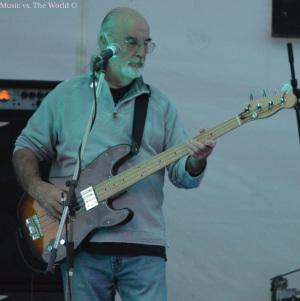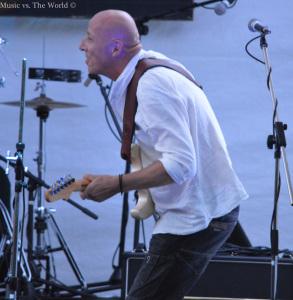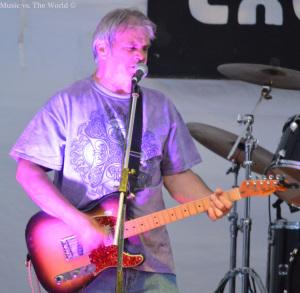 Finally, we were able to witness 2015 headliners
Inferno
, a funk & soul band who have even got a brass section! There were a lot of people on that stage!! With excellent version of classic tunes such as "Long Train Running" by The Doobie Brothers, "Mustang Sally" by Wilson Pickett and Curtis Mayfield's "Move On Up", this was an act that could not be missed! Excellent musicianship, passionate performances and extremely versatile vocals, both male and female, makes this a great formula for a band. This was the best possible way to end what was a brilliant festival from start to finish.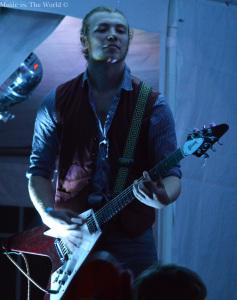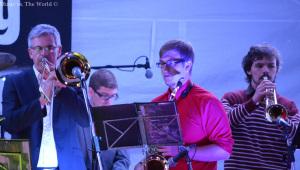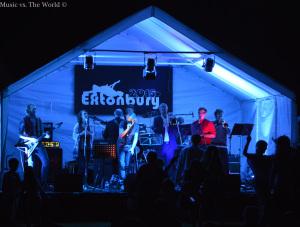 As well as thanking The Fox and Hounds Inn, Exton for providing the beautiful venue, I'd like to take this moment to commend the organisers of this wonderful festival, Mark and Sheila Butterill, and everyone else involved in making sure the day went smoothly. There's an awful lot of work involved, and it's all in aid of local charities, for whom this year the festival raked in £6000.00! That's amazing, so a big well done to every single person who took the time to work towards it!
See you all in 2016!