Digital Marketers and Affiliates need to be regularly updated about new and better SEO tools. For the best policy, best keyword research tool is what anyone needs. Keyword research being quite an essential practice in terms of SEO, needs to be worked upon well. To elevate the chances of getting a good ranking, you need an efficient keyword analysis tool. We have managed to find a new tool, named Ferzy, that perfectly checks keyword difficulty.
About Ferzy
is a new and emerging keyword difficulty tool that helps one in compiling an estimation of how difficult a keyword would be to rank on Google. It is generally used by small scale businesses to solve the keyword difficulty problem. Prediction of competition or difficulty on the basis of keyword statistics for businesses can be done with this tool. It then give those businesses an easy keyword access with less SEO difficulty and low competition. You might have used many other keyword tools but we think that Ferzy is one of the best tools.
Ferzy has a range of fabulous features as a keyword research tool:
Will help you rank better in SERP.
Is really very fast.
Will give you a keyword difficulty rating for your selected keyword.
Will provide you with relevant keywords.
One of its really cool features is that one can check the top ten domains ranked for some particular keyword through it.
It analyzes all of the keyword data like Keyword Difficulty, Domain Authority, Page Authority, CPC, Monthly Searches in Google etc.
One can also get the information about the domain age and since some of their competitors don't have this kind of info, this gives an indication of keyword hardness.
Its free version allows 10 keywords search & 25 relevant keywords search per day which again some of their competitors don't allow.
Provides easy user interface.
How it works?
When you open Ferzy, the first thing that you will notice is the search box where you can type in an idea or a keyword that you want to look up. The most important thing about Ferzy is that its platform works really fast, plus the look and feel of its platform is amazing.
For example, in this Ferzy review, we will do the keyword analysis for the Keyword internet marketing that we need to contemplate in order to understand how competitive this keyword is.
The SEO Difficulty for Keyword internet marketing turns out to be 70 out of 100.
The only thing that this value indicates is that the competition for this keyword is big which means if any other marketer tries to rank this keyword with his/her blog or site, then they need to consider the following factors:
Domain authority needs to be high (approximately 40 - 70)
Page authority should also be high.
The age of the domain should be at least 1 year. A brand new domain can also be ranked if its content is good and it has potential to be ranked.

Another admissible information provided by Ferzy is that the sites are already been ranked in Google for the first 10 results. One is able to see some really valuable information regarding each domain: PA, DA, Backlinks, Domain age & Visits etc.
These factors help us in evaluating as in how difficult the keyword is and how much effort one need to do in order to rank on Google.

Ferzy Keyword Analysis
Usually whenever we search for a particular keyword, we are provided with long-tail keywords which would be pretty similar to the keyword we chose. There are some valuable information such as CPC and important metrics like searches per month at our disposal as well.
Generally in Google keyword planner when you search for the keyword "Internet marketing", it would give you an approximate of around 46,000 searches. This is the case due to the algorithms which are applied which use variations and different grouping to garner a bigger volume in case of searches. But we personally prefer to know the real volume of searches, that is the exam search volume that is there.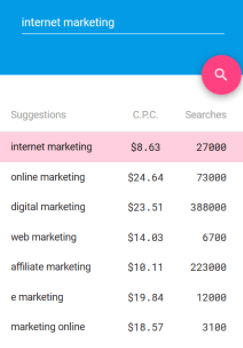 Considering this information, we conclude that a lot of people are interested or looking for this keyword. Hence, we can then start writing about it.
You can also filter your keyword searches by language or nationality and you can sort the search by using search volume or by CPC in case you wish to check which related keyword is less expensive or has more volume of searches.
Conclusion
In our opinion, Ferzy has proven to be the best keyword difficulty tool that allows us to get complete information about a keyword research. Along with this, it provides us with SEO difficulty. The cost that Ferzy offers is really good as compared to its competitors high price with much more less features.