copyright 2018 Art of Living, PrimaMedia,Inc/Maria Liberati
Ferr'Agosto is here and I can't think of a better way to spend it than making use of summer's harvest before it is all gone..after all Ferr'Agosto really means summer is quickly coming to an end..
Strawberries were bright and sweet this year in my home garden or my piccolo fattoria (lttle farm) as I like to call it.
Here's the recipe were making to cool off and enjoy the Holiday at home..
Strawberry popsicles…all natural good for the kids and even  Sweetie Bear , my little terrier loves them!
Ghiaccioli (popsicles) are a necessary accessory for walking outside in the sweltering heat..make your own natural popsicles..no air conditioning needed..these are guaranteed to refresh….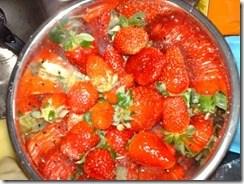 Fresh Fruit Popsicles
1/2 lb fresh strawberries
3/4 cup water
4 tablespoons  organic sugar or stevia
1/2 lemon
Wash, hull and cut strawberries into small pieces or cubes. Place cut strawberries into a bowl with sugar, water and lemon juice, then place in a food processor. Pass this mixture through a colander. Place the remaining puree in popsicle molds  and place in freezer for approximately 6 hours. Take out of freezer a few minutes before eating so that they remove easily from molds.
Keep cool
Hope to see you this Saturday for my Ferr'Agosto Picnic Meal at Casa Casale- will include a 4 course barbecue style meal, wine sampling, book signing and cooking demo for $89. Reservations limited so call Casa  Casale to reserve your place now..215-794-1474 www.casacasale.com
For more recipes get your copy of  the Gourmand World Award Winning Book…The Basic Art of Italian Cooking: Holidays and Special Occasions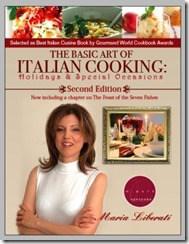 **Free App in Google Play Store-   Maria Liberati Cooks Italian   now available at Google Play Store