Singapore's national land use planning and conservation agency, the Urban Redevelopment Authority (URA), organized an exclusive public forum featuring Fernando Menis, Matthias Sauerbruch and Michael Sorkin. The three are well-known architects and urban planners with vast experience . They spoke about the latest developments in these respective fields and shared some insights on contemporary urban issues and their respective practice stance towards sustainability. Below is a short account of their presentation and the discussion that ensued.
Presentation By Fernando Menis
Founder, Menis Arquitectos
Fernando Menis, recently honored at the Architectural World Festival, showcased a few of his completed and ongoing projects, many of which are driven by his particular love for the spectacular volcanic landscape of the Canary Islands and it's relatively dry climate. Recycling is at the core of some of his initial projects. Major structures from industrial depots and shipyards are cleverly re-adapted into structural members in creating new architecture. Several projects dealt with the waterfront, with the creation of floating pools as public spaces, a signature design of Menis.
A few projects demonstrated the use of wind and wave energy as the generator of form. Menis' firm seems to be approaching sustainability with the simplest response; adopting a contextual approach and making use of local materials. Through hand modeling techniques, the studio investigates and experiments with concrete and various aggregates to create new forms that espouses the context perfectly. The architecture conveys permanence, boldness and a sense of durability and long-lasting. The spaces are powerful, sculptural and functional, addressing the different climatic contexts.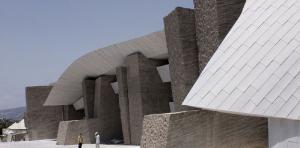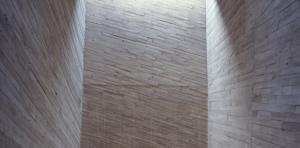 More at: Menis Arquitectos
Presentation by Matthias Sauerbruch
Founder and Director, Sauerbruch Hutton Architects
With their major works in Europe, Mattias Sauerbruch spoke about the difficulties of responding to the European context which he characterizes as a mix of scales with stark contrasts between contemporary and historic areas. In its various interventions, the practice's seeks to re-establish continuity and to weave a heterogeneous urban fabric between old and new. It is precisely this sensitivity in approach that has brought about issues of sustainability. The studio advocates setting examples as architects and creating opportunities to reduce energy consumption.
Most of these projects, being in urban contexts, have some common issues such as day lighting, noise and traffic pollution as well as climate response . Strategies to resolve these issues are crafted into the façade concept to create a signature design for each of the projects. Characteristics of the architecture are openness, weave of private, semi-private and public spaces as well as mix-usage.
Sauerbruch touched a bit on the use of colors, which is a prominent feature of their architecture. "…color is to us what concrete is to Menis.", he joked. He likened building facades to details in clothing. The closer you look, the more detailed it is. Colors have the same effect when applied at a certain scale, things may seem uniform. Upon closer inspection, one discovers little details that create intrigue and provides different levels of appreciation.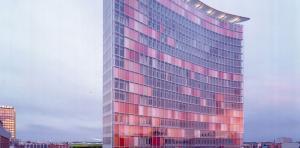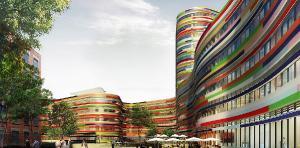 More at: Sauerbruch Hutton
Presentation by Michael Sorkin
Founder, Michael Sorkin Studio; and Chair, New York Institute for Urban Design
Michael Sorkin presentation entitled 'Design as Research' started with his Model City diagram as a paradigm for urbanism. He qualifies this approach as utopian yet a necessary exercise that can give tremendous insights of a city's structure and the differences that are present. For Sorkin, as the Model City drawing, a good city is a register of differences, and it is particularly one where people can get lost. Not lost in the modernist sense where all buildings look alike but lost due to the complicated relationships between urban elements, a reminiscence of medieval cities with their series of paths interweaving through settlements. These are the ideals that the practice is trying to pursue in its current projects and competitions, creating cities with differences, variety and opportunities.
The practice also advocates mix-uses. As Sorkin pointed out, mix-use can be a powerful requirement to reduce many of the urban issues that we currently face. A mix-use environment presupposes that people will be living closer to their jobs, reducing the need for transport, thus reducing the energy demands. A city without cars allow for a much more complicated city; no longer are long straight roads required for efficient circulation, parking spaces are freed and the distribution of space can be rebalanced. In addition, mix-use provide social enhancements and benefits to the quality of life.
Sorkin briefly commented on the rate of urbanization around the world, with roughly 1 million people going urban each week, most of it in the Asian and African regions. He commended Singapore in its leadership in some areas such as housing, transport and health-care. The combination of these successes makes Singapore as the ideal laboratory to research and test innovations.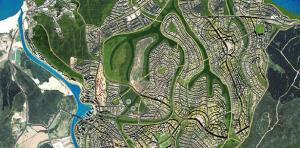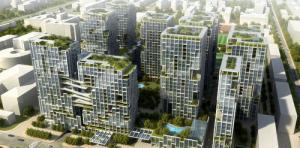 More at: Michael Sorkin Studio
Moderation
In the discussion that ensued, several issues were raised, among which were how should the architect mitigate between his responsibility vis-a-vis the demands of his clients and the higher purpose of designing without compromising our future needs. As shown throughout the presentations, there are clashes between the clients desire and what needs to be done for the greater good. The presenters agreed that one architect may not solve the world's problems but in our current crisis, issues of sustainability are fundamental and they drive the higher purpose of the architect. In fact, we should manipulate the course of architectural theory and education to reflect this. As for the clients, it is the architect's role to educate and persuade may it be through propaganda or actual theory.
Sauerbruch pointed that architects have a duty to monitor what they are doing and publish the results for others. This is a highly experimental field and architects need to know why certain strategies are working while others are not so good. There are many reasons while certain strategies fail, some are design related and may be resolved, However, there is the issue of user-behavior. While architects may provide or enable certain behaviors, through powers of seduction in spaces, they may not dictate them.
Also in line with sustainability, issues of equity were raised with regards to a new hospital in Singapore, yet to be made public. The issue seems to resolve around the creation of two separate wards; one, meant for the minimum paying patient, uses passive energy saving methods to meet the required comfort level. The other, reserved for premium patients, according to Sorkin achieve relatively the same comfort level through the use of energy-consuming strategies including air conditioning. To him, this is an attitude that is ingrained in our social fabric, to foster this mindset of hyper-consumption that widens the gap between rich and poor. It creates an imbalance and it is something we should all aim to get rid of. A member of the audience replied that such a situation was merely a by-product of Singapore's relatively solid health care system. Mention was made of the current US health-care turmoil at which point the discussion was cut short due to lack of time.
On the attraction to working in Asia, Sorkin remarked jokingly that Asia is where all the jobs currently are. But, more importantly, Asia is undergoing dramatic changes and has to meet urgent needs. It's influence is growing and it is controlling more and more resources. It is a place where important questions about our future are being raised everyday. These have practical as well as theoretical impacts and there are no better place to investigate them. Asia is the location of the future.
Overall, this was a very insightful presentation for Singapore architects. The three presenters form part of the next edition of the World Architectural Festival and, through the ideals of their practice and their body of work, communicated some of the key aspects they will be looking for as they select the best piece of architecture of 2011.