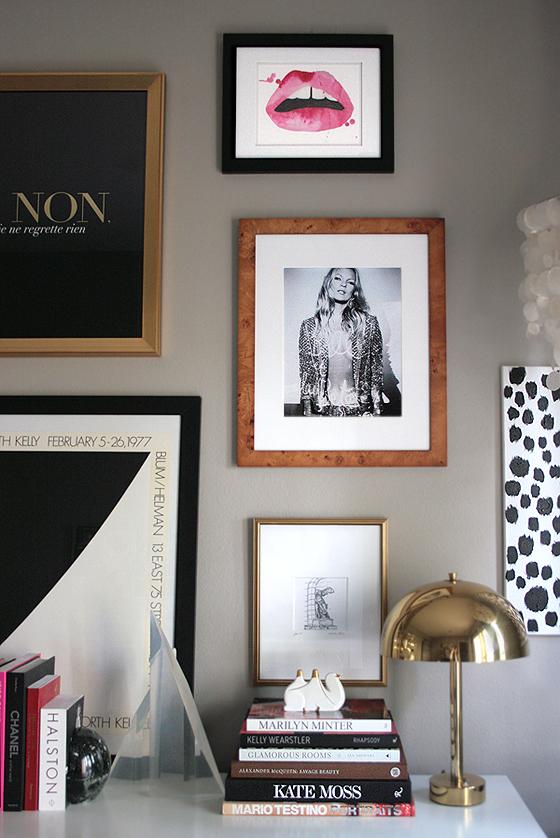 Gallery Wall Progress')">
About a month ago, I posted how Michelle Adams' bedroom gallery wall inspired me to redo my own. This is my 3rd version over the past two years, but with each revision, I get to explore a different aspect of my style. It's so fun! In the midst this new exploration, I wanted to share a few quick pics of the progress thus far (I'm waiting on two pieces, and will have a formal shoot with my photographer in the next month, along with some other updates I've been making in the house!).
I've also been developing my design book library, so swapping out books into different groupings according to what's speaking to me lately has been a great exercise. Bottom line: in your workspace, you should switch it up often to remain constantly inspired!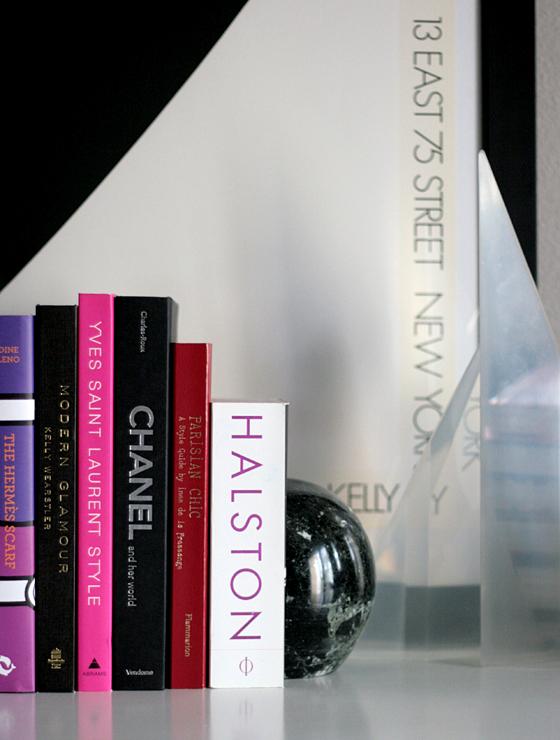 Gallery Wall Progress')">

black marble bookends from HomeGoods; 1970′s Lucite pieces found at a local vintage store

/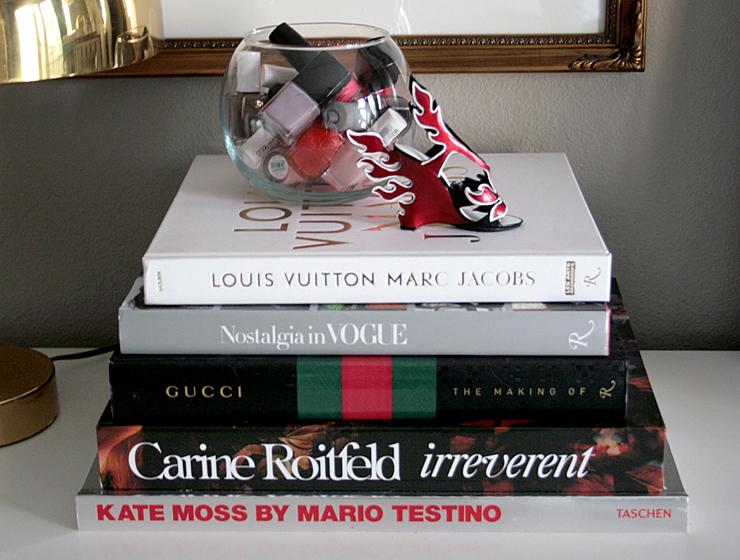 Gallery Wall Progress')">

Prada shoe ornament I picked up from an exhibit at The Met last year; a bowl of nail lacquers is a great way to add color!

/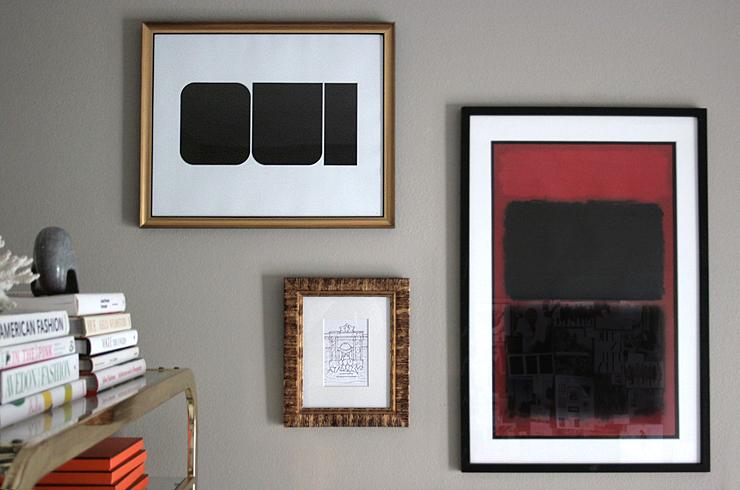 Gallery Wall Progress')">

OUI (a.k.a. type perfection); a travel doodle of Rome's Trevi fountain from my honeymoon; a Rothko poster from a MOMA exhibit several years ago

/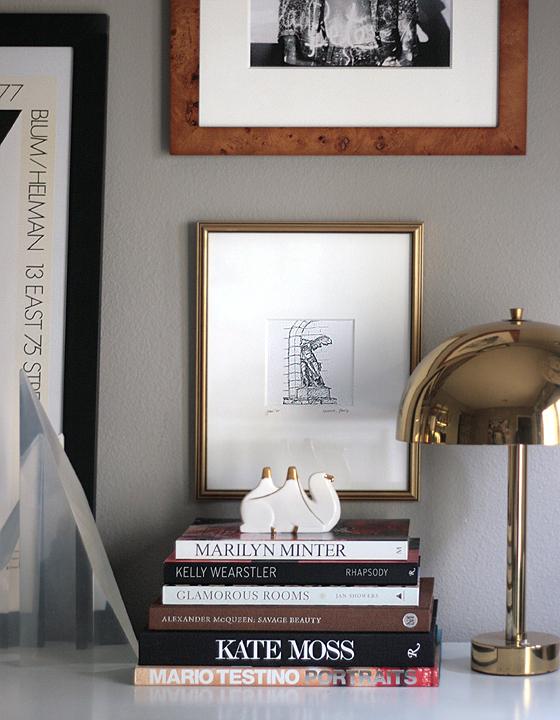 Gallery Wall Progress')">

a travel sketch of the Nike in the Louvre, Paris; a vintage Japanese ceramic camel find; mid-century modern brass mushroom lamps found at a local vintage store

/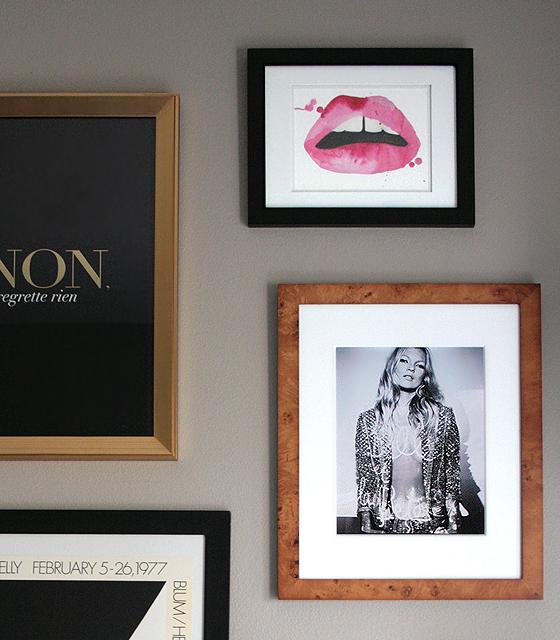 Gallery Wall Progress')">

ART: "OUI" print $35  / "NON, je ne regrette rien" print, $83 /  Ellsworth Kelly poster, $129.99  / lips print, $25  / all frames are from Aaron Brothers and Michael's

BOOKS: "Louis Vuitton Marc Jacobs" / "Nostalgia in VOGUE" / "Gucci" / Carine Roitfeld "Irreverent" / "Kate Moss by Mario Testino" / "The Fashion Book"  / "The Hermès Scarf" / Kelly Wearstler "Modern Glamour" / "Yves Saint Laurent Style" / "Chanel and Her World" / Ines de la Fressange "Parisian Chic" / "Halston" / "Marilyn Minter" / Kelly Wearstler "Rhapsody" / Jan Showers "Glamourous Rooms" / Alexander McQueen "Savage Beauty" / "Kate Moss" / Mario Testino "Portraits" 

/

It's also fun to throw pieces into the mix that I haven't used in a while (such as my Rothko), or grab pieces like my Europe sketches from other parts of the house. A true collection of experiences and current loves!

 Stay tuned for "official" photos in about another month!


Gallery Wall Progress')">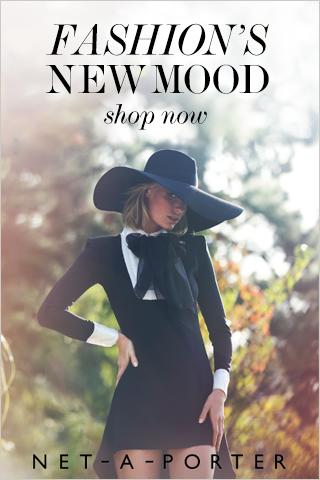 Back to Blog