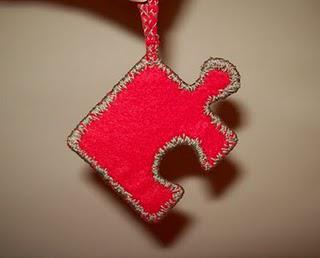 BUY IT NOW - ARTFIRE LINK 
This cute puzzle piece is made from craft foam covered with red industrial felt and embellished with embroidery thread. All pieces are cut by hand. They make beautiful ornaments hung on a curtain with a pin or as a part of a hanging mobile. They can also be used as means to raise autism awareness. A unique gift for yourself or your loved ones!
These puzzle pieces are custom made. Don't hesitate to contact me and choose any color combination. I have a wide variety of industrial felt. Please allow 3-4 days before shipment depending on my workload. They are approximately 7cm long and 5cm wide.