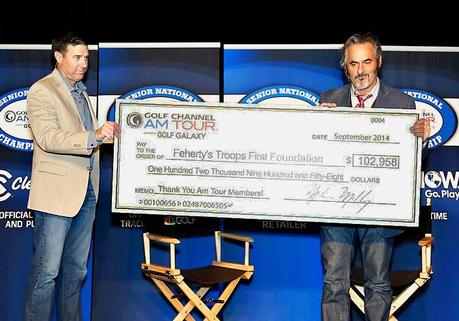 Laurel, Md. (Sept. 15, 2014) – Feherty's Troops First Foundation received a $102,958 donation courtesy Golf Channel Amateur Tour members, presented to David Feherty last night at the Tour's season-culminating National Championships welcome dinner at Talking Stick Resort in Scottsdale, Ariz. 
The Foundation's co-founder, Feherty shared stories and his irreverent humor to the more than 900 competitors and their guests at the Championship's welcome dinner, before members presented the Emmy-nominated Golf Channel host with the donation. Adopting Feherty's Troops First as the Tour's official charitable beneficiary in 2012, members raised money in large part through 50-50 raffles at the Tour's "Major Championships" throughout the 2014 season. Sunday's check brings their three-year donation total to more than $240,000 to Troops First.
"Golf Channel Amateur Tour is for my people – people who work and play for the love of the game, and for the camaraderie," said Feherty. "It's the National Championship for the people who drive our industry, with beer and mustard and carts with subwoofers in the back. They are generous to a fault, and I love them for helping me make the lives of our combat injured a little better."
Feherty, along with Rick Kell co-founded Feherty's Troops First Foundation in August, 2008 in an effort to provide meaningful assistance to military service members. The Troops First Foundation is a non-profit organization that develops, operates and supports a synergistic group of wellness, quality of life, and sports-based initiatives in support of today's military personnel.
About Feherty's Troops First Foundation
Feherty's Troops First Foundation works to provide meaningful assistance to our military who have been wounded while serving in Iraq and Afghanistan. Through several relevant and unduplicated programs along with specialized events designed for OIF/OEF combat-wounded service members and their families, Troops First addresses relationship building, mentoring, reintegration and looking forward.
About Golf Channel Amateur Tour
As the largest amateur golf tour in North America, Golf Channel Amateur Tour is open to the public and provides the most professional tournament experience for players of all ages and abilities, as well as offering unparalleled access to some of the most renowned and challenging golf courses across the country. Divided into 55 local chapters throughout North America, the Golf Channel Am Tour in 2014 will conduct more than 700 local championships and 33, two-day "Major" Championships throughout the U.S., Canada and Puerto Rico. For more information about the Golf Channel Am Tour and the national championships, visit www.gcamtour.com.