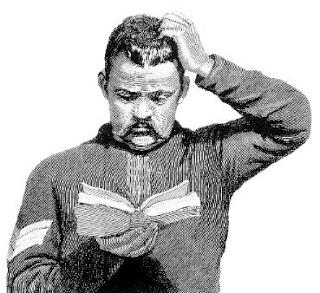 February WAS Quiz Month on The DC – we hope you've enjoyed it, and we look forward to seeing you on our Pub Quiz Walks over the next four weeks.
Our season of

PUB QUIZ WALKS

is set for every Thursday night in March 2012 – a walking tour & a pub quiz with prizes.
CLICK HERE FOR FULL PUB QUIZ WALKS SCHEDULE
You can also book a private Pub Quiz Walk for your office party or special occasion. WATCH THE PUB QUIZ WALKS FILM HERE
YOU'VE HAD 30 QUESTIONS. NOW 30 ANSWERS…

Question 1:
Can you name this London landmark?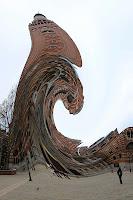 A: WESTMINSTER CATHEDRAL, THE ROMAN CATHOLIC CATHEDRAL AT VICTORIA

Question 2:
Can you name this London landmark?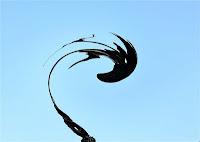 A: COMMONLY KNOWN AS "EROS", ITS FULL NAME IS THE ANGEL OF CHRISTIAN CHARITY

Question 3:
Can you name this London landmark?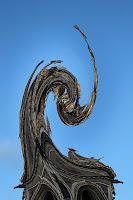 A: THE ALBERT MEMORIAL

Question 4:
Can you name this London landmark?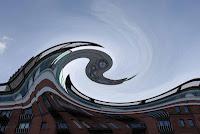 A: THE OXO TOWER
Question 5:
Can you name this London landmark?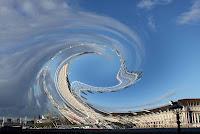 A: THE LONDON EYE

Question 6:
Can you name this London landmark?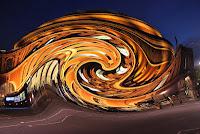 A: THE ROYAL ALBERT HALL

Question 7:
Can you name this London landmark?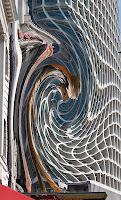 A: THE STATUE OF FREDDIE MERCURY AT THE DOMINION THEATRE, WITH CENTRE POINT BEHIND

Question 8:
Where are these windows?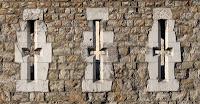 A: THE TOWER OF LONDON

Question 9:
Name this bridge: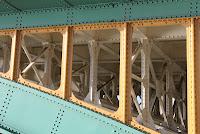 A: SOUTHWARK BRIDGE

Question 10:
Can you identify the building by its ceiling?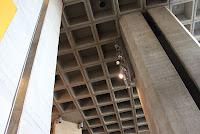 A: THE NATIONAL THEATRE – OUR SHOT WAS TAKEN IN THE FOYER

Question 11:
Fill in the blank on this famous theatre:


A: OLD VIC

Question 12:
Where is this monument?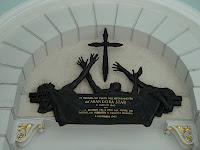 A: AT ST PETER'S CHURCH – THE ITALIAN CHURCH – CLERKENWELL. IT COMMEMORATES THE SINKING OF THE SS ARANDORA STAR, A SHIP CARRYING ITALIAN INTERNEES, GERMAN PRISONERS OF WAR AND BRITISH SERVICEMEN, TORPEDOED BY A GERMAN U-BOAT ON 2ND JULY 1940

Question 13:
Name the London market: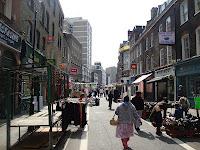 A: LEATHER LANE

Question 14:
Where is this plaque?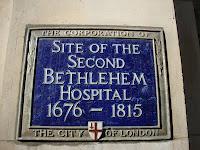 A: THE PLAQUE IS AT LIVERPOOL STREET STATION

Question 15:
Where is this tiger and ship?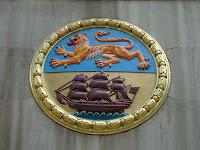 A: ON THE INDIAN CONSULATE AT ALDWYCH

Question 16:
Where in London can you find this scene?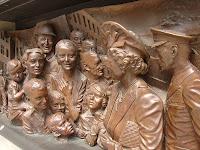 A: ON THE MALL – BENEATH THE STATUE OF QUEEN ELIZABETH, THE QUEEN MOTHER

Question 17:
What is this?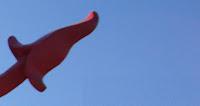 A: A DRAGON'S TONGUE! FROM THE STATUE OF THE DRAGON NEAR TOWER HILL THAT MARKS THE CITY BOUNDARY

Question 18:
Where in London is this white hart?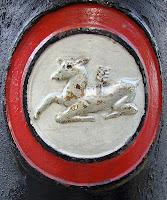 A: SEVEN DIALS – THE WHITE HART IS THE EMBLEM OF ST GILES, THE PATRON SAINT OF LEPERS AND OUTCASTS IN WHOSE PARISH SEVEN DIALS STANDS

Question 19:
1. Where in London are these handprints? 2. To whom do the handprints belong? 3. A question AND a clue: What's it all about?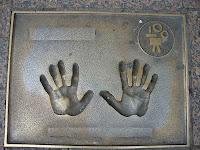 A: LEICESTER SQUARE – THEY ARE THE HANDPRINTS OF MICHAEL CAINE

Question 20:
Where in London?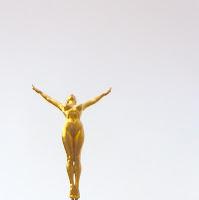 A: VISIBLE FROM PICCADILLY – SHE'S ONE OF THE THREE GRACES, OR DAUGHTERS OF HELIOS THAT ADORN NO.1 JERMYN STREET

Question 21:
Name the pub: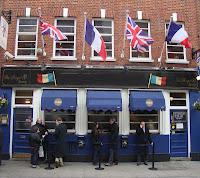 A: THE FRENCH HOUSE, SOHO – FORMERLY KNOWN AS THE YORK MINSTER

Question 22:
Who and where?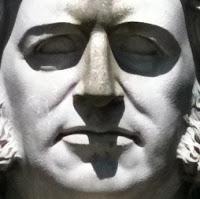 A: HE'S SIR JOSEPH PAXTON AND YOU'LL FIND HIM IN CRYSTAL PALACE PARK – HE DESIGNED THE FAMOUS CRYSTAL PALACE

Question 23:
Who, where and where did he originally stand?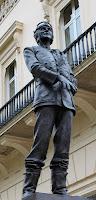 A: SIR KEITH PARK, OUTSIDE THE ATHEANEAUM CLUB, HAVING MOVED FROM TRAFALGAR SQUARE. HE WAS THE MAN RESPONSIBLE FOR LONDON'S AIR DEFENCE DURING WWII

Question 24:
Where?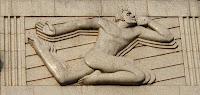 A: WARNER CINEMA, LEICESTER SQUARE – THE CARVING REPRESENTS SOUND AND IS ACCOMPANIED BY ANOTHER REPRESENTING SIGHT, THEY ARE THE WORK OF EDWARD BAINBRIDGE COPNALL

Question 25:
Fill in the blank: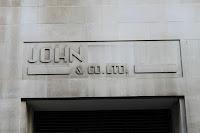 A: BARKER – FORMER DEPARTMENT STORE IN KENSINGTTON NOW HQ OF THE DAILY MAIL

Question 26:
Where in London?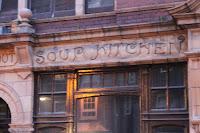 A; JEWISH SOUP KITCHEN, SPITALFIELDS

Question 27:
Where in London?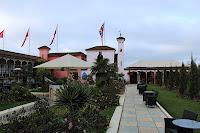 A: KENSINGTON ROOF GARDENS

Question 28:
Where in London?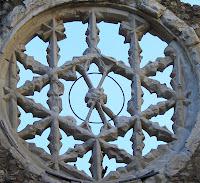 A: THE REMAINS OF WINCHESTER PALACE, BANKSIDE

CLICK HERE FOR FULL PUB QUIZ WALKS SCHEDULE
You can also book a private Pub Quiz Walk for your office party or special occasion. WATCH THE PUB QUIZ WALKS FILM HERE