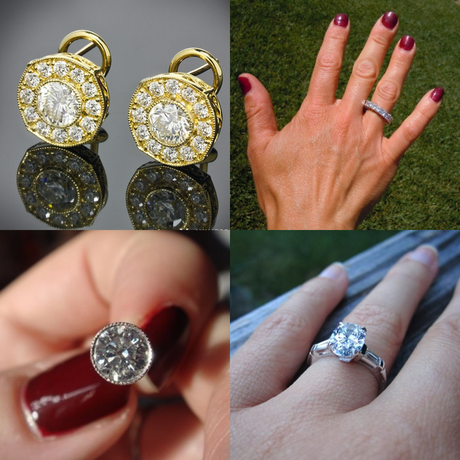 On Throwback Thursdays, we here at PriceScope celebrate the jewels of our past. Every day on the Show Me the Bling! forum, community members share their new bling for us all to enjoy. We've accumulated over a decade worth of fabulous additions from our members. The community at PriceScope is like no other and it's awesome to get more chances to cheer for each other!
Throwback Thursday is posted each week on the PriceScope Facebook Page. On the last Thursday of the month, we will share them all in one post so that everyone can enjoy them! These are the Throwbacks for February 2021!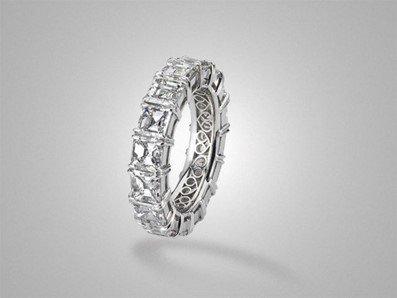 PriceScope member, Bcgirl shared this Asscher cut diamond eternity ring in 2011. Seeking out a piece of jewelry to mark their 10 th wedding anniversary they came across Victor Canera through an acquaintance. That eventually led them to PriceScope where they got the chance to peruse a lot of Victor's work among PS members collections and were sure that he was the jeweler that they needed for their piece.
By the time that they reached out to Victor Canera, they knew that they were looking for a ring. They worked with Victor to determine what would suit bcgirl's style the most and landed on this stunning hand-forged prong set eternity band with 16 Asscher cut diamonds. That heart-shaped filigree on the inside is TDF. Gorgeous! We hope that you are still enjoying this ring and that you'll update us on what the 20 th anniversary brought!
STATISTICS:
Hand-forged prong-set Victor Canera eternity ring
16 Asscher cut diamonds totaling 7.87 ct.
All diamonds are about F color and VVS to VS1 clarity.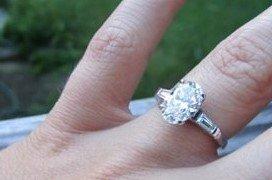 PriceScope member, Aglohm_4 shared this incredible ring in 2013. This setting belonged to Aglohm's fiancee's grandmother and it came with the .72 G SI2 round diamond that had been in it for years. They took the ring to Yekutiel at IDJ and they found the perfect replacement for them, AND he was able to remove the original stone in its basket to use as a pendant. This is a glorious combination of old and new and I love the way it turned out!
Another awesome story about the great customer service with IDJ. We love to hear about the experience as well as the jewelry. The whole jewelry journey is exciting.
We hope that aglohm_4 and his DW are still tremendously happy together and still get a lot of joy from this ring!
STATISTICS:
GIA 1.7ct Oval
Color: H
Clarity: VS2 w/ strong fluorescence9.42×6.61×4.11
Size 5 finger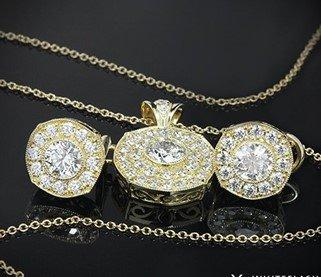 Suzyqz shared this matching set with us in 2011. We came for the earrings and those are our focus here but the whole set is divine. This set is particularly awesome as it involves the PriceScope Community!
Gemgirl designed and commissioned a piece that was then called the Bella, it's a stunning piece and WF started offering the style on their site. (Way to go, Gemgirl!)
Suzyqz contacted WF to see if she could get the Bella with a few alterations that were more to her taste and they were happy to accommodate. The original Bella was incredible, and the new look is fabulous as well.
Vera from WF said, in a comment: "Your custom Bella set are truly delightful. It is always so nice to see a custom creation come to fruition and especially one with such ornate design and features like the omega backs, filigree sides, and milgraining. You did a great job of communicating your desires. And what fantastic photography skills you have!"
We love that it feels like collaboration within the PriceScope family and that Whiteflash was able to facilitate that for them. We hope that this is still being worn in luck, love, and happiness.
STATISTICS:
Earrings (Center Stones):
.603 Expert Selection
Color: G
Clarity: VS2
Pendant (Center Stone):
.664 ACA
Color: G
Clarity: SI1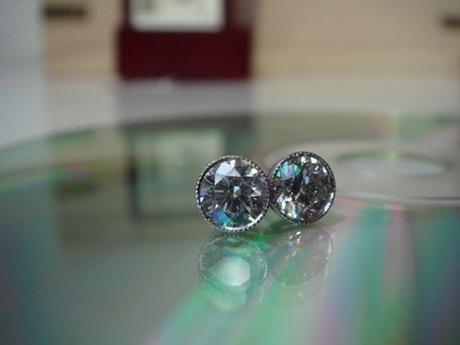 PriceScope member, Circe shared these magnificent studs with us in 2011. PriceScopers often know what they want, and they come prepared with the knowledge and taste to seek that out. Circe wanted studs with strong fluorescence and that is not something that every jeweler has available.
Circe reached out to several vendors, and they were courteous and helpful but the fluor was a challenge. When she spoke to Yekutiel at ID Jewelry, however, he absolutely could make it happen. Circe reported that once she pulled the proverbial trigger the earrings were ready in a day! That's astounding customer service.
The bezel and milgrain look delicate, sophisticated, and lovely. We hope that they have continued to be a reason to smile throughout the intervening years.
STATISTICS:
.72 and .71 H & A with strong fluor
Color: H
Clarity: SI2
We are so lucky that the PriceScope Community loves to share their gorgeous pieces with us, it's so great to get to look at all this beauty! These jewels helped get us through a cold February!
If you are ready to show off your pieces with a community that will cheer on your jewelry finds, join the PS Community for FREE today!
Written by Kayti Kawachi