Move over January with your 'new year, new me' stuff... we're now onto February where all those who have made those positive alterations and tweaks in their lives are beginning to either love it, or wonder why they agreed to it! Fear not, I'm here to deliver some words of wisdom and more importantly some fitness fashion inspiration.
Sometimes I'll go for a run by scraping my hair up, throwing on an old tshirt, black shorts and my muddy trainers. Chances are I'll have no make up on and won't be running with a phone or some kind of music device, this is what I like to call organic fitness Annie... the kind that goes off on the spur of the moment without having time to indulge in the 'what shall I train in' thought process.
On the flipside I'd be lying if I said I didn't like to take pride in my appearance, even whilst I'm training (apart from when organic fitness Annie appears) I will make an effort in the clothes I train in.  I don't start throwing on make up as I don't get the point if I'm essentially going to be sweating? However I don't take it off but I don't really wear a lot anyway.  I love jazzy leggings (you may have spied on my instagram) and anything bright and fun is my best friend in activewear.  I find by looking colourful and having fun with what I train in (as long as it's good to workout in) can't be any harm and makes me feel good.
To keep those of you reading this feeling fitness inspired in February I've selected a few items I've spotted.  I've even converted one of my 'I'll never wear leggings to workout in' friends to a legging loving lady... in bright colours and jazzy prints!
THE GYM BUNNY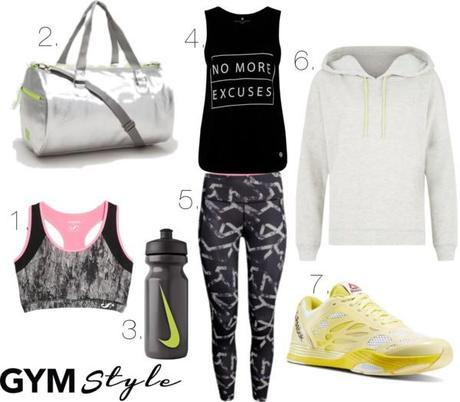 1. Matalan Metallic Sports Bag 2. Mango Running Impact Bra 3.Nike Basic Water Bottle 4.New Look No More Excuses Vest 5. H&M Sports Tights 6. New Look Grey Hooded Slouch Gym Sweater 7. Reebok Women's Cardio Ultra
Instead of being super dooper bright with this look I've stuck to dark colours with a pop of yellow in the footwear.  I love some kind of print on leggings and these from H&M are awesome and I'd highly recommend the sportswear in H&M for price and comfort.  Isn't the metallic Matalan gym bag a-m-a-z-i-n-g?!

YOGI BEAR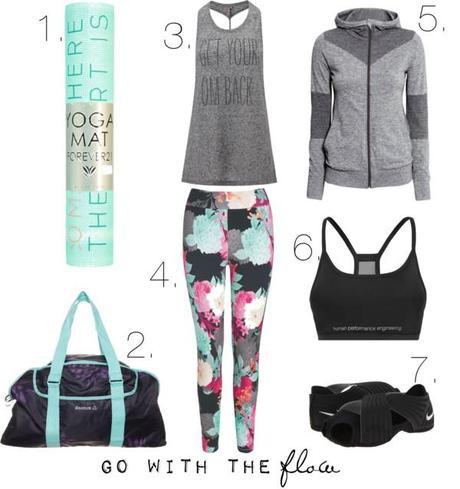 1. Forever 21 Om Mat 2.Reebok Yoga Bag 3. Sweaty Betty Om Yoga Vest 4. Next Floral Leggings 5. H&M Seamless Yoga Jacket 6.HPE Formula 40 Yoga Bra 7. Nike Studio Wraps
I shared my love of these floral fitness leggings the other day via social media, so I just had to add them into my collection for this month.  The Sweaty Betty vest is my must-have for all yogis out there and great basic zip up top from H&M for the cool down and meditation section. 
RUNNER BEAN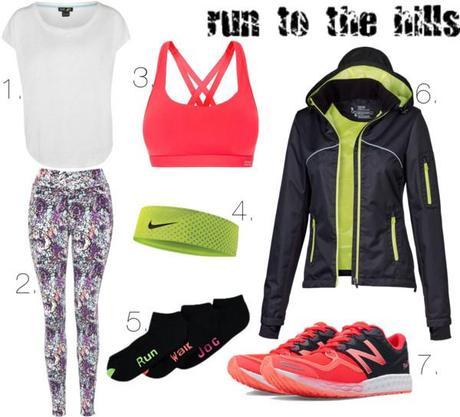 1.F&F Active Burnout Tshirt 2.F&F Active Mixed Print Leggings 3.Laura Jane Ella Bra 4.Nike Running Headband 5.George at Asda Three Pack Running Socks 6. Fat Face Activ88 Running Jacket 7 New Balance Fresh Foam Zante Trainers

Running at this time of year you need to be seen, therefore wearing bright items is a must.  I've selected a few items from the high street such as the F&F leggings (which have a zip pocket for keys) but gone for well made trainers from New Balance.
SPIN RAVER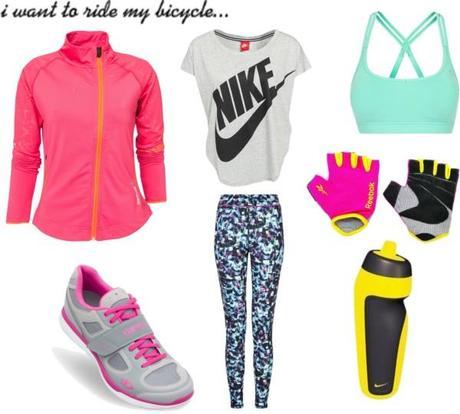 1.Reebok Knit Kaleido Track Jacket 2.Giro Whynd Bike Shoes 3. Nike Signal Tee 4.New Look Abstract Print Leggings 5.Lorna Jane Tarika Bra 6. Reebok Fitness Gloves 7 Nike Yellow Water Bottle
I LOVE indoor cycling... the one I do we nicknamed Spin Rave as it's in the dark and with crazy nightclub lights going off!  I go twice a week and I can't fault it.  I'd usually be telling you to wear padded shorts if you were cycling on any other occasion but indoor cycling you don't really need to.  I'm in legging lust with these sports tights from New Look and I've added in fitness gloves because sometimes my hands hurt from holding on, these gloves will double up if you decided to do weights in the gym.  I've also added some cycling specific shoes, most gym bikes just have toe covers but some will allow you to use clip in shoes too.


FISH IN WATER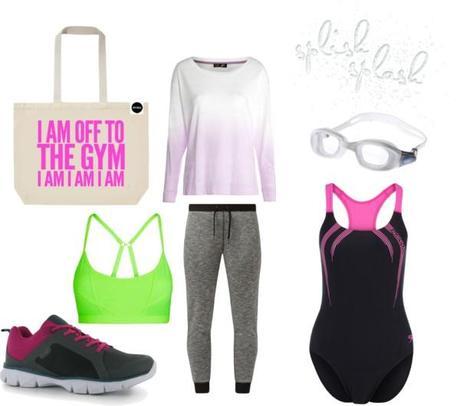 1.Oliver Bonas Odd To The Gym Bag 2.Laura Jane Lime Green Bra 3.USA PRO Gym Essence Ladies Trainers 4. F&F Burnout Ombre Stipe Longsleeved Top 5. New Look Grey Contrast Joggers 6.Zoggs Swimming Goggles 7 Speedo Medalist Swimsuit
With this swimming look I've made it practical, this is what you would wear to and from the gym (don't forget your undies or towel).  After a long training session you just want comfort, plus word of warning don't even both wearing skinny jeans or anything lycra on your legs... post swim you'll be battling to get them on.  Oliver Bonas bag technically says I'm off to the gym but I think it's a perfect size for your towel and shampoo. 
There are my February fitness picks, hopefully you'll get some inspiration to keep pushing on with your fitness goals and having fun with what you wear whilst doing it.