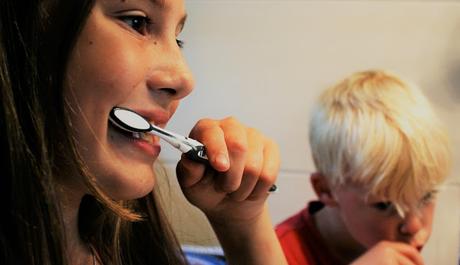 February 24th is...
Nylon Toothbrush Birthday (1938), National Tortilla Chip Day, Academy Awards Night, Twin Peaks Day, World Bartender Day, Inconvenience Yourself Day, National Dance Day, National Muffin Day, Gregorian Calendar Day, World Yoga Day, Forget Me Not Day, Flag Day (Mexico), Independence Day/Iseseisvuspäev (Estonia), Dragobete (Romania), Día de la Bandera, St. Matthias' Day
PLUS -
interesting books to read and free printables, paper crafts, kid crafts, activities, and coloring pages.
Want more Holidays to celebrate? Click for our Index of Holiday Freebies
---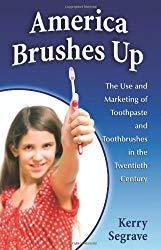 Nylon Toothbrush Birthday (1938)
-- It was as late as 1938 synthetic materials
(notably nylon)
started replacing the animal-hair bristles. The first nylon toothbrush to go on sale was
Doctor West's Miracle Toothbrush
, which was made available for mass consumption on February 24, 1938.
Read: America Brushes Up: The Use and Marketing of Toothpaste and Toothbrushes in the Twentieth Century
-- This excursion into American cultural history looks at the toothpaste and toothbrush industries from 1900 to 2008. During these years, America moved from cleaning their teeth mostly with homemade powders to using an enormous array of brands, often applied with an electric toothbrush. From early 20th century products like Forhan's
(which cured pyorrhea)
to the whiteners of the 1920s
(which unfortunately also removed tooth enamel)
, and from paste which eliminated
that clinging film
and to copywriters who
wondered where the yellow went,
the history of toothpaste has long been a testament to the power of misleading advertising.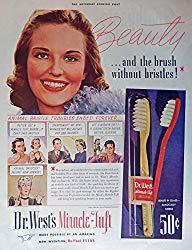 • Dr. West's Miracle Tuft Toothbrush print ad --
If you are looking for an unusual piece of art, to decorate a home or office, these truly
limited-edition
prints are perfect. Vintage prints are extraordinary snapshots of our past. As conversation pieces they are unequaled. This beautiful old print is an actual piece of our history. Any of these, increasingly rare, works of art are also some of the most thoughtful
(and personal)
gifts you can give. Unlike so many other gifts, this allows you to present someone a piece of the past.
• 5 Pack Charcoal Toothbrush --
NEW IMPROVED TOOTHBRUSH DESIGNED TO REMOVE UP TO 99% OF PLAQUE IN HARD-TO-REACH AREAS – are you looking for quality toothbrush which can easily reach hard-to-reach areas and properly clean your mouth? Dental Expert's toothbrush pack is designed to eliminate up to 99% of plaque with total convenience.
• Toothbrush Coloring and Activity Books
---