Tina Fey was the obvious choice for my first "featured fridays" post. Even before I knew who she was and what she was capable of doing, I was still in complete admiration of her work – I'm referring to Mean Girls, Fey's 2004 film about high school cliques. Mean Girls came out when I was in my early teens, and I haven't stopped loving it since then. However, I didn't realise that the film was written by 'drug pusher' Ms Norbury (Tina's character in the film), until 6 years later when I discovered the comedy goldmine that was 30 Rock. 30 Rock is my favourite sitcom. Ever. I've unashamedly seen every episode at least 3 times.
I watch a lot of sitcoms – Parks and Recreation (by the brilliant Amy Poehler), Arrested Development (most brilliant of them all with a superb cast ensemble), New Girl (it's cute and addictive because it's written by Rom-Com enthusiast Elizabeth Meriweather), Community (Showrunner Dan Harmon is a creative, hilarious genius and I'm not looking forward to the next season without him) and many other 22-minute romps.
Yet 30 Rock reigns supreme. Why? Because there's attention to detail. What's the detail? It's Tina's life – it's based on her own experiences as the first female writer for Saturday Night Life, and most importantly she mocks herself and draws on her own flaws. Fey's protagonist, Liz Lemon, is – apparently – who Elizabeth Stamatina 'Tina' Fey would have been if she hadn't met her husband Jeff Richmond (producer and composer for 30 Rock, and the father of Fey's 2 daughters Alice and Penelope).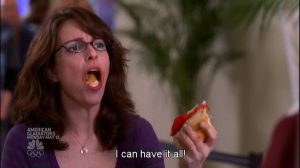 Liz Lemon: "I can have it all!" and she did.
In the earlier years, Tina was part of a Chicago improv theatre troup. This is where she met future stars Amy Poehler, Scott Adsit and Rachel Dratch, all who have since appeared on 30 Rock.
She studied playwriting and acting at the University of Virginia and graduated in 1992 with a Bachelor of Arts degree in drama.
Tina Fey is my inspiration as a writer, theatre-maker and general female because she writes what she knows and she's not afraid to humiliate and mock herself. She's like the female Larry David, in that she's hilarious yet blatantly honest. However, Tina is also compassionate, politically active, and willing to educate without being patronising.
Oh, and then there's this:
"If I have to have another grey-faced man with a $2 haircut explain to me what rape is, I'm going to lose my mind!"
Love your work, Tina. Keep inspiring me.