After writing my hip-hop & homophobia article, I decided that the most fitting person for this week's Featured Fridays would have to be the brilliant Terrence Thornton AKA Pusha T.
Pusha is part of Kanye West's flawless hip-hop collective G.O.O.D Music. He signed to West's label in September 2010 when he featured on the final verse of "Runaway", which served as a preview for West's upcoming album, My Beautiful Dark Twisted Fantasy. Pusha featured several times on My Beautiful Dark Twisted Fantasy and the G.O.O.D Music 2012 album Cruel Summer. He collaborates with other rappers in many other songs inside the G.O.O.D Music label and outside of it.
He and his brother Gene 'No Malice' Thornton formed a duo called "Clipse" in 1992, and Pharell Williams helped them sign to a label (Elektra Records) in 1997. Despite Pusha's success in the music industry, he also consistently refers to his drug-dealing past in his rhymes. His song, "Blow" – a personal favourite of mine – is pretty much a love letter to cocaine.
The reason I felt Pusha T was so appropriate for a feature in regards to my previous hip-hop article is simple. Pusha T represents the best of the best in hip-hop. His verses always steal the spotlight in every song he features in. Pusha has a unique voice – it's actually quite high – and I find that most rappers in the G.O.O.D Music collective each have a very distinguished, unique voice (think Cyhi da Prynce, Common, Big Sean, Kanye, Kid Cudi etc.) The rappers in this label, especially Pusha T, outshine other rappers in the game (aside from Kendrick Lamar, A$AP Rocky, Childish Gambino) because they rhyme about things that matter to them, and they're punilicious – yep, I went there – Pusha and the rest of G.O.O.D Music are some of the most intelligent, witty rappers out there.
Oh, and he's got beef with Lil' Wayne, which only makes me love him more.
Malice found religion / Tony found prison /
I'm still tryna find my way out of this fucking kitchen /
A bird's eye view got me channeling my vision
Looks like he found his way out of that kitchen after all.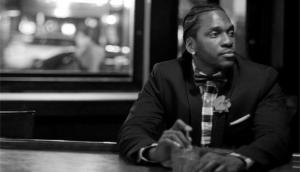 "I write this alone in Vegas" – Pusha T