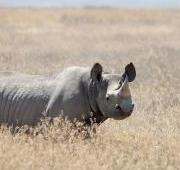 The rhinoceros is a large mammal native to Africa and Asia. There are five species of rhino found in the world with 3 out of the 5 species of rhino now considered to be critically endangered. The rhino is thought to be the second biggest land mammal in the world behind the African elephant.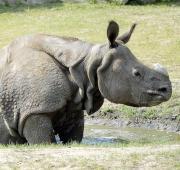 The five species of rhinoceros are the white rhino (which is the largest species of rhino) and the black rhino which are both native to Africa and are only really distinguished in size as they look fairly similar. The Indian rhino, the Sumatran rhino and the Javan rhino are all native to Asia and are much smaller in size than the white rhino and the black rhino of Africa.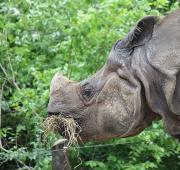 The rhino averages about 1.5 tons in weight, and the rhino has a tough skin that is roughly 1.5cm thick. The rhino also has a large horn in the middle of its face and some species of rhino have a second smaller horn above the larger one.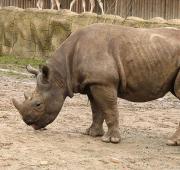 The rhinoceros is a herbivore and eats grasses, leaves, shoots, buds and fruits in order to gain the nutrients that the rhino needs to grow and survive. The average rhinoceros regularly gets to about 60 years old in the wild particularly seeing as they have no real predators apart from human poachers. The rhino is also known to have a fairly small brain in comparison to their large size.
The rhino is prized for its horn. The horns of a rhinoceros are made of keratin, the same type of protein that makes up hair and fingernails in most animals including humans. Both African species of rhino and the Sumatran rhinoceros have two horns, while the Indian rhino and Javan rhinoceros have just one horn. Rhinos have brilliant hearing and the rhino also has a keen sense of smell, but the rhino is well known for having extremely poor eyesight.
The rhinoceros is generally found in thick forests and savannas where there is plenty of food to eat and lots of cover for the rhino to hide in. Although the rhino is a herbivore, they are known for their aggressive nature and will often charge towards oncoming predators in order to scare them away. Most rhinoceros individuals that are killed by poachers, are caught out when they are quietly drinking from a water hole and therefore drop their guard.