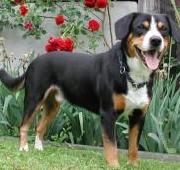 The Entlebucher mountain dog is the smallest of the four breeds of Senenhund, native to parts of the Swiss Alps. The Entlebucher is a herd dog and has been used on farms to assist in the herding of sheep and cattle.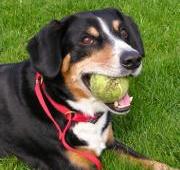 The Entlebucher mountain dog is part of the Sennenhund family of dogs that include the Greater Swiss Mountain Dog, the Bernese Mountain Dog, the Appenzeller and the Entlebucher Mountain Dog, all of which are similar in color and temperament but vary in size. The Sennenhund dogs were originally used to assist in general farmwork but they are also used as mountain rescue dogs in some areas of the Swiss mountains today.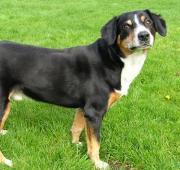 The Entlebucher is a square and sturdy medium-sized dog that has the distinctive coat colours, shared by all four of the Sennenhund breeds. The Entlebucher mountain dog is black, white and tan and has large, flat feet to support its weight.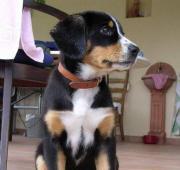 As with all dogs, the Entlebucher should be introduced to dogs and people early on in life so that it becomes more relaxed around them. The Entlebucher mountain dog is said be devoted towards those familiar to it and is good-natured, although the Entlebucher is known to be suspicious of strangers.
The Entlebucher mountain dog grows to about 50 cm tall but some individuals can be slightly smaller. The Entlebucher has an average lifespan of around 12 years but some have been known to live much longer.