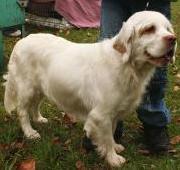 The Clumber spaniel is an efficient gundog, although not as fast as some. It is excellent for upland hunting in heavy cover, and can be a good retriever when trained. The clumber was bred to run through bushes with their big heads and thick, but soft coat.
Nothing supposedly is going to stop them on the hunt. He is also an excellent tracker. Their temperament is described as gentle, loyal and affectionate, but dignified and aloof with strangers. They may be active as puppies, but are generally very calm, lazy, and unmotivated as adults.
Disadvantages of owning a Clumber are said to be constant shedding, snoring, drooling, especially after a drink of water, and an incredible inventiveness for raiding kitchen counters, cabinets, and even the refrigerator. One disadvantage is that the dogs think of themselves as a lap dog. They will try to sit on your lap for your affection. They cant jump on couches either because of their weak hips. Puppies are especially curious and inventive.
The combination of a very people-focused disposition and a strong urge to carry something has led to many missing shoes and other articles of clothing.