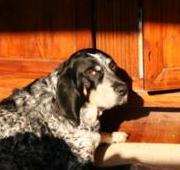 Bluetick Coonhounds are a friendly breed, but new owners should be warned they can be particularly challenging to train. They are, like their hound counterparts, very intelligent breeds, with an uncanny knack for problem-solving.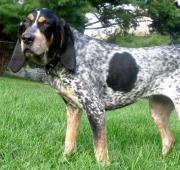 This can be particularly problematic if they are confined to a household or too small a yard, and one should give this breed plenty of space. Once trained, the breed is very mindful of its owner. Breed will drool occasionally and salivate heavily when exposed to human foods.
They are very loud, constant, and howling barkers. They are bred to be working hunting dogs and can be a challenge to pet owners. In normal conditions the dog is excellent around families and children. Once trained, they are mindful, friendly dogs. However, their noses will keep them in trouble, so food and garbage should not ever be left out unattended. Often mistaken for aggressiveness, the breed will "greet" strangers with its signature howl and will literally "sniff" the subject until satisfied. Usually this is just the way the breed gets to know its subjects. Since the Blue Ticks are driven by their strong sense of smell, they make excellent hunting/tracking dogs.