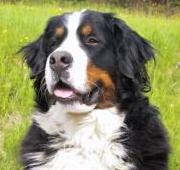 The Bernese temperament is a very are affectionate, loyal, faithful, stable and intelligent dog that is native to the mountains of Switzerland. The majority of Bernese are very friendly towards people, and animals including other dogs. The Bernese mountain dog is thought to be easy to train, provided the owner is patient and consistent in training as Bernese tend to need time to think things through. The Bernese mountain dog has a very nature meaning that they often get along well with other pets such as cats, and horses and small children.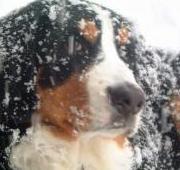 The Bernese mountain dog is known not respond well to harsh treatment, however Bernese are very willing and eager to please their master. Bernese love to be encouraged with praise and treats and this gorgeous breed is very sweet and good with children, despite their great size. Overall, they are very stable in temperament, patient, and loving.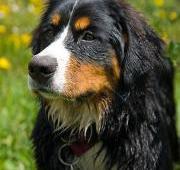 Bernese Mountain Dogs are quirky, loving dogs, craving love and affection. They love to lean against people, sit on their feet, or lie down under their legs while people are sitting.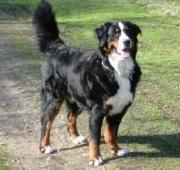 The Bernese mountain dog is part of the Sennenhund family of dogs that include the Greater Swiss Mountain Dog, the Bernese Mountain Dog, the Appenzeller and the Entlebucher Mountain Dog, all of which are similar in color and temperament but vary in size. The Sennenhund dogs were originally used to assist in general farmwork but they are also used as mountain rescue dogs in some areas of the Swiss mountains today.
The Bernese mountain dog is one of the largest breeds of dog, with the average adult Bernese mountain dog growing to between 50 and 70 cm high. The Bernese mountain dog has a very distinctive tri-coloured coat, that is black, white and tan. It is said that the mark of well-bred Bernese is the horse-shoe shaped white marking that straddles its nose.
Bernese mountain dogs have a lower average lifespan when compared to other dog breeds that are a similar size. The average lifespan of a Bernese is approximately 8 years, where the average lifespan of a similar breeds tends to be around 11 years. The main causes of mortality in the Bernese breed are thought to be cancer and bone problems, such as hip-displacement and arthritis.
The Bernese mountain dog needs lots of exercise and loves to spend time outside. Owners should also be aware that due to the long, thick coat of the Bernese, they should be groomed regularly to keep it in good condition.