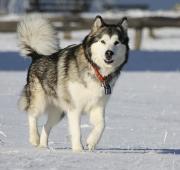 Alaskan Malamute History and Domestication
The Alaskan Malamute was developed by a tribe of Innuit known as the Mahlemuts, who wanted to create a working Dog that could pull heavy loads, as well as assisting with hunting, but one that could also withstand the harsh winter conditions. They are believed to have originated from primitive domestic Dogs that accompanied prehistoric people on their migrations between Asia and the Americas. Although cared for well and treated fondly, they were used by the Mahlemuts very much as a working breed to pull heavy sledges, hunt Seals, and packs were even sent after Polar Bears that were causing trouble. Travelling into the USA in the early 1900s, Alaskan Malamutes quickly became a popular working breed and were even used in service during both World War One and World War Two.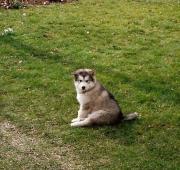 Alaskan Malamute Physical Characteristics
The Alaskan Malamute is a large, Wolf-like Dog, but despite it's appearance, the Alaskan Malamute is not a hybrid of a Wolf but did in fact originate from other domestic breeds. They have a broad, and heavily boned body that adds to this Dog's sheer strength, which is slightly longer in length than it is high. The Alaskan Malamute has a thick, double-coat of fur, which like other northern domestic breeds, acts as a water-resistant layer, keeping the Alaskan Malamute's skin both warm and dry. Due to a wide dispersion of this breed today, the Alaskan Malamute can be found in colours ranging from black to gray to red, but all have similar distinctive white markings. They have a heavy, pointed head and ears that stand straight up on the top of their head. The tail of the Alaskan Malamute is distinctively curved upwards with slightly feathered fur.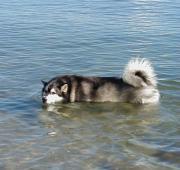 Alaskan Malamute Behaviour and Temperament
The Alaskan Malamute is an intelligent breed of Dog and can become easily bored if it has little mental or physical stimulation. They were originally bred by the Innuit people as strong, yet gentle sled Dogs, that could easily pull heavy loads at a steady speed as well as being able to handle the uncompromising Arctic conditions. The Alaskan Malamute is affectionate, friendly and loyal, and completely devoted to it's owner, providing that they assert themselves as the leader of the pack. Alaskan Malamutes are known to get on well with children and other animals, but will generally show dominance over other Dog breeds. They are known to be a bit slow during training, but once they pick it up, they are able to perform tasks capably.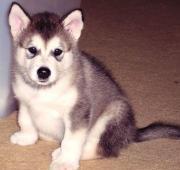 Alaskan Malamute Breeding
The Alaskan Malamute is an old breed of working Dog, that arose from the migrations of people between Asia and the Arctic, and then back again. These trips went on for thousands of years, leading to a wide variety in the breed between different areas (for example, those Dogs found in Greenland are said to have shorter fur than those found near the Canadian lakes). Other variations were also created with the introduction of other large working Dogs into the Arctic Circle during the Gold Rush. The Dogs bred with the native Alaskan Malamutes leading to an even wider variety found in the breed today, with the purest Malamutes found around their original region which is almost completely isolated from the rest of the world.
Alaskan Malamute Interesting Facts and Features
The Malamute is generally slower in long-distance sled racing against smaller and faster breeds as their working usefulness is limited to traveling over long distances but at a far slower rate than that required for racing. The Malamute is one of the most unaltered of breeds, retaining its original form and function. Their affectionate nature does not make them useful as watch or guard Dogs. If a Dog owner cannot cope with a Dog that will not comply with the owner's every command, a more compliant breed should be selected. They are however, pure pack animals as this breed has a long genetic foundation of living in the wilderness with man, surrounded by other domesticated animals of approximately the same size.