Mindy Weisel's abstract paintings and glass works are filled with intense color, emotion, and beauty. You can sense an acute awareness of life and death flowing through her work.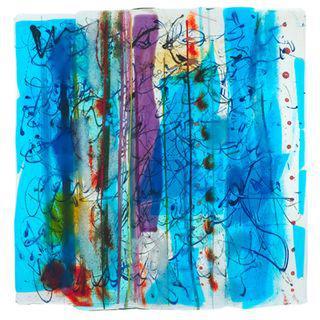 ABSORBING INDIA, 16" x 16" fused glass by Mindy Weisel.
Mindy says about her work:  "For the past 30 years I have been working with paints: doing works on paper; oils on canvas; monotypes; etchings. In 2005, I started using glass instead of paint. Glass powders; frits; stringers; broken glass; all became the 'new paints'."
She says, "I work spontaneously, freely, without any premeditation and actually do very little 'thinking' when I'm working. It is a very organic process and the glass becomes the vehicle for expressing what I'm feeling, experiencing, seeing and remembering. I love that the layers and layers of the working process stay visible when the work is completed."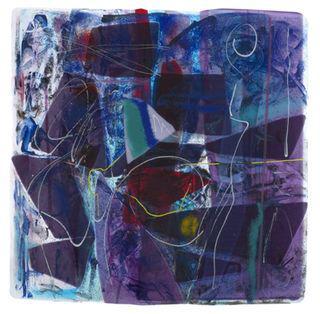 EARTH RISE, 16" x 16" fused glass by Mindy Weisel.
Mindy has exhibited her art widely in galleries, including the Jean Albano Gallery in Chicago, Troyer Gallery in Washington, D.C., and Daniel Broder Gallery in New York.  She has also participated in group exhibitions at the Corcoran Gallery of Art, the National Museum of Women in the Arts, and the Institute of Contemporary Art in Boston.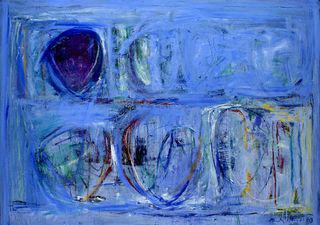 NINE ANNIVERSARIES, 48" x 68" oil on canvas by Mindy Weisel.
Here's a youtube video of Mindy talking about her art at the US Embassy in Berlin.  You can find out more about Mindy's life and art on her art website.