Abstract artist Barbara Mink has been showing her paintings in upstate NY since 2,000.  She is a member of the State of the Art Gallery, the Greater Ithaca Art Trail, the Buffalo Society of Artists, and the Western NY Artists Group, and is represented by Indigo Art Consultants in England.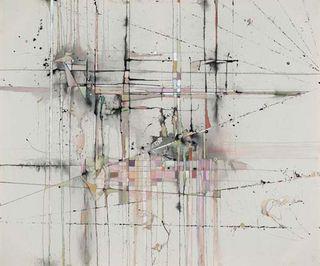 Marina del Rey, 50" x 60" acrylic on raw canvas, by Barbara Mink.
Barbara has a long career in other artistic fields, but has been concentrating on painting for the last decade or so.  As Arthur Whitman said in a recent review in the Ithaca Times, "In the past five or so years, 'pure' abstraction – largely devoid of recognizable objects – has been her territory. Her work has evolved rapidly but surely."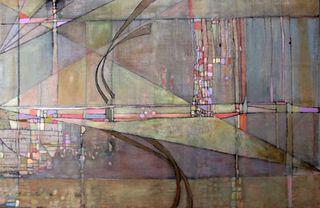 Santa Monica Pier, 38" x 58"  acrylic on raw linen, by Barbara Mink.
Barbara says about her work:  "Using unprimed canvas into which the paint soaks, as well as floats above, I am taking a new measured approach in which the neutral palette compliments natural linen; the intentional shapes and less intentional color masses speak to decisively black lines."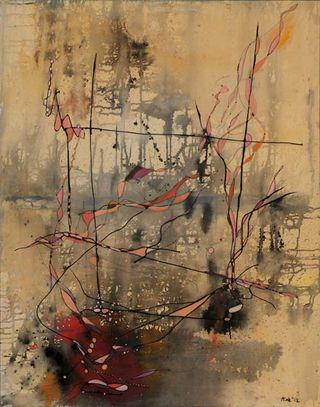 Pearl River Necklace, 50" x 40" acrylic on raw canvas, by Barbara Mink.
Dan Goldman, former director of the Corey Helford Gallery, said:  "Barbara's work is completely mature yet continues to evolve and she continues to experiment--an unusual combination in an artist who could easily relax and crank out pieces for the rest of her career."