Hello Ladies! Today's blog post is a small post on my favorite summer swimwear. There's so much gorgeous bikinis and swimsuits around at the moment, it's so hard to pick my favourites!
I love bikinis with lots of pretty detailing and something that really stands out, at the same time I love simple designs that you can accessorise with, the French Connection bikini is perfect for this! 
Let me know your favourite!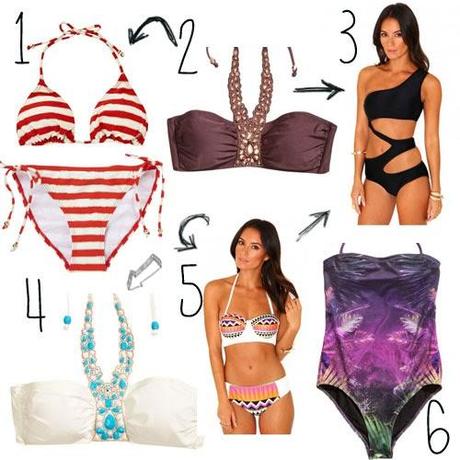 1. 
Nautical 
bikini top -
French Connection
- £32
(Matching bottoms- £22)
2.Bronze Detail Bikini top - H&M - £14.99
3. Asymmetric Swimsuit - Missguided -£23.99
4. Blue detail bikini top - H&M - £14.99
5. Aztec Print Bikini - Missguided - £23.99
6. Printed Purple Swimsuit - H&M - £17.99
Thanks so much for reading!
Sammy X