Non-Fiction: 
Talia Lavin: 

Culture Warlords: My Journey into the Dark Web of White Supremacy.

Aileen Moreton-Robinson: Talkin' up to the white woman: Indigenous women and feminism in Australia.


Fiction: 
Hari Kunzru: Red Pill. Martha Wells: Murderbot Diaries. Stina Leicht: Persephone Station.Katie Heaney: Girl Crushed.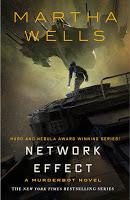 Martha Wells' self-named Murderbot is an outstandingly compelling protagonist in her several novellas and Network Effect, the first full-length novel. It hates emotions and yet has so many of them. It has broken out of a slavery and torture and is loath to trust humans, and yet finds a human family that it has many of those emotions about. The novels are about found family, and what it takes to gain trust in relationships, but Wells also builds a complex universe in which capitalism in space is still the greatest evil (it also fits in perfectly with Elon Musk's brand-new idea of indentures servitude to make it to new galactic shores). In Stina Leicht's Persephone Station, the scarred veterans of an old conflict are reunited in a mission to support the original inhabitants of a planet that is about to be colonised by a greedy corporation, while an artificial intelligence in a human body discovers what it means to interact with humans and to navigate the politics of colonialism and resistance. Also, almost everyone is queer.
Ellie Eaton's The Divines is a portrait of an elitist, if not academically so, all-female boarding school and a catastrophe that happened then, that is slowly revealed as the narrator recounts her schooldays. Struggling with returning memories, Jo in adulthood discovers that her memories aren't as reliable as she thought, and that, like many teenagers, she failed to see herself from the perspective of others at the time. This does not veer into a wild, fantasy place of body horror like last year's Catherine House or the magnificent Wilder Girls by Rory Power, but it still maps the inherent horrors of teenage girls, but what they do to each other and what the world does to them. 
I didn't even start to read Young Adult Fiction until I was well out of that age group, but now that I do, I wish I had had access to these books earlier, they would have made me feel less alone and more connected during my school days. Katie Heaney's Girl Crushed is one of the best I've read: it's about the end of a relationship, and a main character who is desperate to prove that she is over that first big love, but finds that sometimes the lines aren't as clear, that sometimes going backwards is just as good as going forwards if it is for the right reasons. The novel also features two lesbian bookstore owners who add cultural references more close to my heart (do the kids still listen to Le Tigre and the best break-up song of all time, Sleater-Kinney's One More Hour? I hope so.).
The New York Times: Fauci on What Working for Trump Was Really Like, January 24, 2021.The New Republic: The Uncertain Promise of Biden's Presidency, January 21, 2021.The New Republic: The Tyranny of the Pandemic Office, January 8, 2021.The Verge: Twitter permanently bans Trump, January 8, 2021.LitHub: Rebecca Solnit: When the President of Mediocrity Incites an Insurrection, January 7, 2021.The Guardian: Rebecca Solnit: Call it what it was: a coup attempt, January 7, 2021.The Atlantic: This Is a Coup, January 7, 2021.Citations Needed Podcast: News Brief: US Media Pathologically Incapable of Criticizing MAGA Mobs Without Evoking Racist Cliches About "Third World", January 7, 2021.