It's that time of week again.  Time to link up with Jenny over at Sippy Cup Chronicles for her Favorite Thing Friday.  This has been a really rough week for me.  Started out with our one and only vehicle breaking down, finding out it wasn't fixable by my husband and probably not even worth fixing, and then my husband was passed up for a promotion which he has been working for and totally deserved.  It might not be so bad if they were giving it to someone who knew what they were doing, but they gave it to someone who has to be trained.  It's a huge mess because my husband made them all sorts of money in the past month and saved them a ton too with his work and this is how they thank them.
But that's not what this is supposed to be about.  We're supposed to talk about our favorite thing this week.  And in spite of all these problems I am so happy that I can say I do have a favorite thing and I felt it was more important than ever that I link up.  So let me get the business out of the way first.  Go over to Sippy Cup Chronicles and link up your favorite thing over there and be sure to add this button to your blog.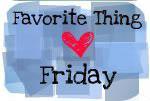 Now that that's all out of the way here's my favorite thing this week. 
My friends! 
All of my friends are great, but there are a few friends that I have met in unlikely ways that have turned into absolutely wonderful blessings in my life.
I have a new friend that I met on the internet.  We both know someone mutually and both agree that we wish we had never met her.  Except for the fact that it might have brought us closer to some really great people knowing her has just been a real waste of our time.  We don't live far from each other and the other night she came over for the first time to bring me some cloth diapers.  Not cheap diapers either.  Just gave them to me.  I love that!  I love her!  We can commiserate about this waste of space person and talk cloth diapers.  And we have kids around the same age.
Then I have another friend who I met on the internet a very long time ago.  We actually met on the internet, but were neighbors.  She used to live behind me until we moved a couple years ago.  She has remained a great friend though.  Her and her husband.  When our car broke down and we were trying to figure out what we were going to do until we could replace the car these friends offered us their car!  They are buying a newer one and this one has some problems and we can't fit everyone in it, but it would likely get my husband back and forth to work for a couple of weeks until we can get something else.  We have to wait of course until they get their new vehicle which we're all hoping will be this weekend, but I am just amazed at the generosity.  Even with the problems that the car has I'm sure they could sell it and get something for it.  Or maybe they could donate it and have it as a deduction on their taxes, but they have opted to let us have it.  I have always known this was a special couple and they have really been there for us during some rough times and during the great times too.  I wonder sometimes if we can ever truly repay all they have done for us.
I don't really know how I got so lucky to have so many great friends.  But they by far were my favorite and the highlight of my week this week and I feel so blessed!
Have you ever met someone in an unlikely place and felt truly blessed by the friendship you created?