The Grammys may have been last Sunday, but the only thing people are still talking about is not the music, but Pharrell Williams and his giant hat. Pharrell has wisely decided that he and his hat should not just become a one-time internet meme, and
has been spotted around town
with his designer chapeau.
Besides having an interest in headwear, Pharrell had a pretty big year musically in 2013, appearing on two of its biggest hit songs, Daft Punk's "Get Lucky" and Robin Thicke's
"Blurred Lines."
His song "Happy," which appeared in the film
Despicable Me 2,
has also been nominated for an Academy Award.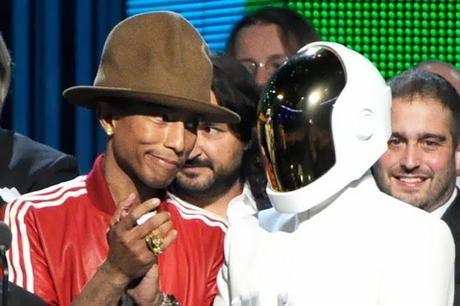 Pharrell and Daft Punk at the Grammys
The hat he wore to the Grammys was designed by Vivienne Westwood (from her early '80s Buffalo Gals era), but checking out the video to "Happy" proves that Pharrell loves hats and wears them well. He also makes great songs and this is one that I could definitely put on an infinite loop. It just makes me happy. And good luck at the Oscars, Pharrell.