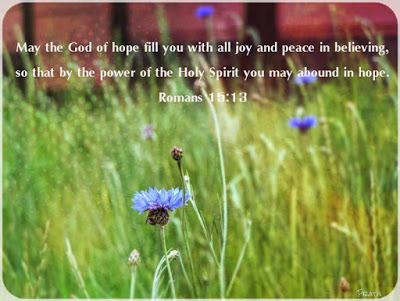 I'm home with a high fever today and all that comes with it. I think it's time to post something I've been thinking about for a while. Scripture, just scripture. What are some of your favorites? Here are a few of mine, and why.
These verses from the opening of John's Gospel move me every time I read them. I don't know why. They just do.
In the beginning was the Word, and the Word was with God, and the Word was God. He was in the beginning with God. All things were made through him, and without him was not any thing made that was made. In him was life,a and the life was the light of men. The light shines in the darkness, and the darkness has not overcome it. (John 1:1-5).
Beginnings and endings, Genesis and Revelation, my two favorite books. How can one not love the majestic sweep of the opening lines of all of human history?
In the beginning, God created the heavens and the earth (Genesis 1:1)
This verse is devastating to me. So much wasted flesh, so many to mourn. Such a holy God to worship. It's a crushing yet wondrous verse that to me, dramatically shows the ease with which God moves within His plan to bring all enemies under His submission. For all the thousands of years of struggle, in but one moment, the angel finishes it with four devastating words; the earth was reaped.
So he who sat on the cloud swung his sickle across the earth, and the earth was reaped. (Revelation 14:16)
And I'll finish with something a bit more upbeat. I love this from Revelation because it is Jesus-centered.
And I saw a mighty angel proclaiming with a loud voice, "Who is worthy to open the scroll and break its seals?" And no one in heaven or on earth or under the earth was able to open the scroll or to look into it, and I began to weep loudly because no one was found worthy to open the scroll or to look into it. And one of the elders said to me, "Weep no more; behold, the Lion of the tribe of Judah, the Root of David, has conquered, so that he can open the scroll and its seven seals." (Revelation 5:2-5)
How about you? Post your favorite verses here. Let's bask in the word and praise and worship the Spirit who inspired them, the God-Man who conquered and saves, and the God who is eternally holy.