It's a well known fact in my house that once the leaves start to change, the cozy blankets, hot tea and big sweaters all come out. Not only that but I seem to grab an abundance of books to read because, how much cozier can it get?! A warm cup of coffee, a big cozy blanket and a great book to read. Now I know what you're thinking, " Um, it's still summer here Cait?! I can't be thinking of that right now " although I'm sure we're all itching for cooler temperatures, especially here in the South. Here's a sneak preview of some favorite fall books you'll be excited to curl up with in a few weeks!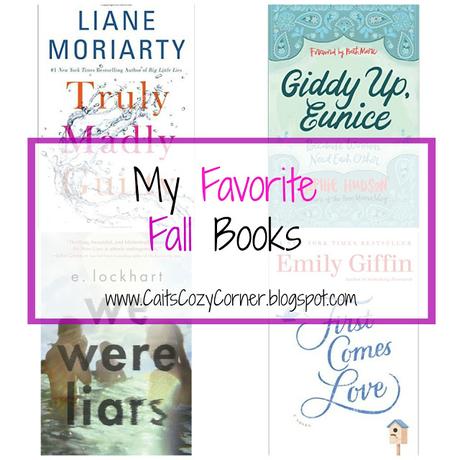 1. 
Truly, Madly, Guilty.  
Focusing on the foundation of marriage, sex, parenthood and friendship, this novel shares how guilt can expose the fault lines in the most seemingly strong relationships. It's how what we don't say can be more powerful than what we do and how sometimes the most innocent of moments can do the greatest harm.
2. Giddy Up, Eunice. This novel is 

 all about relationships and how women need each other and how important cross-generational relationships are to imparting wisdom and insight from one generation to another. It's also filled with Scripture & the humor that only Sophie can bring!!

3. We Were Liars. We Were Liars is the story of those annual reunions; in particular what happened during a summer that protagonist Cadence is unable to remember. Prejudice, greed, and shifting patriarchal favoritism among the three adult sisters contrasts with the camaraderie and worldview of the teenage cousins and their dear friend Gat. Lazy days of sticky lemonades on the roof and marathon Scrabble games give way to twisty suspense, true love, and good intentions gone horribly wrong. We Were Liars is a story that begs to be read in one sitting. 

4. 

First Comes Love

.  A pair of sisters find themselves at a crossroads in this new novel. It's a story about friendship, family and the courage to follow your heart, wherever it may lead you. 

( I'm sure this will be a reread for all! ) 

What are some of your favorite fall books?