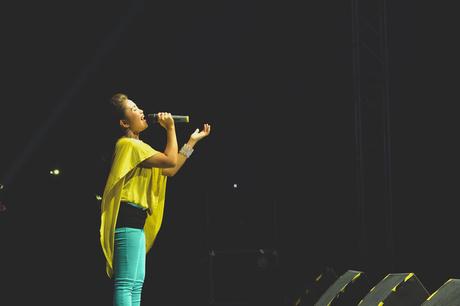 Ventipop's favorite 100 songs of 2019 is the culmination of all the best new songs I've heard and featured over the past year. It's not the same songs you'll hear on every other site's top 100 song list. Because it's my fucking favorite 100 songs...not theirs. Here are songs #80-61.
---
80.  "Masquerade" by Lindsey Stirling
"

It's funny because with this recent album I wanted to go back to the Lindsey that wrote her first album. Because you really do evolve and change as an artist and you learn a lot. But sometimes I try to go back to that first album because back then I knew how to dream without limits. I didn't understand that what I set out to do was impossible. I was just a girl living in Utah … I didn't know any electronic producers, didn't know how to dance, didn't have any contacts or knowledge of the music industry at all, and yet I was determined to be an international performer. It was impossible but it didn't matter because I knew how to dream really strongly back then and no-one could convince me that this wasn't possible. I think that you're extremely powerful when you believe in yourself. With this recent album I wanted to capture the freedom that I felt in the first album.

"
— Lindsey Stirling
---
79. "Somebody's Daughter" by Tenille Townes featuring Girl Scouts of Tennessee
"

She could be a Sarah
She could be an Emily
An Olivia, maybe Cassidy
With the shaky hands
On the cardboard sign
And she's lookin' at me
Bet she was somebody's best friend laughing
Back when she was somebody's sister
Countin' change at the lemonade stand
Probably somebody's high school first kiss

"
---
78. "Not" by Big Thief
"

Not the meat of your thigh
Nor your spine tattoo
Nor your shimmery eye
Nor the wet of the dew

"
---
77. "Surf Song" by Sean Henry
"

I'm apart at the party
Hardly smart call it art, right
Divine intervention, thanks so much for the invitation

"
---
76. "Walking On A String" by Matt Berninger featuring Phoebe Bridgers
"

The things you said are hanging in the middle of my mind tonight
I can't turn them off
I try to worry for your soul but I forget to
All the time
I'm in a twisted web and I can't pull my
Head from it

"
---
75. "David Buxkemper" by Dale Watson
The song was inspired by a letter from the real-life David Buxkemper, who wrote Watson to express his appreciation for the Texas singer-songwriter's trucking-inspired songs. Touched by the correspondence, Watson wrote back to ask Buxkemper — who lives outside Lubbock in the flatlands known as Llano Estacado, inside the Texas Panhandle — about himself, which he then translated into the song's lyrics. "He's a farming trucker, or maybe he's a trucking farmer — it all depends on the time of year," Watson intones over a steady, rolling beat, which takes on a psychedelic tinge thanks to a spaced-out steel pedal guitar.
---
74. "Same Kind Of Crazy As Me" by Cody Jinks
"

There's more colors than red and blue
To paint the elephant in the room
You piss and moan about that and this
There's always another ass to kiss, but
I believe that freedom rings
And I believe in the songs we sing

"
---
73. "Texas Sun" by Leon Bridges & Khruangbin
"

Say you wanna hit the highway while the engine roars
Well, come on, roll with me 'til the sun goes down
That Texas sun, oh yeah
That Texas sun

"
---
72. "Lovesick" by Maude Latour
"

It's insane how powerful heartache is. It is the stuff of life. This song is about acknowledging their power, letting it go and being grateful for how lucky we are to feel any sort of connection between people despite how much space there is in the world.

"
— Maude Latour
---
71. "Hero" by Michael Kiwanuka
"

Am I a hero?
My gun to reload now
A broken people
There go a hero now

"
---
70. "Apalachee Plain" by Leif Vollebekk
"

Mustangs are kicking in the field
I saw it all behind the wheel
But it woulda never had that feel
If you weren't right there at my heels
Holding up
Your end of the bargain

"
---
69. "Don't Let Me Go" by Cigarettes After Sex
"

When I was young, I thought the world of you
I was dumb to let you drift away

"
---
68. "No Walls In The West" by City of the Sun
"

I don't think any of us consider ourselves jazz. John and I taught ourselves guitar. None of us went to any school for music.

"
— City of the Sun guitarist Avi Snow
---
67. "Side Effects" by Joseph
"

First cup of coffee after a long night
First kiss after a bitter fight
First time we see each other after too much time
Something's gone but we're still here and it's alright

"
---
66. "Kick Him Out The Disco" by ILL
KHOTD is a song about realizing that it's not You, it's definitely Them. It's about standing up for yourself and giving your manipulative exes and incompetent overlords a glittered middle finger.
---
65. "A Secret" by Dario Crisman
"

Instrumental music is increasingly marginalized and there's just no outlet, there's no venue for it, in terms of media.

"
— David Sanborn
---
64. "You Need To Calm Down" by Taylor Swift
"

You are somebody that I don't know
But you're takin' shots at me like it's Patrón
And I'm just like, damn, it's 7 AM
Say it in the street, that's a knock-out
But you say it in a Tweet, that's a cop-out
And I'm just like, "Hey, are you okay?"

"
---
63. "I Remember You" by Eilen Jewell
"

I remember you
We were Bonnie and Clyde
We thought we'd go down in history
I guess we changed our minds
You're a hundred worlds away now
I'm sure it's for the best
You're practically a stranger now

"
---
62. "The Search" by NF
"

Been makin a whole lot of changes
Wrote a song about that you should play it
I get scared when I walk on these stages
I look at the crowd and see so many faces
Yeah
That's when I start to get anxious
That's when my thoughts can be dangerous
That's when I put on my makeup

"
---
61. "Lottery" by Jade Bird
"

I was 19 and you were 23 and
We stayed in Number 4 Ferdinand Street
We spent five talking 'bout our lives
But we'd talked like that about a thousand times
And I'm bored of all that

"
---
#60-41
#40-21
#20-1
---