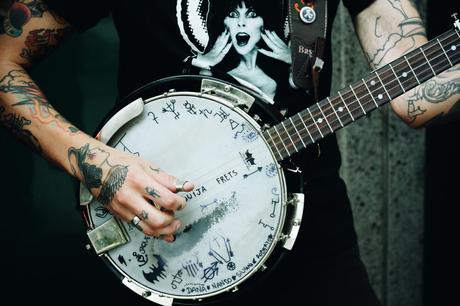 Ventipop's favorite 100 songs of 2019 is the culmination of all the best new songs I've heard and featured over the past year. It's not the same songs you'll hear on every other site's top 100 song list. Because it's my fucking favorite 100 songs...not theirs. Here are songs #60-41.
---
60.  "This Baby Don't Cry" by K. Flay
"

I used to think about the way that I dressed
Like was I pretty enough? And am I good at sex?
I used to want to say an early goodbye
But I'm a disco queen, I just keep staying alive

"
---
59. "Finally Found" by Graveyard Club
"

Kid I'm a rollercoaster in an unknown, windblown world
I'm a missing person way beyond the pines

"
---
58. "Pumpkin" by The Regrettes
"

I used to think that
Romeo was full of shit
But when I look at
You I think this must be it

"
---
57. "Hard To Kill" by Bleached
"

All the cities that we burned down
Turns out I'm very hard to kill
After all the day we drift on
Turns out I'm very hard to kill

"
---
56. "The Hard Way" by Kim Taylor
"

What I can offer you
I gladly sit right here
We'll take it day by day
And we'll learn the hard way

"
---
55. "The Man" by Taylor Swift
"

I'm so sick of running
As fast as I can
Wondering if I'd get there quicker
If I was a man

"
---
54. "Talk About" by Super XX Man & Devin Sproule
One evening, at Ali's house, Peter grabbed the glockenspiel and started jamming along to a song I had written called "Talk About."
Peter said, "Scott I reckon this sounds a bit like Bruce Springsteen."
This sparked the writing process for the rest of the album. Songs came as they always seem to and that is by life experience. And times were tough.  I received a lot of songs from the ether just so I could cope I guess. Towards the end of the writing process I still had one song that eluded me. Honestly, I was ready write it off.
Along came Devon Sproule (stop reading, look her up, she's amazing). She was in the country for a series of solo shows and Super XX Man was lucky enough to open for her in Melbourne. I just had to take a chance and ask her if she would like to collaborate on a song I was struggling with. Lucky for me and the band, she had some time and agreed to do some recording over at Peter's. She and I arranged and sang the song "Sparrow" together. I think it's one of the best songs on the album and I'm so happy it was saved from the rubbish bin.
---
53. "Reveurs" by Lionel Scardino
Lionel Scardino was born in Caseros (Buenos Aires, Argentina) in 1995. He studies piano, composition and electroacoustic music at Universidad Nacional de Artes. As pianist he loves playing cover songs and original compositions.
---
52. "Service Road" by Better Oblivion Community Center
"

Always had a sense of humor
We still joked until the bitter end
While all those steps he made can't walk them back

"
---
51. "Get Off My Rock" by FIDLAR
"

I wasn't made, I was born like this
Big fuckin' deal if you get gentrified
Back in the day, it was called colonized
So when you're on vacation tryna find yourself
Just remember to...
Get off my rock

"
---
50. "My Name" by The Wild Reeds
"

It takes an army of my friends to fill me cup
But one word from you to make me shut up.

"
---
49. "Listen!" by Samantha Sidley
Miss Samantha Sidley is a queer jazz singer & interpreter from Los Angeles, California. Samantha Sidley's long-awaited debut record, 'Interior Person' was released on September 13, 2019. Declared "quietly radical" by the Los Angeles Times – and named one of its Best Albums of 2019 – Interior Person is a collection of original songs by Alex Lilly, Barbara Gruska and Inara George, exploring the wonders and perils of love, sex, and feminine power through an unapologetically lesbian lens.
---
48. "Rock 'n ' Roll Star" by Sorry
"

I gave my old heart up to a rock 'n' roll star.

"
---
47. "Blankets" by Craig Finn
"

Found her serving breakfast
In a cafe in the Skyway in St. Paul
When we got to the Twin Cities
I said man I know some songs about this place
When they swept up all the empties the parties always seemed like such a waste

"
---
46. "Born In The Slumber" by Flora Cash
"

We were born in a slumber, no one really cared about us
'Cept for our parents, parents, parents
The government's dead

"
---
45. "Seventeen" by Sharon Van Etten
"

Was it just a dream?
Now you're half shy
Think you're so carefree
But you're just seventeen
So much like me
You're just seventeen

"
---
44. "Hell Yeah" by Raffaella
"

Rich kids in a daydream
We're just too lazy to rock the vote
Designer drugs in our bloodstream
We're all just vegans in fur coats
I think I might have found Jesus in his red sole Louboutin

"
---
43. "Stalemate" by Anna Ash
"

You can write yourself into somebody's history
and claim memory and importance and how it should be
You were always kind of useless as a kid
and hot damn, looks like we're growing out of it

"
---
42. "Hope Is A Dangerous Thing For A Woman To Have - But I Have It" by Lana Del Rey
"

I've been tearing around in my fucking nightgown
24/7 Sylvia Plath
Writing in blood on my walls
'Cause the ink in my pen don't work in my notepad
Don't ask if I'm happy, you know that I'm not
But at best, I can say I'm not sad

"
---
41. "Robin Williams" by Noah Gundersen
"

So I gather my impressions of the universal sigh
And hope that someone's listening to their radio tonight
Though it doesn't really matter with so many come before
And who the hell are we fooling?
No one buys records anymore

"
---
#40-21
#20-1
---