From Brooklyn streets to Basel suites, a look back at 2012…
Friends and Family,

 

The start of the new year feels like the perfect time to reflect on 2012 and share with you a couple exhibitions and projects that I'm proud to have been a part of. This past December I was invited to be part of an incredible group show Don't Forget to Write at Carhartt Gallery in Weil am Rhein, Germany, a suburb of Basel, Switzerland.The exhibition featured many of the most innovative and influential graffiti writers in the world including Roid from London, Horphe and L'Outsider from Paris, Pant One from Valencia, Luca Barcelona from Milan, Zedz from Amsterdam, Jia from Switzerland, and Greg Lamarche my compatriot from New York. My installation continued my exploration of handstyle and scale. I tried to create an immersive experience with my graphic mural, embellishing the qualities of rhythm and flow.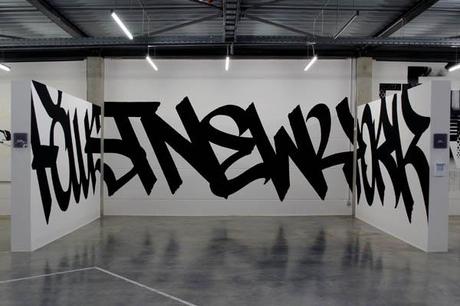 At the same time, back in New York, the Colossal Media team was painting a billboard of my design high up above the streets of the East Village. The luxury mens accessories label JvdF contacted me to collaborate on a campaign to help launch the brand. Seeing that they produce high-end wallets out of exotic skins I thought what could be a better message for the holidays than the classic Wu-Tang quote "Cash Rules Everything Around Me."
You can see the billboard for yourself on 1st Avenue and 2nd Street and spot the posters all over the Lower East Side and TriBeCa.
Also, a public art project that I was a part of at the Brooklyn Academy of Music, called Brooklyn Shelf Life, was recently featured on the Gothamist's list of New York's Best Street Art of 2012. Showpaper paired artists together to collaborate on sculptural works that would distribute free zines throughout the year. I collaborated with Cassius Fouler, resulting in a larger than life Newspaper box, and taking the opportunity to pay homage to my former partner-in-crime Sure in the epicenter of Brooklyn Culture.
Showpaper boxes by Swoon & Ryan Doyle, Leon Reid IV & Noah Sparkes, and Cassius Fouler & Faust installed outside of BAM
Last but not least, I was invited to be part of and exhibition and benefit taking place next month at the Palais de Tokyo in Paris organized by Pierre Bergé. Proceeds will benefit the non-profit SOS Racisme, an organization founded to promote equality in France. I attached a sneak peek of the work I created for the occasion.
Thank you again for your continued support. Here's to big things in 2013!-Faust