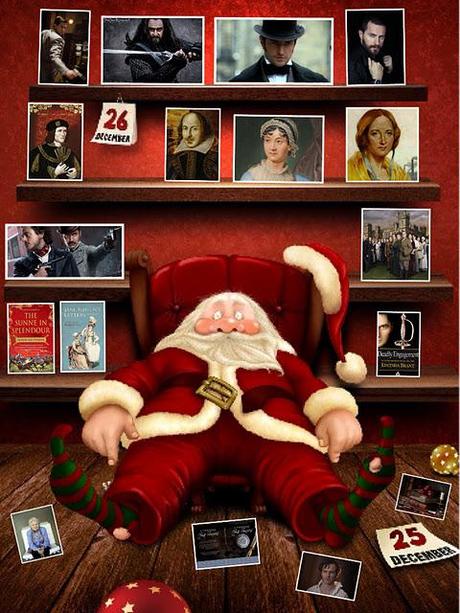 Poor Father Christmas. Look at him! I've really asked for too much this year. But have a look all around him: he granted all my wishes. I've had a very satisfying, rewarding, thrilling year full of beautiful news, books, films and series, art and theatrical shows, experiences and journeys I could share with all of you. But,  mainly,  I've had the chance to meet and make the acquaintance of so many extraordinary people all over the world. An incredible, extraordinary, enthusiastic community of friendly people. They made me a better person in many ways and I'm so grateful to my little corner in the blogosphere which made all this possible! To all of you, in every corner of the world, who visit
FLY HIGH
&
My Jane Austen Book Club
every day or just from time to time, to you who contributed to their success with interviews, guestposts or articles, to all of you who write me lovely supporting e-mails and messages,  I wish the best of Christmas Time. May it be serene and full of joy, love, peace, sympathy, friendliness, gifts, generosity, forgiveness, goodwill and ... smiles.
With gratitude and friendship
Maria Grazia
P.S. Many thanks to my hubby, Antonio, for helping me realize the collage above and for bearing with immense patience and generoisity all my passions, especially ONE.