Written on October 25th, 2012 by Marian
Fashiontography People's Edition: Triple Trouble

Posted in Uncategorized

Tags: Facebook, fashion, Instagram, Photo manipulation, Photography, Social network, Tumblr, Twitter
Marian here, one of Next Edition's photographers, with the first post of our new series Fashiontography: People's Edition. In this series we will utilize social networks to express the creativity and fashion sense of ordinary people. It will be a chance to show off great fashiontography from people like you, photography amateurs and fashion enthusiasts.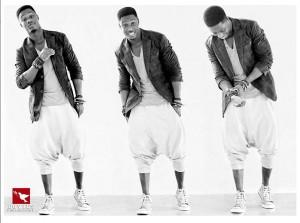 For my first feature, I picked a photo I found on Facebook, I found this photo to be very creative and fun. The use of photo manipulation really made the photo POP! The black and white color scheme was also a nice touch. This also shows some great male fashion, from the blazer accenting the shirt and the hammer pants to the wrist jewelry and shoes. The poses and facial expressions gave a nice playful theme to the photo.
Here are more photos that showed a aspects of fashion and photography:
click for larger view


Dovies Photography


This was shot by Dove Foster, a freelance up and coming photographer, Check him out: Facebook
Overall Rating: ★ ★ ★ ★
Be sure share/comment and tell us what you think. If you've come across some great fashiontography amongst your friends on any of the social networks ie. Facebook, Twitter, Tumblr, Instagram etc, don't be afraid to share. They might  get featured in our upcoming posts.



Marian
I was born and raised in Ghana, Africa for half my life. Being close to my father, he thought me many things about life, and art. My father influenced my love for art. I would always draw and paint in my free time. During my high school years, I took up photography and fell in love. I found it as an easier way to express myself when I wasn't drawing or painting. After High school I decided to attend Salisbury University to study Biology, Pre-med. I am now a sophomore and working towards my goal. Something I hope to contribute to the team is a creative and artistic way to represent fashion in photographs.
More Posts
Follow Me:


You can skip to the end and leave a response. Pinging is currently not allowed.