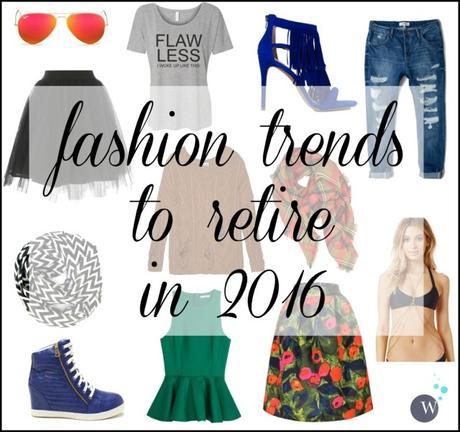 I believe in incorporating a couple trends into a basic wardrobe to look current, infuse personality, and switch up your look. And when a trend hits that is perfect for your personal style, it can stick around past it's time on the retail floor and become your signature. But some trends are flashes in the pan or have overstayed their welcome. These are fashion trends I don't recommend investing in for 2016 as they are either over or will be too soon for you to get your money's worth.
A couple years ago, anyone who was anyone had a pair of boyfriend jeans. Slouchy and cropped, these jeans were loose and baggy with tapered legs that usually ended with a narrow double cuff. Often distressed and with holes and tears, these jeans were often a lighter-weight denim to enhance the disheveled look. The look now is more of a 'girlfriend' jean which is a slightly slimmer and straighter silhouette and honestly more flattering.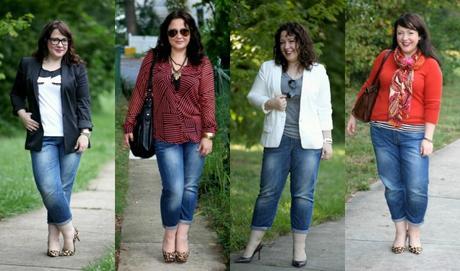 I get it, I had two pairs of the Gap Sexy Boyfriend jean and literally wore them out. When I went shopping to replace them, I realized that the cleaner lines of
the girlfriend jean
(and pretty much every other silhouette that is currently popular) better fit the shoes and tops of current fashion and also better flattered my bum. Go ahead and keep your boyfriend jeans for weekends and rock them this summer with Birks and a cami at the beach, but when shopping for new jeans look for cleaner silhouettes for a modern effect.
Two summers ago I rocked the HECK out of a Free People muscle tee with holes all over it. I wore it with a black bra and felt daring. Last winter I considered buying a cable-knit sweater with purposeful pulls and snags all over it, it seemed so cool to wear something damaged in an artful manner. Now I'm glad I didn't spend on that sweater and the Free People tee ended up in the donation bag.
Torn clothing comes in and out of fashion; while a perfectly worn pair of vintage jeans can look chic almost any time and Kate Moss can make a torn Breton tee look badass, this trend doesn't last and can easily go wrong. The trend is ending, so don't jump on the bandwagon now or come fall people will be asking if you got your sweater caught in the escalator.
There are some subcultures and people with the personal style who can utterly ROCK such harnesses and body chains; wear them fashionably now and years from now. This trend got really hot this past year and such items could be found in mass retailers and a kazillion Etsy shops. But just like any trend based off of a subculture that was adopted by a runway designer, it's not going to last more than a couple seasons. If you're not already a body chain or leather harness kind of gal, now is not the best time to try the trend.
They're done. Seriously. It was said in 2014, it was said in 2015, and I am saying it again in 2016.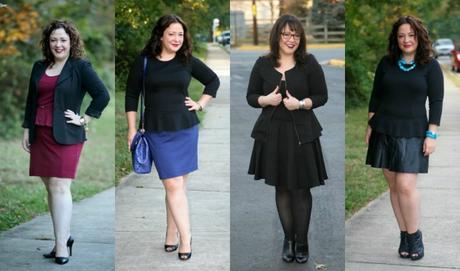 Sure, you can still wear the softer peplums that you have in your wardrobe, but anything that evokes even the hint of a Judy Jetson vibe needs to go and definitely does not need to be in your shopping cart.
There's a few women who could take the culottes currently in their closet and make them look fresh and fabulous, but that doesn't mean the rest of us should go out and buy a pair. This look is no longer current, and it's not really flattering or easy to style anyway. Buy an ankle pant or a skirt, not a hybrid.
I'm not telling you to burn any you currently own, but don't invest in any more of this trend. It's a trend, and it's on its way out.
I love a fashion sneaker, but when Walmart is making copies of Isabel Marant, the trend is over. Go ahead and buy some slip-on sneakers or a chunky high-top, but pass on the built-in lifts.
Rock your But First Coffee tee while drinking said coffee and scrolling through Instagram, but don't buy a new one to wear out of the house. The trend is past its prime and is best served on kids under the age of 13 and coffee mugs.
Unless this is a major part of your feminine retro personal style, you shouldn't be investing in big skirts covered in cabbage roses. I loved this trend, I rocked it with denim and chambray shirts, sequined tee, knits with witty sayings, band shirts, and plenty of stripes but I know when a trend is dunzo. This trend is past its prime. Go ahead and wear the funky prints or solids with a casual tee this spring, pair the dressy silk and satin ones with a little cashmere tee and peeptoe heels, but the Laura Ashley prints need to go.
Scarves have become more streamlined in the past seasons, and people are switching out infinity scarves for squares and oblongs of silk and cotton voile. Lighter-weight scarves in a simpler shape will still add interest to your look without adding bulk at the bust. They're also more comfortable in warm weather!
Just no. This trend was never a good one and it looks super dated. Go ahead and wear the ones you own on your next beach vacation, just don't wear them for everyday wear or purchase any new ones.
Go ahead and continue to rock your blanket scarf through this winter, but don't stock up at the end of the season with ones you find on clearance. Not only is this trend already on its way out, it's just not very flattering for most women.
You know I love me some Ray-Ban aviators, but even they with bright orange and green mirror lenses need to retire. I still think a pair of classic silver mirror CHiPS-esque aviators can be classically cool, but the rainbow reflective gang oversaturated the market this summer which means they will be passe in 2016.
If I wrote this last year I would have included chevron, that's how past its prime this print has become.
Yes I was singing, " Boots with the fur " when I wrote this and well, those too are past their prime. But right now we're focusing on those ankle strap heels with suede fringe. In ten years when Emerson wants to dress up for a 2015 party, I'll slice up some faux suede and wrap it around her ankles; this trend was HUGE this year and like the mirrored sunglasses, it oversaturated the market and should not be purchased in 2016.
I love me some fringe. I have a black faux leather fringe bag that is my concert purse and I think it adds interest to jeans and a tee shirt. It's a bit Joan Jett, a bit Stevie Nicks. A little bit of fringe on a bag or a skirt can be fun but in 2015 we went on a fringe bender and it got a bit ridiculous. The fringe trend is on its way out; unless your personal style really works with fringe, this isn't a trend you should adopt right now. And if you have a fringe dress you wear with those shoes with the fringe with a fringed bag and a leather jacket with fringe we may have to organize an intervention!
Unless it's New Year's Eve, your wedding, or you are just the type to run around town in tulle, this trend is far beyond over and it's time to move on.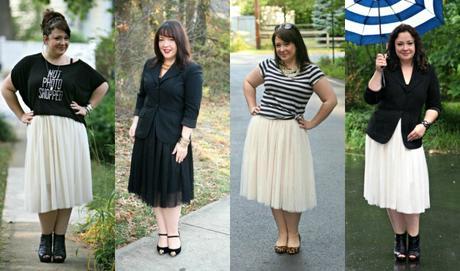 I did this trend, I loved this trend, and I knew a couple years ago it was time to retire them. It's time. I know they're so fun and pretty... but it's time. It's past time.
***
As with all my advice, this is not gospel. You may disagree, and that's a good thing! If you disagree that means you have a defined personal style, and as I said at the beginning of the post, some trends become part of a signature look. This is a guide to those who are hitting the after-holiday sales and wondering what is worth a purchase; for those who are purging their closets for the New Year and wondering what to donate. I'd love to hear what trends you feel should be retired in 2016!