As we say good bye to 2011 and hello to 2012, we reflect on the good times that were had and the even better ones to come. New Year Resolutions are something most of us make and whether we follow them strictly or create general goals to accomplish they give us something to look forward to in the upcoming year. The most common resolutions include losing weight, getting organized, quitting smoking and/or drinking, spending less money and saving more, learning something new and for some, even falling in love is a promise they hold themselves to. You can see that some of these goals are easy to measure while others are not, and some are simply out of our hands completely.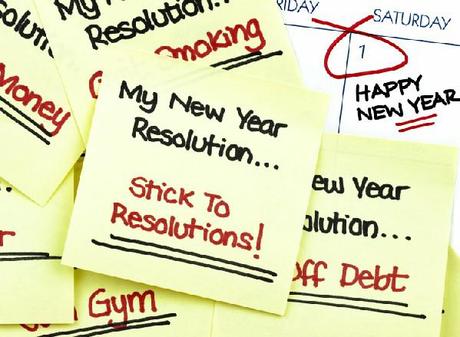 But something that is up to you and should be changing with each year is your style evolution! The fashion industry is based on trends, and while you don't have to follow each one to have "style", we bet you have gone through some trends of your own throughout the years (I know I have!). We've previously posted about the color trends of 2012, Spring/Summer 2012 runway collections, and even some up and coming 1928 collections. However, your resolutions are all your own, so whether you base them on fashion industry trends or just on your personal preference, having some style resolutions are a fun way to kick off the new you in the new year.
Here are some of my personal style resolutions that I plan to play around with during this transitional season of winter to spring. Some are based on style inspirations, trying to attain looks I've always admired. Some are based on where I see my style going in the future, taking little steps to one day be the perfect modern day Jackie O. And some are based on keeping true to the personal style I've worked so hard on making my own. When you are comfortable and confident in what you portray every day, you shouldn't have too many other resolutions to worry about! But it's still always fun to fawn over fashion.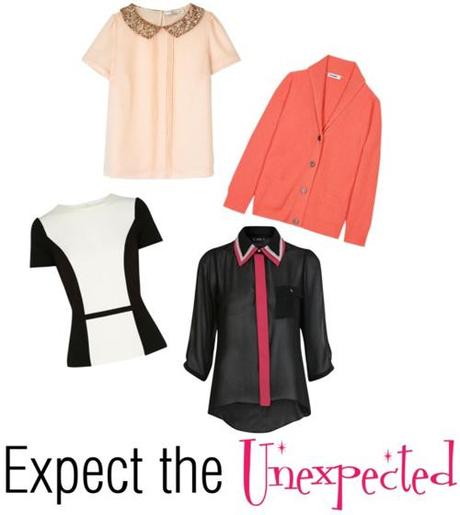 As obsessed as I am with fashion, both ready to wear and avant-garde I find nothing more appealing than basics that are simple, sophisticated, and tailored to perfection. "9-5" professional attire with fashion forward accents is pure elegance. I may not be ready to ditch the cute cocktail dresses, wide leg trousers and mini-skirts just yet, but plan on incorporating many classic-chic blouses into my closet this upcoming year. The key is to keep them young and fresh with pops of color, detailed collars, and just barely tweaked silhouettes. A cardigan in the color of the year, black and white color blocking or a beaded peter pan collar are some ways to make the expected, unexpected and all your own!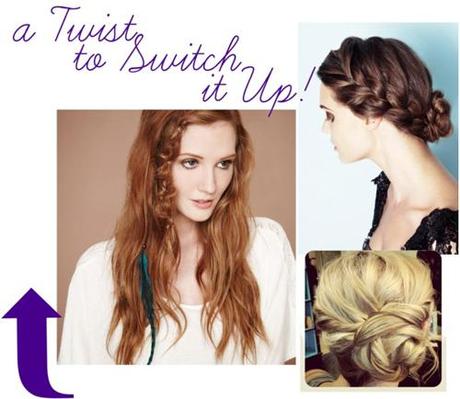 Having long hair, it's easy to get stuck in a rut of how to style it. In fact, most days I simply let it be! But then I find myself looking through the editorial shoots of a magazine and noticing how much of a difference to the overall styling hair really makes. When you really sit down and think about your personal style and wanting to create a head-to-toe look, hair is what starts it all out. You don't have to be a professional hair stylist either. Experiment with how you can wear it up and play with texture. Style resolution #2 is to wear my hair up more often to show off earrings and necklaces. Do you have a favorite hair style?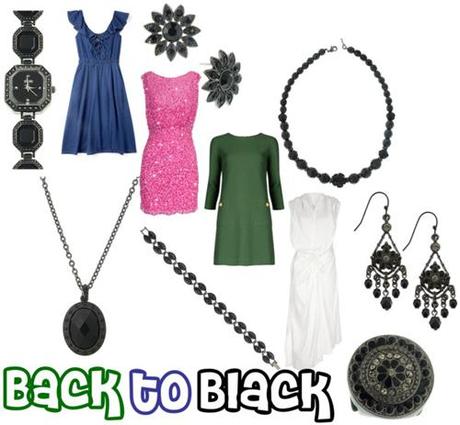 A style resolution I make every year is to buy more colored clothing, yet I still end up with a closet filled with primarily black. So instead of fighting my tendencies to buy black I thought this year I would gravitate to black jewelry instead! All black with barely any metal tone accents (hematite or silver if necessary), jet black jewelry is chic, classic and still manages to be edgy. Plus, it matches with everything! So maybe this season (finally!) I will trade an LBD for a LPD, or buy more of the colors I know look good with my skin tone and hair color and get my black fix with my accessories only.
Apart from fashion trends, what are some of your style resolutions? Maybe you want to lose weight to fit into your favorite pair of jeans again. Or perhaps this is the year you cut your hair short to bring more attention to your beautiful eyes everyone always compliments you on. Whatever your style or personal resolutions are, we wish you good luck and happy shopping in the year 2012!